Auto Production Halted By US-Canada Border Protests
Trucker protests at the U.S.-Canada border over vaccine mandates have caused some auto manufacturers to shut down their production plants.
According to the BBC, Ford and Toyota have both closed plants due to the inability to get car parts, which are being delayed at two main border points where protests are occurring in Ontario, Canada.
Toyota has closed production at three Ontario factories, saying that it will not produce any more vehicles there this week, the BBC said. Ford has also halted production at an engine plant, the news outlet said.
Stellantis, the parent company of Chrysler, has faced vehicle production disruption as it deals with a parts shortage at its Windsor, Ontario, plant, the Independent reported.
GM is also being impacted, canceling two production shifts at a plant in Michigan.
Truckers are protesting COVID-19 vaccine mandates and other pandemic restrictions, such as wearing masks in Canada, by blocking main border crossings and distribution routes in Ontario.
The demonstration, known as the Freedom Convoy, has been occurring since late January, with the Ambassador Bridge – a supply route from Windsor to Detroit for car and agriculture products – shut down since Monday.
The protests are estimated to be costing $300 million a day in trade disruption, compounding the challenges that the auto industry is already seeing from the chip shortage that has forced temporary plant production shutdowns across the globe, the BBC said.
Another trade route between Coutts, Alberta, Canada, and Sweet Grass, Montana, is also blocked by protesters and has been for several days.
Canadian Prime Minister Justin Trudeau is standing firm on the COVID mandates, calling the protests "unacceptable" and saying they are "negatively impacting businesses and manufacturers."
The Biden administration is also calling for an end to the protests before they hurt the car industry and consumers.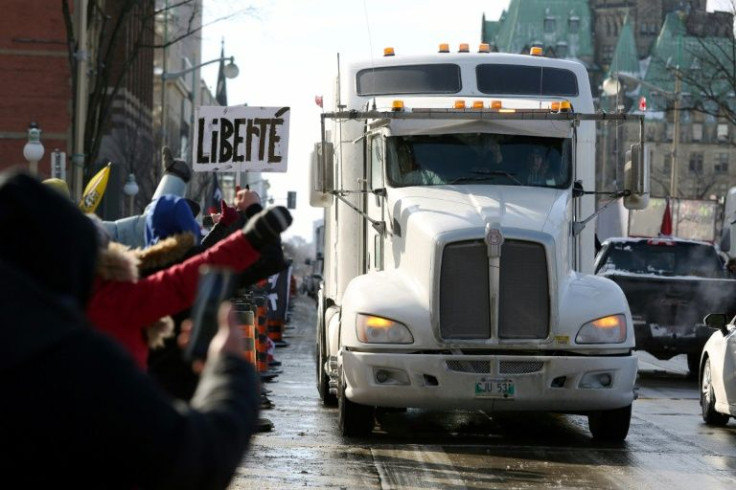 © Copyright IBTimes 2023. All rights reserved.