Why Ford Just Slammed The Brakes On Maverick Hybrid Pickup Truck Orders
Ford (F) said on Monday that it will stop taking orders for its 2022 Maverick hybrid pickup truck after reservations for the vehicle hit its production capacity.
Due to the overwhelming demand for the Maverick, which has a price tag that starts below $20,000, Ford said it doesn't have the capacity to meet the overwhelming demand from customers for the hybrid pickup, The Wall Street Journal reported.
No additional new orders for the Maverick will be taken beyond Thursday, with new orders resuming for the 2023 model year pickup in summer, according to Reuters. However, the 2022 version of the hybrid truck may still be purchased at local Ford dealers.
"We didn't want to take more orders than we could build," Dean Stoneley, general manager of Ford trucks, told the Journal. "We're getting customers who would have perhaps bought a used car and are now buying the Maverick because it is so affordable."
Ford launched the Maverick hybrid truck in June 2021.
The reservation halt comes as Ford doubled the annual production of its F-150 Lightning pickup due to the high demand for the all-electric truck. Now, the automaker will produce 150,000 trucks per year by mid-year 2023, up from an initially planned 40,000 units.
Ford capped reservations of the 2021 F-150 Lightning at 200,000 trucks as demand for the electrified pickup exceeded the company's expectations. Customers will receive a 2021 model based on an invitation selection, with remaining orders receiving 2022 models, Ford has said.
As of Monday at 12:37 p.m. ET, shares of Ford were trading at $18.86, down $1.78, or 8.64%.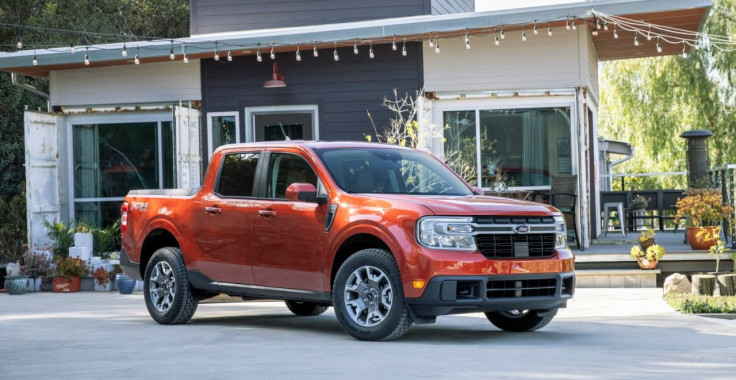 © Copyright IBTimes 2022. All rights reserved.
FOLLOW MORE IBT NEWS ON THE BELOW CHANNELS