Avalanna Routh: Justin Bieber's Valentine's Day Date With 6-Year-Old Cancer Patient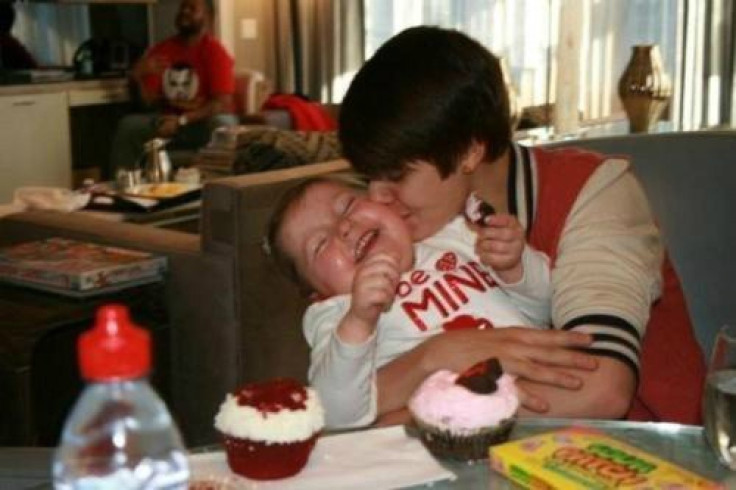 For Avalanna Routh, a six-year-old diagnosed with a rare form of cancer called AT/RT, meeting Justin Bieber for Valentine's Day 2012 meant making all her dreams come true.
Her nurses at the Jimmy Fund clinic in Boston, Mass., decided to indulge that fantasy, throwing her a pretend wedding to the singer complete with bridesmaid, a wedding cake, a cardboard cutout of the pop star and a shirt with the words Future Mrs. Bieber printed on the front.
NBC Boston affiliate WHDH decided to report on the story, and soon her family has launched an online campaign to support her.
Last week, a Facebook page called Get Avalanna to Meet Justin Bieber was formed, and a Twitter account called TeamAvalanna was created. They caught the eye of a friend of Bieber's manager.
But when he heard Avalanna's Routh's story, Justin Bieber decided to forgo simply meeting the six-year-old fan. Instead, he decided to make good on Routh's assertion that she was his wife, and took her on a Valentine's Day date she would never forget.
A Very Bieber Valentine's Day
Justin Bieber flew Routh and her family up to Manhattan on Feb. 13. During their Valentine's Day date, the two played board games, signed autographs for each other, and horsed around, sharing cupcakes and Sour Patch Kids candy. Bieber even let Routh play with his signature haircut, letting her style it.
Avalanna joked that she's loved Bieber longer than she's been alive. Asked by NBC how long she had been a Bieleber, the six-year-old said, Seven years. No, 80. 80 years!
Aileen Routh, Avalanna's mother, was overwhelmed by the singer's generosity. She began the Bieber campaign to help distract her daughter from her cancer treatments.
Avalanna was diagnosed with AT/RT (atypical teratoid rhabdoid tumor) when she was nine months old. The cancer tumors go after the brain and central nervous system. There is no cure.
She's beaten all the odds. It's a very aggressive, rare disease, and she's been in treatment for five and a half years, Aileen Routh said.
'That was one of the best things I've ever done.'
For Avalanna, the chemotherapy and the radiation treatments have become a lot less exhausting now that she has a Valentine's Day memory of Justin Bieber to hold onto.
I got Bieber fever, she told NBC News, smiling.
Bieber, meanwhile, loved his early Valentine's Day, and tweeted to over 17 million followers about his time in Manhattan.
That was one of the best things I have ever done,'' he tweeted. She was AWESOME. Feeling really inspired right now.''
Another tweet read, Best part of my day.''
The hashtag #MrsBieber began to trend worldwide on Twitter on Monday.
Justin Bieber has finally met his wife! read a posting on the Facebook page. Mr. And Mrs. Bieber enjoying their Valentine's Day date together.
To learn more about AT/RT, and to donate to AT/RT research, visit cureatrt.org.
© Copyright IBTimes 2023. All rights reserved.