'Avengers: Infinity War' Blu-Ray, Digital Release Dates And Special Features Revealed
"Avengers: Infinity War" is still playing in many theaters, but soon, the epic Marvel movie will be available to watch from your couch. Blu-Ray/DVD and digital release dates have been revealed, and the special features are just as exciting as the film itself.
The digital release date is July 31, and those who download "Avengers: Infinity War" will be treated to an exclusive roundtable with Marvel Cinematic Universe (MCU) directors. Anthony and Joe Russo ("Infinity War," "Captain America: The Winter Soldier"), Jon Favreau ("Iron Man"), Joss Whedon ("Avengers"), James Gunn ("Guardians of the Galaxy"), Ryan Coogler ("Black Panther"), Peyton Reed ("Ant-Man") and Taika Waititi ("Thor: Ragnarok") sit down for a half-hour discussion.
Digital consumers will also get the same special features that are on the Blu-ray, which will be released Aug. 14. Several featurettes will explore the characters' relationships and Thanos' (Josh Brolin) history as well as in-depth looks at the battles on Titan and in Wakanda. Of course, the bonus content also includes the standards: deleted scenes, a gag reel and commentary from filmmakers.
Unfortunately, though there are many special features, none of them will reveal the much-speculated about title for "Avengers 4," which is due in theaters in May 2019. While previous home releases have teased what's to come in the MCU, it looks like the "Avengers: Infinity War" special features will avoid any spoilers for the fourth film or the upcoming "Captain Marvel."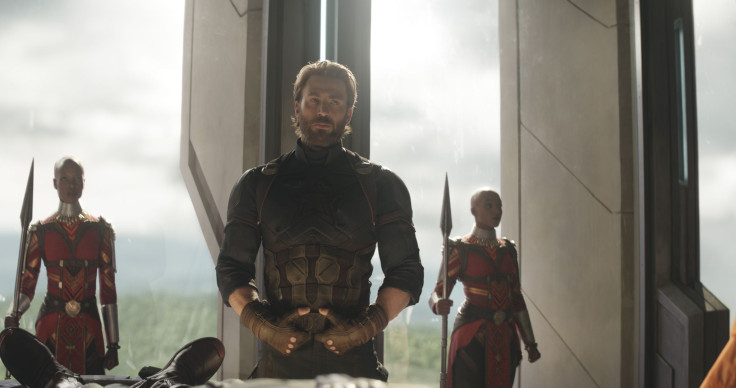 Check out the breakdown of "Avengers: Infinity War" digital and Blu-ray special features:
"Strange Alchemy" (5:08) Filmmakers explore the rationale behind how some of our favorite Marvel heroes were paired up.
"The Mad Titan" (6:34) Dig into Thanos' history, his influence on the MCU and the threat he poses to the entire universe in this featurette.
"Beyond the Battle: Titan" (9:36) Get an in-depth look at the epic battle that featured the Guardians of the Galaxy, Spider-Man (Tom Holland), Iron Man (Robert Downey Jr.) and Doctor Strange (Benedict Cumberbatch) facing off against Thanos.
"Beyond the Battle: Wakanda" (10:58) Marvel calls this "the most massive and challenging battle" they ever filmed, and they'll break down how it all came together in this behind-the-scenes look.
Deleted and Extended Scenes (10:07) See Marvel's scene descriptions below:
"Happy Knows Best" (1:23) Tony and Pepper (Gwyneth Paltrow) spar over the details of their upcoming wedding—until a hassled Happy Hogan pulls up with an urgent request.
"Hunt for the Mind Stone" (1:24) On a darkened street, Wanda Maximoff (Elizabeth Olsen) and the wounded Vision (Paul Bettany) attempt to hide from Thanos' brutal allies.
"The Guardians Get Their Groove Back" (3:20) As Peter Quill (Chris Pratt) and Drax (Dave Bautista) quarrel over their failed mission to Knowhere, Mantis (Pom Klementieff) interrupts with news.
"A Father's Choice" (4:00) Thanos confronts Gamora (Zoe Saldana) with a vision from her past — and with lying to him about the Soul Stone.
Gag Reel (2:05) The "Avengers: Infinity War" cast knows how to have a good time. See all their funny outakes.
Audio Commentary (approx. 149 min.) Directors Anthony and Joe Russo and screenwriters Christopher Markus and Stephen McFeely take viewers through the entire movie.
Be aware that Blu-ray bonus content might vary by retailer, so read the label to make sure you're getting all the "Avengers: Infinity War" special features you want. Target has a special edition that comes with a 40-page book while Best Buy is selling an exclusive steelbook.
The 4K Ultra HD version of the movie will also be released digitally July 31 and physically Aug. 14. Both "Avengers" and "Avengers: Age of Ultron" will be released in 4K Ultra HD on those dates as well.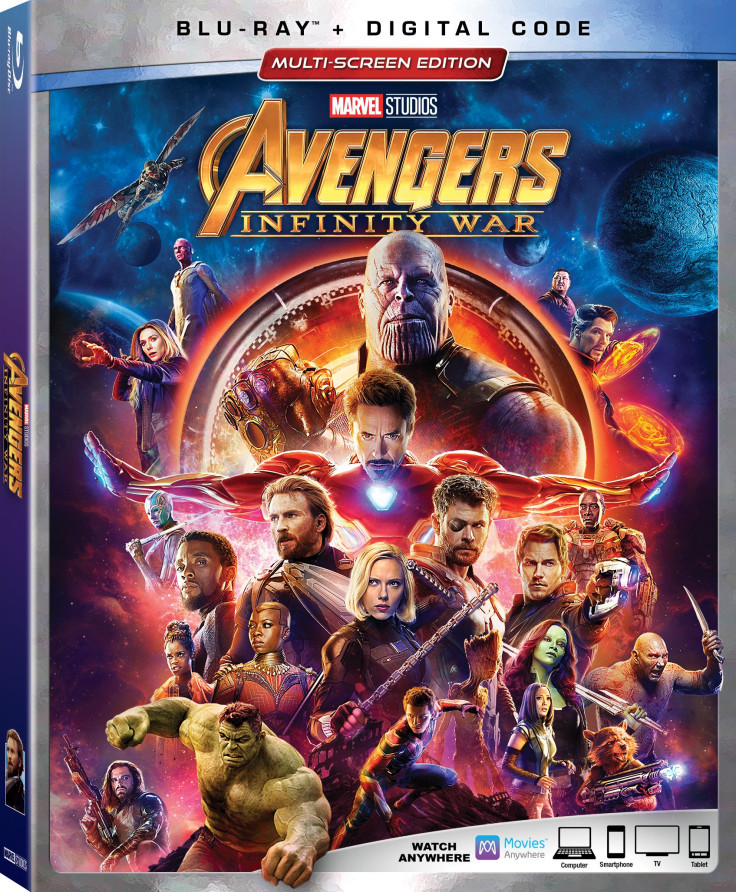 © Copyright IBTimes 2023. All rights reserved.