Is Axl Rose Joining AC/DC? Rumors Suggest Guns N' Roses Singer Could Fill In For Brian Johnson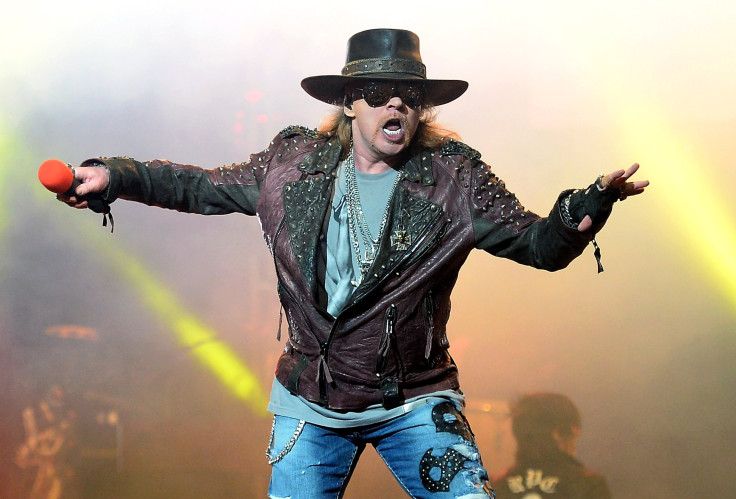 Fans of Guns N' Roses are excited that Axl Rose and the band are back, but could the lead singer also be "Back in Black"? Rose might also be taking the place of AC/DC frontman Brian Johnson on the band's coming tour.
According to TMZ, Rose was spotted Friday leaving a rehearsal at the same studio AC/DC uses in Atlanta. It's rumored he's going to be filling in for Johnson on their next tour. There's also speculation he could have been at the studio to work out a contract.
AC/DC could be Guns N' Roses' opening act on their soon-to-be-announced summer tour, which would mean Rose would be pulling double duty as lead singer. You can see a photo of Rose leaving the AC/DC practice here.
Johnson, AC/DC's lead singer since 1980, is battling hearing loss, which forced the band to cancel the final dates on their "Rock or Bust" tour this year. His status with the band is uncertain because he could be risking deafness if he continues to tour.
Comedian Jim Breuer, who is friends with Johnson, revealed on his podcast last week that the AC/DC singer is "really depressed" and feels like he was "kicked to the curb" by the band. Johnson had informed his bandmates about what the doctors told him because he wanted to work things out to continue with the group.
"[Johnson] didn't say he wanted to quit. He didn't say he was done. He called with that information, and two days later, he read in the papers and heard on Twitter and everywhere else, 'Brian Johnson going deaf, canceling tour.' A day later, and it was 'Oh, we're gonna have guest singers,'" Breuer revealed.
You can listen to Breuer's comments below:
Guns N' Roses recently announced that for the first time in more than 20 years the band would play shows with original members Slash and Duff McKagan. Slash left the band in 1996, while Duff walked away in 1997. In January, they both made it known that they'd be rejoining Rose and the band for Coachella. This news was followed with the announcement of a 2016 tour.
Neither Rose nor AC/DC has confirmed nor denied that Rose will be filling in as a part of the band. Guns N' Roses has also yet to reveal the exact tour dates and opening band. You can see which cities the band will be coming to in the tweet below:
Would you like to see Rose fill in as the singer of AC/DC? Sound off in the comments section below!
© Copyright IBTimes 2023. All rights reserved.
FOLLOW MORE IBT NEWS ON THE BELOW CHANNELS