Baby Formula Shortage: Desperate Parents Spending Hundreds On Single Cans To Feed Babies
While shortages of all sorts of products have played a role in a surge in prices and high inflation, one particularly notable item is the one that many are becoming increasingly desperate to find—baby formula. Now, as a shortage that began following a recall of several brands continues to plague Americans, parents everywhere are turning to desperate measures when it comes to finding what they need to feed their children.
Following a shutdown in February at a plant in Michigan owned by Abbott Laboratories due to an investigation into potential bacterial contamination of formulas produced there, which reportedly led to two deaths and other illnesses, a recall was issued for certain formulas, including Similac, Alimentum and EleCare, CNBC reports. When coupled with a supply chain that has been choked since the onset of the COVID-19 pandemic, baby formula soon became something that was exceedingly more difficult for parents who needed products to get their hands on.
The shortage is particularly concerning for parents because formula can be a necessity in many cases, such as when a baby cannot consume breast milk due to allergies, or a mother is unable to produce enough to allow her child to stay healthy. Some also use formula due to a lack of time to pump or breastfeed because of work schedules. However, with so many families needing products and not enough on shelves to meet the demand, things are becoming critical.
Several mothers have spoken out about their struggles, with several sharing to the New York Post about the prices they have faced when it comes to finding the formula they need. Sara Pines, a mother from New Jersey, told the publication she started her 3-month-old daughter on formula because she was unable to breastfeed, and initially paid $9 a bottle or $50 for six on Amazon for Enfamil NeuroPro Baby Formula. She now pays at least $11 a bottle for it when she can find it. Similarly, another mother who spoke to the Post, Briana Milan, said she struggled to find cases of Enfamil NeuroPro: Sensitive for her 11-month-old son who has a sensitivity to lactose, and she paid over $200 for a few cases online at one point—only to be refunded her money because there actually wasn't enough in stock for her order to be fulfilled.
Women have also turned to crossing state lines, with Carrie Fleming, a mother from Alabama, telling The New York Times she couldn't find the brand of formula her 3-month-old daughter can tolerate anywhere near her, and wound up paying $245 to get four small cans shipped from New York. Meanwhile, others are even considering searching outside of the United States, ABC 7 reports.
Popular formulas are also sold out on Amazon, including Enfamil NeuroPro, NeuroPro Sensitive, NeuroPro Gentleease and Reguline formulas, as well as Gerber Good Start SoothePro. Others, while available, are selling at inflated prices, with a 6-pack of Baby's Only Organic Sensitive LactoRelief Formula selling for $98.94, while a 4-pack of Enfamil Organic Powder formula is selling for $124.90--and can't be delivered until a date between May 28 and June 6. A pack of four Enfamil A.R. is selling for $159.99 and won't be available for shipping until June 4 at the earliest and July 3 at the latest, while a parent looking for a 6-pack of Gerber Good Start GentlePro will have to be willing to wait until June to get it and will also need to fork over $175.44 to do so.
A parent seeking Enfamil Nutramigen for their child will have one of the more expensive purchases off Amazon, A 6 pack of that formula is currently selling for $200.94 and is expected to ship only within 1-2 months.
However, while it won't bring an end to the shortage anytime soon, Abbott, which actually produces the largest percentage of baby formulas, said in a statement to CNBC that it hopes production will start again at the Michigan plant in the next two weeks as long as the FDA approves it reopening.
"We would begin production of EleCare, Alimentum and metabolic formulas first and then begin production of Similac and other formulas," the company said.
However, even if the factory is back up and running at that point, it would still take six to eight weeks before any product would make it to store shelves.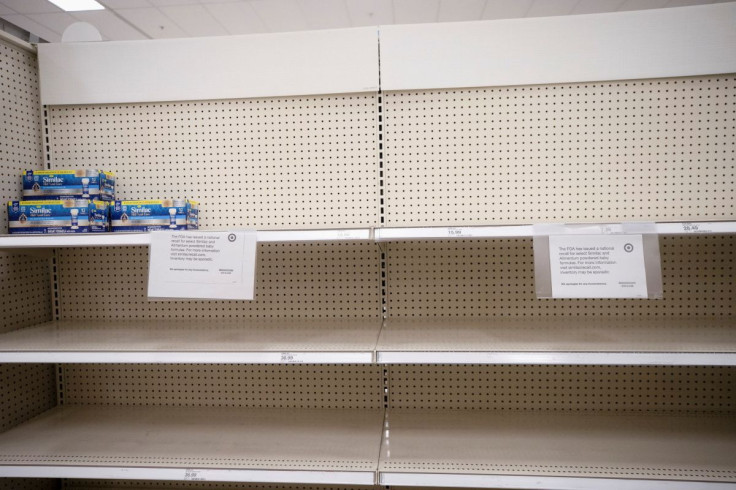 © Copyright IBTimes 2023. All rights reserved.
FOLLOW MORE IBT NEWS ON THE BELOW CHANNELS