'Bad Credit' Phone Plans: Verizon, AT&T May Follow T-Mobile, Sprint As Carriers See Gold In Subprime Households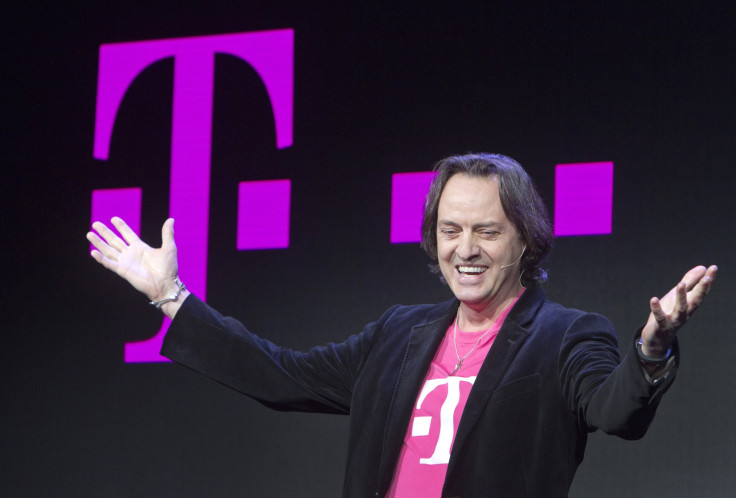 Bad credit can prevent consumers from getting a new car or a home, but soon it need not prevent them from getting at least one necessity of modern life: a smartphone. That's because one major U.S. wireless carriers is now offering two-year contracts to customers once deemed too risky. In hopes of tapping an underserved niche, other carriers may soon follow suit.
T-Mobile US on Monday launched its "Smartphone Equality" service, which will forgive bad credit for customers who've paid their bills on time for 12 months straight. Until now, those with poor credit or no credit score have generally relied on prepaid plans, where they have to shell out for the full cost of the device. By contrast, wireless operators extend their best pricing and financing to those with the best credit: two-year plans that spread the cost of a new phone over 24 months, which feels like a big subsidy on a $600 smartphone.
T-Mobile isn't the only carrier targeting those with poor credit. Sprint Corp. also has a number of options. "This is nothing new to Sprint," said Sprint spokesperson Kristin Wallace. "We have been giving credit-challenged customers the ability to get our best offers, including upgrading or adding additional lines of service, without having to worry about down payments or deposits after 12 months of consecutive payments."
Carriers have little choice but to find creative ways to sell plans to high-risk consumers if they want to maximize the market for their services. T-Mobile said 63 percent of Americans have a credit score below 750 and half of these consumers were not previously eligible for many of the deals it offers.
About a fifth of U.S. households (24.8 million) are underbanked, meaning they had a bank account but also turned to a non-bank provider for financial services, according to a 2013 survey by the Federal Deposit Insurance Corporation. Yet 90.5 percent of these households have access to a mobile phone Of the 9.6 million households with no bank account, 68.1 percent have mobile access.
Such households are less likely to have the stable credit history that would get them the best deals mobile networks have to offer. "But the traditional credit scores don't give you credit for slow and steady and reliable customer behavior and bill paying," said Jonathan Morduch, Professor of Public Policy and Economics, NYU Wagner Graduate School of Public Service. "So the credit scores tend to reflect whether people have challenges and difficulties and how stretched they are. But they're less good at capturing positive aspects of people's lives."
Knowing The Real Score
With Smartphone Equality, T-Mobile will look at a subscriber's payment history when they renew their service, instead of running their credit. The service aims to help T-Mobile maintain customers, in addition to gaining new ones. "There's not a lot of room in terms of subscriber base, because the U.S. market is so saturated. There's always been this idea that [carriers] could mine these niche pockets," said IDC analyst William Stofega.
The question is whether they can do so profitably. T-Mobile has been adding more customers than Sprint, Verizon and AT&T since March 2013 through aggressive pricing and offers like paying the early termination fees for subscribers transferring from rival networks. It's also rolling out advanced services like in-flight Wi-Fi texting and calls. Still, T-Mobile remains in the fourth spot in the market and is profit-challenged.
Sprint has struggled with both profits and subscriber growth, to the point where CEO Marcelo Claure has stated he is okay with focusing on subscriber growth, even at the expense of the bottom line.
Conversely, Verizon and AT&T, the number one and two networks in the country, pride themselves on offering the best services in the industry and have strict credit requirements for their two-year contracts and other deals. "Verizon is proud to offer its customers a wide variety of plans – from More Everything to prepaid – and we work to ensure customers are on the right one for their lifestyle," said Verizon spokesperson Debra Lewis.
Translation: don't expect to get a great deal from Verizon if your credit is shaky.
Luckily, the network's tight policies have not affected its growth. Verizon reported during its fourth-quarter earnings call, an addition of 2.1 million subscribers during the September to December period. T-Mobile said it also added 2.1 million subscribers during the same period.
Some observers say customers with so-called "bad" credit do not represent a significant risk for the wireless industry the way they might for, say, the housing market, which melted down after becoming awash in subprime loans.
Low-Income Households Pay On Time
To boot, credit scores are better at measuring downside risk, typically in the form of late payments, than tracking responsible behavior. "If your phone gets cut off for non-bill payment, that's going into your credit score," Morduch said. "But if your phone doesn't get cut off for bill payment, and you're regularly paying your bills, it's not recognized in a regular, standard way."
The U.S. Financial Diaries project followed 235 low-income and moderate-income households for 12 months and found 91 percent of all bills were paid within a week of their due date and three-quarters were paid on time. Overall, more bills were paid early than late, according to a set of unpublished results Morduch shared with IBTimes. The U.S. Financial Diaries project did not take into account the credit history of its subjects.
Still, some are skeptical about whether Smartphone Equality is a beneficial move for T-Mobile, noting that many prepaid customers are happy with their service, which does not require a credit check and often provides all of the smartphones and voice, text and data options they desire. "I don't think this deal is a bad one; however, I don't think it really moves the needle one way or another," said IDC analyst Ryan Reith.
Additionally, there is a risk in accepting subscribers that won't help T-Mobile's income statement. "The risk is the kind of consumers will be lower value, price sensitive, high churn," said IHS analyst Ian Fogg.
He noted that the carriers often market to high-end customers because they have more money and are willing to spend extra on devices and on applications and services that generate revenue and are "all the things that carriers need."
All of that notwithstanding, if T-Mobile's outreach to low-credit consumers works, Verizon and AT&T, which position themselves as premium carriers, could follow suit. "[Other networks] may look at what T-Mobile is going to do and see how that works out for them. They'll see if it fits in with their business plan and act accordingly," Stofega said. "They're going to keep looking for pockets of people who can use this type of plan to their advantage."
Additional reporting by Catherine Dunn
© Copyright IBTimes 2023. All rights reserved.