Barbara Walters' 10 Most Fascinating People 2014: Top 6 Best Moments And Reveals From ABC News Special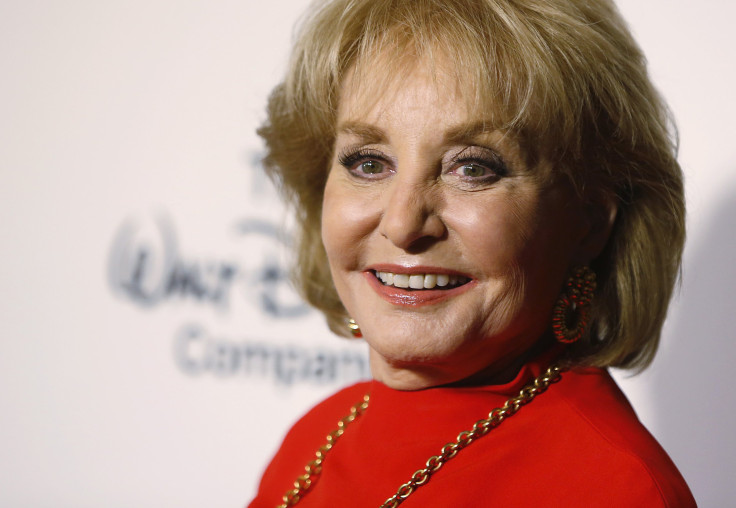 In one of the many annual year-end specials, Barbara Walters' "10 Most Fascinating People of 2014" aired Sunday, unveiling the people who most captivated her this year. Walters has presented her list every year in an ABC News special since 1993. Despite claiming her 2013 special would be the last, the 85-year-old broadcast journalist agreed to return once again, saying, "There are just too many fascinating people out there."
Making the cut in 2014 were Michael Strahan, Taylor Swift, Oprah Winfrey, Elon Musk, George R.R. Martin, Chelsea Handler, Neil Patrick Harris, Scarlett Johansson, David Koch and her No. 1 pick (see below).
And now, the top moments and reveals from "Barbara Walters Presents: The 10 Most Fascinating People of 2014":
And The Winner Is…
Amal Clooney was named the most fascinating person of 2014 by Walters. The coveted spot in years past has gone to the likes of Hilary Clinton and Gen. David Petraeus. So how did the previously unheard-of wife of actor George Clooney get top billing this year? Well, she earned it.
Formerly Amal Alamuddin, the 36-year-old Brit was pushed into the limelight earlier this year when she locked down the famous longtime bachelor. As ABC News notes,George Clooney told Walters in a 1995 interview that he'd never marry again after the failure of his first marriage. But after meeting Alamuddin at a charity event in 2013, all that changed. Still, the 2014 most fascinating person didn't make it to the top of the list simply by marrying well. She's a graduate of Oxford and NYU, where she earned a law degree. While in New York she clerked for then federal judge (now Supreme Court justice) Sonia Sotomayor. After returning to London, she became a prominent human rights attorney, working for clients such as Julian Assange, Yulia Tymoshenko and Kofi Annan.
Coolest Pick
The legions of fans of HBO's hit "Game of Thrones" were treated to an in-depth look at the man behind the story, George R.R. Martin. Although he began writing the book series "A Song of Ice and Fire," on which the show is based, in the '90s, the fictional world of Westeros didn't ignite the world's imagination until HBO brought it to life three years ago. Martin, 66, has been sitting on the plot of the books for more than a decade. With five of his planned seven books released, Walters asked the self-described slow writer if he thought he might not live long enough to finish the series. Without giving too much away, Martin is less than thrilled about this popular concern floating around the zeitgeist.
Taylor Swift Lives For Her Fans
OK, this one isn't exactly shocking, but when Walters appeared on ABC's "The View" (which she produces) to promote the special, she shared her thoughts on "1989" singer Taylor Swift's relationship to fans.
"Swift was the biggest star," she told the ladies of "The View" when asked about her interview. "Most, when [they] get to be a very big star, say, 'I don't want to be a role model, please,' but she does and she lives her life that way and it's important to her."
Walters added: "She has her fans come to her house -- she has them literally to her house. Me, I'm like, 'Lock the door! Go away!'"
On the special, Walters asked the megastar if her life was normal.
"No, not at all," she replied. "That's why, when I go online and I go on Instagram and I see a post from Emma who lives in Philadelphia and she's talking about how her day was at school, ... that helps me. It's the only thing that keeps me not overwhelmed by the abnormality in my life."
Oprah Winfrey Doesn't Miss "The Oprah Winfrey Show"
Ever wonder why so many late-night talk-show hosts are retiring this year? Because doing a daily talk show is really hard work. Oprah Winfrey had what could be considered the flagship daytime talk show for more than two decades. Cursed by her own success, she had to constantly find ways to top herself. The media mogul revealed to Walters that she was happy to say goodbye to the show when it was still "solidly good."
When asked if she missed the show, Oprah replied:
"I don't miss that. Because you know, as I say, 'you're only as good as the last show,' and every year for 25 years I was constantly trying to reinvent and come up with 'what is the new thing?' you're always chasing the numbers."
It was getting so crazy, she revealed, that by the end of the show's run, there were talks of shaking things up by somehow bringing the audience to outer space.
The Serious Picks
Walters claims she wanted the list to consist of more than just movie stars and celebrities. That's why she included the world's 6th richest man, David Koch, and Tesla Motors and SpaceX CEO Elon Musk. Koch is a surprisingly polarizing addition to the list thanks to his fiscally conservative politics. However, Walters highlighted the things he does with his money for the city of New York as a reason to watch this man and his fascinating life. Each year the list becomes a little more TV-centric, but popular serious figures in the past have included Nelson Mandela, Bill Clinton, Mother Teresa, Hillary Clinton, Barack Obama, Colin Powell, Michelle Obama, David Petraeus and Steve Jobs.
The End?
Walters was pulled out of retirement for the 2014 special. She hinted that this would be one of her last but, she didn't put the final stamp on the show like she did in 2013. It's unclear if 2015 will see a new list of Most Fascinating people or if Amal Clooney will be on it. America will just have to wait for ABC and Walters to make a decision.
© Copyright IBTimes 2023. All rights reserved.