Is Barron Trump Autistic? Melania Threatens To Sue Over Clips Of Her Son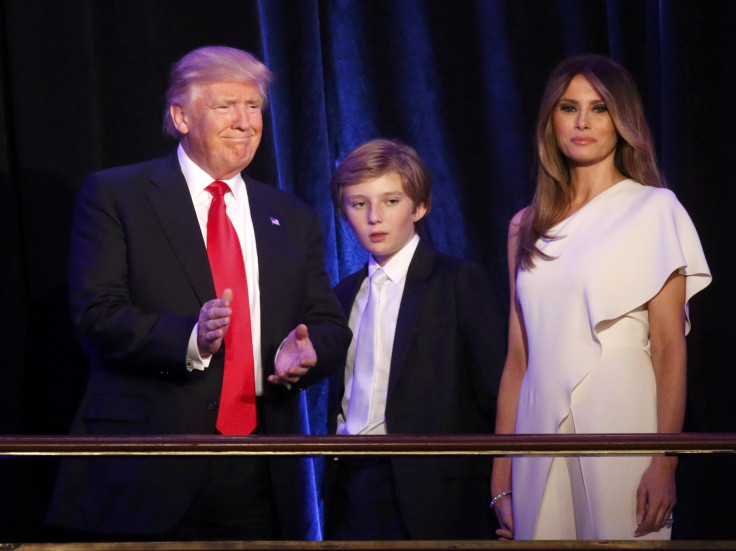 The bad blood between President-elect Donald Trump and comedian Rosie O'Donnell could get worse in the wake of O'Donnell's tweet intimating Trump's youngest son, Barron, is autistic.
Trump's wife, Melania, reportedly is threatening to sue. TMZ reported Monday, Melania has hired Charles Harder, who sent a letter threatening to sue over a video captioned, "Barron Trump Autistic? #StopTheBullying," which was tweeted out by O'Donnell.
"The video allegedly seeks to 'stop the bullying' of Barron Trump. Not true ... The video did instigate further bullying by Rosie O'Donnell and others," the letter says.
Barron, 10, is seen yawning and grimacing on the video, shot during Trump's victory speech in the wee hours Nov. 9 and also during the president-elect's victory speech at the Republican National Convention, another late-night performance.
Harder wants whoever posted the video to delete it and issue an apology.
TMZ said Melania Trump is outraged.
O'Donnell claims she was just curious about Trump's son because her daughter, Dakota, 3, is autistic, CBS News reported. She said on her website her comment had nothing to do with the president-elect.
"I feel Trump is a clear and present danger," she wrote. "But this autism subject – had nothing to do with Donald."
She also said: "When I saw the anti-bullying video that mentioned Barron, it spoke to the symptoms many ASD [autism spectrum disorder] kids have. It was educational and informational. These symptoms so many do not understand — I thought — how amazing if, if it is true."
O'Donnell was flamed for tweeting the video:
The Trump-O'Donnell feud began in 2006 when Trump decided against firing Miss USA Tara Conner for drug use, underage drinking and sexual activities. O'Donnell criticized the decision on "The View," and called Trump a "snake oil salesman" and attacked his sexual history. Trump then called O'Donnell a "real loser" and a woman "out of control," threatening to sue her for saying he went bankrupt.
When O'Donnell announced her engagement in 2011 to Michelle Rounds, Trump tweeted he felt "sorry for Rosie's new partner in love," again calling O'Donnell "a true loser."
O'Donnell tweeted back, "Wow, u r an ass."
Trump also slammed O'Donnell for undergoing weight-loss surgery in April 2014 and called her "crude, rude, obnoxious and dumb" when it was announced she would return to "The View" that July.
Trump again took after O'Donnell during the first Republican presidential primary debate in August 2015 when he was asked about the obnoxious names he has called women. He interjected, "Only Rosie O'Donnell."
Former Secretary of State Hillary Clinton added her 2-cents in September.
Since the election, O'Donnell has put up numerous posts warning about the dangers Trump poses.
© Copyright IBTimes 2022. All rights reserved.
FOLLOW MORE IBT NEWS ON THE BELOW CHANNELS