BART Police Shooting Outside West Oakland Station: 1 Dead, Another Injured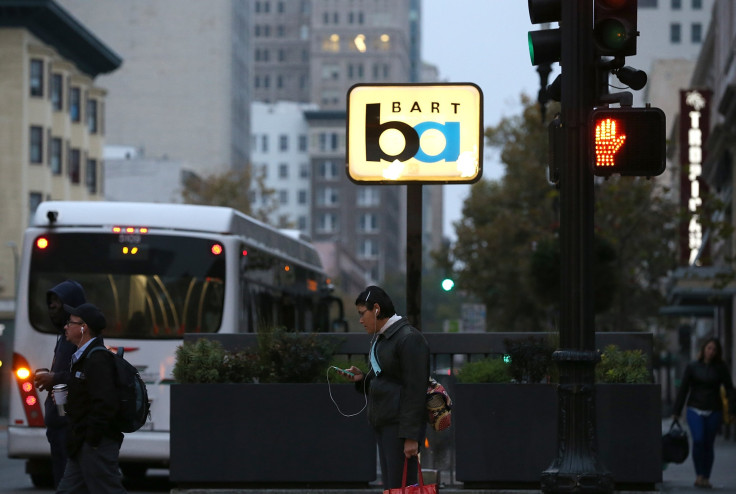 A Bay Area Rapid Transit (BART) police officer was involved in a shooting outside the West Oakland Station, California, Wednesday evening, that killed one man and left another severely injured and hospitalized, authorities said.
The BART officer involved in the incident was unharmed and it is unclear who fired the fatal shot. Police said they would not offer any more details until Thursday morning.
One witness told the San Francisco Chronicle that she noticed two men arguing before shots were fired. Another witness said she reportedly saw one man shoot the other in the leg, thus prompting a BART police officer to rush across the street from his station and shoot him.
However, a witness named LeQuisha Stanley, told Fox10 that the two men were in an argument and the BART officer was already at the scene. She added that things escalated rapidly.
"One of them shot my friend in the leg and the police shot and killed the guy that shot my friend in the leg," Stanley said.
A video posted on Facebook after the incident by Fox affiliate KTVU, showed an aerial view of the aftermath of the scene with police cars and officers talking to pedestrians.
Department spokeswoman, Officer Johnna Watson said in a statement that BART police reported that one of their officers had been involved in a shooting incident and requested Oakland police's assistance.
"Upon arrival, Oakland police officers learned that an on-duty BART PD officer, dressed in full police uniform, discharged their service firearm and two adult males were transported to a local hospital for medical attention," Watson said.
The shooting occurred at 4:41 p.m. across Seventh Street from the station entrance, Oakland police said.
"I was inside getting my BART ticket at about 4:40 and I heard gunshots and a bunch of people running into the station screaming and running," said a witness Annabelle Teleki of Oakland, ABC7 reported.
"This is a main thoroughfare through the West Side of Oakland so we have a lot of witnesses that we're talking to and we'll also be checking video surveillance as well," Watson said.
At about 6:30 p.m. EST, Watson declared that one of the two men had died at the hospital and the other was said to be in stable condition.
"The BART officer, who was in full police uniform, did discharge their firearm," Officer Watson added.
However, it could not be confirmed if the wounds came from the officer's weapon because of another handgun that was recovered from the scene.
"Both individuals had gunshot wounds," Watson explained. "Another has serious injuries, but we cannot confirm that this was the discharge of the BART officer's firearm."
The West Oakland Station remained open and the train service was not affected and went uninterrupted. Some commuters, however, found it difficult to get to their cars during the investigation.
Police barricaded several blocks in order to investigate, and opened the streets around 9 p.m. EST.
A shooting in a BART station, nine years ago led to several large demonstrations and unrest. Former BART Officer Johannes Mehserle was sentenced to two years in prison after he fatally shot Oscar Grant on Jan. 1, 2009, on an Oakland train platform.
© Copyright IBTimes 2023. All rights reserved.