'Bates Motel' Season 1 Finale Spoilers: Who Will Die In Episode 10, 'Midnight'? [VIDEO]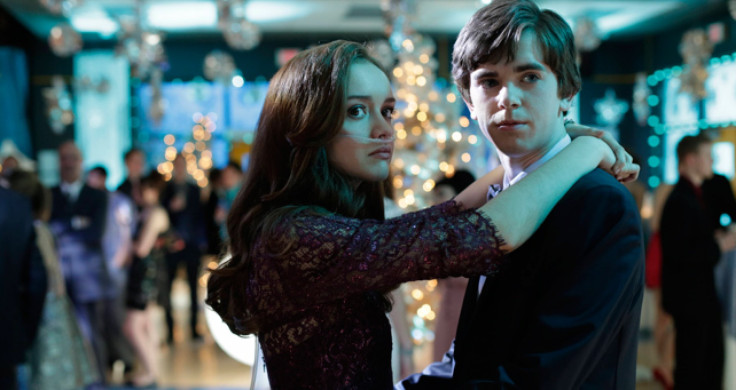 Season one of "Bates Motel" is coming to a close on Monday, May 20. A haunting new series full of gruesome deaths and some pretty uncomfortable relationships, the A&E show will not disappoint with its final episode of the season, "Midnight." So, what can viewers expect?
Jake Abernathy's Threat
In episode nine the mysterious Jack Abernathy threatened to kill Norma and her sons if she didn't get him money. It appears that Norma is taking that threat seriously. "I need to speak with Sheriff Romero right away please," Norma begs at the police station. "It's a matter of life and death."
Although a synopsis for the season finale reveals that Sheriff Romero "decides it's time to act," that's not enough for Norma. Getting Dylan to give her a gun, Norma practices shooting so she has a chance to protect her family from Jake Abernathy.
The Big Dance
Norman will be cozying up to Emma in the season finale when he takes her to the school dance. He's not the smoothest and most social kid, and a sneak peek video of episode 10 shows that Norman is definitely nervous about the dance – and takes it out on his socks (or lack of socks).
While Norma is in her room with a gun, Norman frantically yells, "Mother!" Storming into her room, Norman tells her, "I need some black socks." After asking if he's looked in his sock drawer, tension grows when Norman sarcastically responds, "It never occurred to me to look in my draw … I can't go to the stupid dance wearing white socks with a suit!" Fortunately, Dylan saves the day (and eases the building tension) when he tells Norman not to fret because he has black socks he can borrow.
A Big Fight
It looks like Norman's hook up with Bradley will be coming back to bite him. Outside the school, Norman gets punched in the face by a dark-haired boy who we're assuming to be Bradley's jealous boyfriend. Another clip of the season finale shows Norman walking home in the rain, presumably after the fight. The "Midnight" episode description reveals that Miss Watson will take him home … could something inappropriate possibly occur between the two?
"Someone Will Die"
The trailer for episode 10 reveals that "someone will die"… but who? The camera cuts to Miss Watson, Dylan, Sheriff Romero, Bradley and Jake Abernathy. A final clip of the video shows someone falling into the water.
Who do you think will die? Check out the trailer below and let us know what you think in the comments section.
Season one of "Bates Motel" concludes on Monday, May 20. You can watch the season finale, episode 10 at 10 p.m. on A&E.
© Copyright IBTimes 2023. All rights reserved.