'Bates Motel' Season 2 Spoilers: New Promo Poster Released, Spoiler Roundup [PHOTO]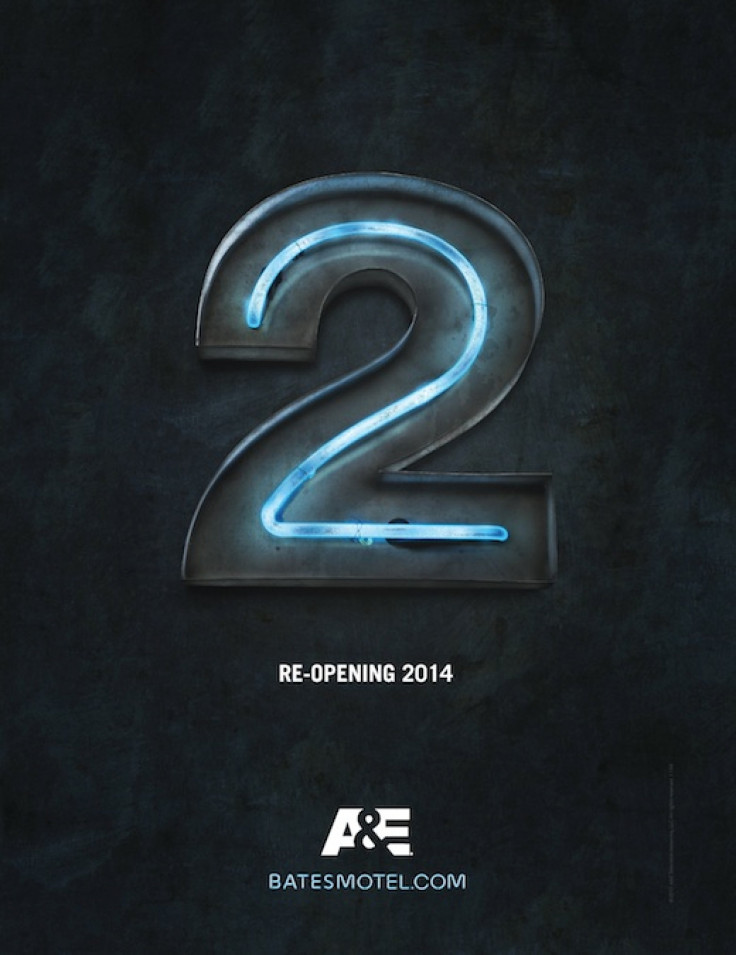 WARNING: SPOILERS AHEAD. Do NOT read if you have not watched the season 1 finale or don't want to know about season 2 casting.
"Bates Motel" is prepping to re-open! The A&E "Psycho" prequel has begun filming and the network has released a new promo poster to get fans hyped for season 2.
Unfortunately the photo doesn't give viewers a look at their favorite characters, but instead shows a blue neon sign of the number two. A caption for the poster reads: "RE-OPENING 2014."
"Bates Motel" had no vacancies viewer-wise when season 1 came to a close in May. When the A&E series returns in the spring, it'll continue to bring the drama and mysteries.
As we previously reported, the new season will pick up during the summer. While it's tourist time in White Pine Bay, that doesn't mean that the Bates Motel will be overflowing with customers. As viewers learned last year, there is a freeway bypass being built far away from the motel. The bypass will be a storyline in season 2, suggesting that Norma will be in a bit of financial trouble with the motel.
But while money might not be good for Norma, her life seems to be turning around otherwise. The new season will introduce Christine, a female friend for Norma, as well as George, "a charming divorcé" who catches her attention.
Things will also be looking up for Norma's eldest son, Dylan. "Bates Motel" creator Carlton Cuse teased at Comic Con that Dylan will be "having a lot of sex [in season 2]," but wouldn't reveal the identity of his hookup. Our theory? Norman's old flame, Bradley.
Speaking of Norman … remember the death of Miss Watson or "B"? The death of Norman's teacher will set up season 2, introducing a new character who is bent on seeking revenge -- her father, Nick.
"Bates Motel" returns to A&E for its second season in 2014. Will you be tuning in? Let us know in the comments section.
© Copyright IBTimes 2023. All rights reserved.