'Battlefield 2042' 'Exodus' Explores Story Behind Upcoming Shooter Title
KEY POINTS
"Battlefield 2042" releases on Oct. 22
The game launches on various gaming platforms
"Exodus" aims to prepare the players for the world of "Battlefield 2042"
EA and DICE are not yet inclined to showcase more of the "Battlefield 2042" gameplay just yet but they are willing to allow players to explore the story behind their upcoming shooter through "Exodus."
With the official release of "Battlefield 2042" fast approaching, EA and DICE amped up their marketing campaign by releasing a short film, titled "Exodus." The video game publisher announced the upcoming film on Twitter, along with its teaser trailer. According to EA, it will unpack the game's world and prepare players for the release of the game.
The trailer's description on YouTube reveals the short film will tell the events that will spark the all-out war and will set the world of "2042." Unfortunately, the teaser offers very little information, but it centers on No-Pats or non-patriated, who make up the fighting force in the world of "Battlefield 2042."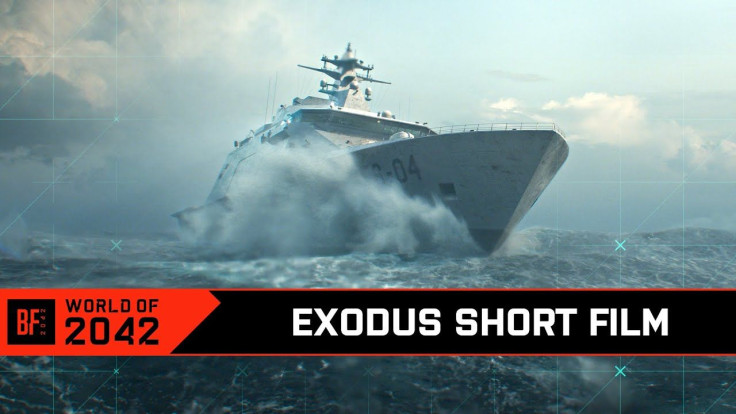 The No-Pats pledged temporary allegiance to either Russia or the U.S. to have a seat at the table once the last straw was drawn. Surprisingly, fans will not have to wait much longer for the short film. "Exodus" will premier on the "Battlefield" official YouTube channel on Aug. 12 at 11 a.m. ET.
EA described the upcoming short film as a standalone project, which could mean its story might not have a continuation in future short films. But, EA and DICE will possibly launch similar projects and other campaigns when "Battlefield 2042" nears its release.
Game developer DICE will also offer fans a peek at the locations of the game through the eyes of journalist Kayvan Bechir from Tuesday until Aug. 12. This is still a part of the team's effort to build the world of the upcoming shooter title. Fans, however, should not expect any maps or gameplay to be featured at these activities.
"Battlefield 2042" is scheduled to release on Oct. 22. The game will launch on PC, PlayStation 4, PS5, Xbox One, Xbox Series X and Xbox Series S.
© Copyright IBTimes 2023. All rights reserved.
FOLLOW MORE IBT NEWS ON THE BELOW CHANNELS