'Battlefield 4' Bugs: EA DICE Explains 'BF4' Fixes In-Depth; Client And Server Patches Underway To Remedy Bug-Ridden Release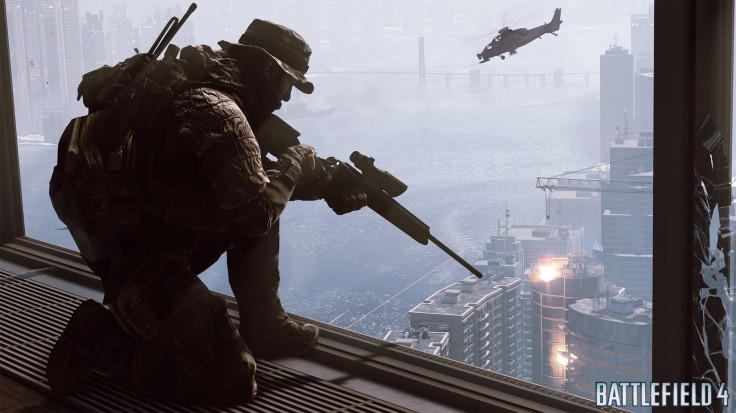 After several bugs, crashes and glitches marred the release week of "Battlefield 4," Electronic Arts (NASDAQ:EA) and its Swedish development team at DICE responded to players with a detailed post about their current status in fixing the numerous problems encountered by players "Battlefield 4."
EA DICE's initial response after "Battlefield 4's" release left little information as to what bugs were being worked on, outside of a few issues, such as a red screen of death (RSOD) crash which occurred for users of AMD (NYSE:AMD) graphics cards between matches of "BF4" and the inability to join server queues. According to EA DICE's initial response, the former problem was addressed promptly with the latest Catalyst beta driver released by AMD, 13.11 Beta8 for Windows.
After much vocal anger from "BF4" players, EA DICE responded to players through its Battlelog community with a highly detailed post explaining known issues with "Battlefield 4" along with their current status in addressing individual issues across each game platform.
In the post, EA DICE explains that many of the game crashes and freezes are being tackled via server side patches, which have been rolled out throughout the weekend. Throughout the weekend, "Battlefield 4" gameplay was briefly interrupted as the "BF4" server patches were rolled out.
On Monday, EA DICE rolled out an additional "Battlefield 4" server patch, R6, which was released to address common server crashes.
Some of the problems currently marked as "fixed" by EA DICE include a weapon magazine bug that caused reload settings to mimic hardcore server settings, Xbox 360 mission bugs and problems with resetting stats, a feature of "Battlefield 4 Premium."
According to the post, EA DICE is still currently investigating problems with lost multiplayer progress, single-player save file corruption and promotional Battlepack items not appearing in-game or on Battlelog.
Regarding "Battlefield 4" crashes and freezes across the PC, Sony (NYSE:SNE) PlayStation 3 and Microsoft (NASDAQ:MSFT) Xbox 360, EA DICE explains:
"Players on all formats have been experiencing game crashes and freezes while playing. We have logs of the most frequently occurring client crashes, and we are actively working to obliterate the cause of these crashes in upcoming updates.

"Note that crashes come in different types, and therefore this is technically not one single issue. There are two kinds of crashes and two types of updates that can address them: server-side updates that we can release on the fly (four of these have already been released since launch), and game client updates that require more in-depth testing and certification before they can go live.

"We have found and eliminated some of the server-side crashes on PC in the latest server update (version R4) that went live November 1. There is also a planned client update on PC in the near future where we are aiming to eliminate as many of the client-related crashes as possible."
EA DICE also added that it is currently working on a client-side PC patch which should be released soon. Unlike the release day patch for "Battlefield 4," they expect to release patch notes once they are finalized.
"The main focus is to fix as many crashes as possible, starting with the issues affecting a large number of players. We will update you once we are ready to release new server updates. We are currently working on server update #5, with four being released so far."

Included on the pending "BF4" patch release is also a fix for the number of audio bugs which have left players either missing sound or hearing massive distortion while trying to play "Battlefield 4."
While some players of "BF4" appreciated the response by EA DICE, many player comments held a sentiment questioning why the release of "Battlefield 4" was so bug-ridden in the first place. In the meantime, EA DICE recommends that "BF4" players continue to submit problems experienced during gameplay to its EA Answer HQ support site.
It is yet to be seen whether or not the same number of bugs and issues will be present upon the release of "Battlefield 4" alongside next-gen consoles such as the Sony PlayStation 4 (PS4) on Nov. 15 in the U.S. and the Microsoft Xbox One on Nov. 22.
Let us know what your current "BF4" experiences have been like in the comments below.
© Copyright IBTimes 2023. All rights reserved.