'Battlefield V' Release Date Pushed Back To November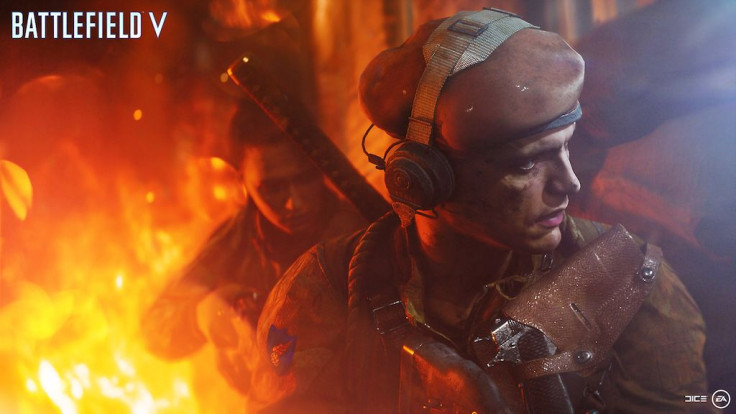 EA and DICE have announced the delayed release of the WWII first-person shooter game "Battlefield V." The upcoming game originally had an Oct. 19 release date, but that has now been pushed back by a month to Nov. 20.
DICE general manager Oskar Gabrielson explained in a lengthy blog post that they have decided to push back the "Battlefield V" release date to Nov. 20 in order to make some final adjustments to its core gameplay. He also said that the planned improvements were based on player feedback gathered from closed alphas at E3 and Gamescom.
"You have told us that you are seeing an increased focus on squad play come through, you are also feeling the difference in our revamped player movement and we are getting a lot of positive feedback for our improved weapons handling," Gabrielson said. "You've also spurred us to make some meaningful improvements to the core gameplay experience, including adjusting the gameplay tempo, improving soldier visibility and reducing player friction."
Gabrielson also said that all of the adjustments that they've made so far will be present during the "Battlefield V" open beta, which is scheduled to begin next week on Sept. 6. DICE will be continuing to gather player feedback during the open beta, which will also be taken into consideration for DICE's planned adjustments for the game.
"We're going to take the time to continue to make some final adjustments to core gameplay, and to ensure we really deliver on the potential of Tides of War," Gabrielson said. "We know moving the launch date means that we all have to wait a little longer. But we're going to take our time to make sure we get it right."
Pushing back the release date of "Battlefield V" may not be taken so well by players who were expecting to get their hands on the game in October. However, the delay may be good news for publisher EA in terms of the impending tough competition. The original "Battlefield V" release date, Oct. 19, is sandwiched between the release of Activision's "Call of Duty: Black Ops 4" (Oct. 12) and Rockstar's "Red Dead Redemption 2" (Oct. 26), as pointed out by Eurogamer.
The new "Battlefield V" release date is far away from the two highly anticipated games and it has a chance to enjoy the spotlight on its own. It was also recently reported that pre-orders for "Battlefield V" were performing below EA's expectations. The game's original release date was partly to blame.
© Copyright IBTimes 2023. All rights reserved.