Who is Elizabeth Wohl? The Wife, And The Force Behind, Vermont's Rising Dem Star Becca Balint
KEY POINTS
Becca Balint is the projected winner of Vermont's sole House seat in midterms
She will be contesting against Republican nominee Liam Madden
Balint will become first female and LGBT member repping Vermont in Congress if she wins
Becca Balint has won the Democratic nomination for U.S. House in Vermont's 1st Congressional District. Should she win in the November midterms, Balint will become the first woman and LGBT congressperson representing Vermont at Capitol Hill.
Balint has been a known face in Vermont's Senate since the past decade but little is known about her partner who is the force that fueled her political career.
The Brattleboro resident is happily married to attorney and opera singer Elizabeth Wohl. They met in 2000 at a Quaker-inspired summer camp in Plymouth. Balint was a rock-climbing instructor there, while Wohl served as a carpenter. The two settled in Brattleboro in 2007 and married sometime in 2009 after Vermont legalized same-sex marriage.
They share two children - 14-year-old Abraham and 11-year-old Sadie; and also have a furry named Wheelie. Balint used to be a middle school teacher in the early years of their relationship, a job she decided to give up to be a full-time stay-at-home mom. Wohl, who was trying to secure a partnership at a law firm, reportedly suggested Balint should run for office.
She immediately struck down the suggestion citing parental duties but after a major push from Wohl, she attended an intensive boot camp at Yale University's Women's Campaign School in 2013. She then entered the "Emerge Vermont" program founded by former governor Madeleine Kunin and graduated in July 2014.
She announced her state Senate run a month before graduation and won the primary in November that year.
"She's sort of a poster child for Emerge. She jumped right in and has proven to be highly effective," Kunin said.
Balint's campaign ad promises a set of plans she will work to execute. This includes pushing for a national single-payer healthcare system in place.
"Access to healthcare should be based on need, not on your job or ability to pay," her campaign states, promising "no premiums, no co-pays, and no networks, no more payments for a bloated insurance bureaucracy instead of vital medical care."
Balint has been fairly vocal about her battle with anxiety and depression for years.
"Now more than ever, we need elected officials who are willing to lead tough conversations about topics like mental health, and do everything in their power to ensure equitable access to mental health care. In Congress, Becca will fight not only for Medicare for All- and mental health care for all," the campaign further states.
Many congratulated Balint for her sweeping victory with 62.1% votes.
"Congratulations to Vermont Senate President @BeccaBalintVT on her historic win! Pleased to have supported Becca Balint in the primary. She will win the general election and be a terrific Member of Congress," Rep. Ted Lieu, D-La., wrote.
"I know we're all mouth agape at Ilhan Omar's poor showing tonight, so I want to remind everyone about a result that we should all feel great about - Bernie endorsed Becca Balint beating rising star of the VT Dem's moderate wing Molly Gray by 23%," read another tweet.
Liam Madden has won the Republican nomination with a total of 41.6% votes, and he'll be against Balint to secure Vermont's sole House seat in November. The antiwar advocate calls himself an independent and his real goal is to rethink the two-party system.
"It's a sacred responsibility to give Vermonters a choice between what we all know is a dysfunctional, corrupt, and war-like system of politics or the opportunity to have a renaissance of community and compassionate, civic-minded problem-solving," he said before the primary results were out.
Madden issued a word of caution late Tuesday for Balint who's projected to make it to Washington.
"Becca Balint would be making an enormous mistake to think that the same message that wins Democratic primaries is the same message the very independent-minded Vermont general election voter will want to hear," he said in a statement.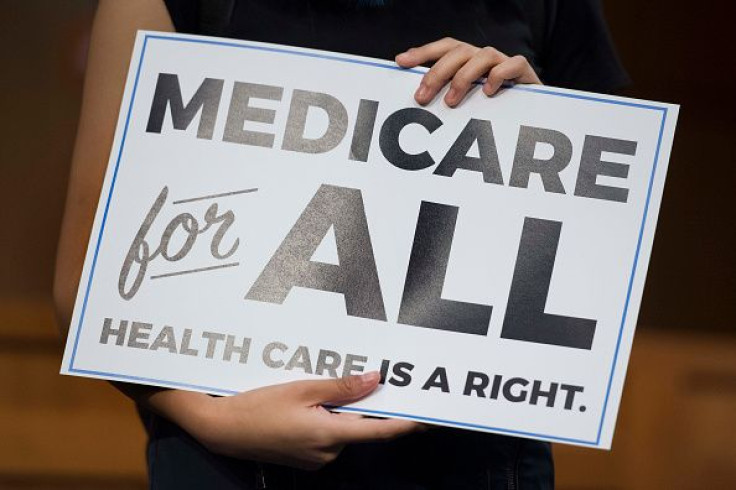 © Copyright IBTimes 2023. All rights reserved.