Beer is Alcohol, Not Food, says New Russian Law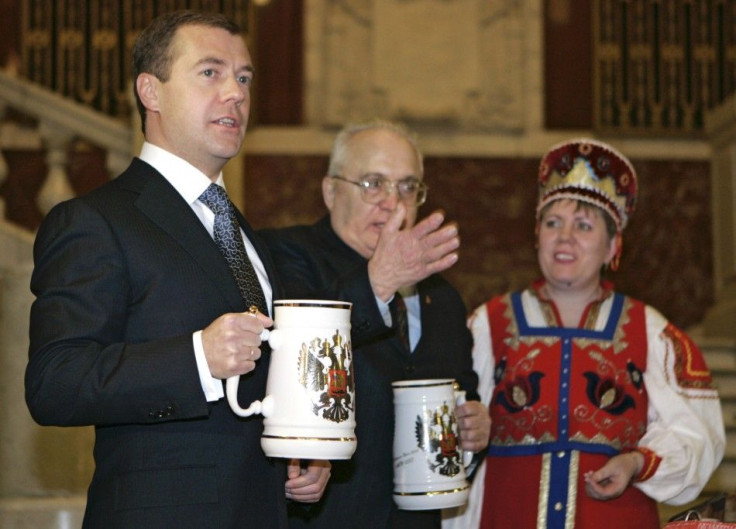 A new law was passed in Russia Wednesday that officially classifies beer as an alcoholic drink.
Russian President Dmitri Medvedev signed the bill, which changes the status of beverages containing less than 10 percent alcohol by volume. Previously, beer and similar drinks were considered foodstuffs in Russia.
The law will mean that beer could be subject to new regulations and sales restrictions, a sign that the Russian government is trying to sober its fermenting alcoholism problem.
It is common to see people swigging beer in the street and in parks as if they are drinking soft drinks, claim BBC correspondents.
According to the World Heath Organization, Russia's level of alcohol consumption is twice the critical level.
The new sales regulations won't go into effect until 2013, according to The Moscow News. The delay will help retailers adjust to the new law. Medvedev's presidential term ends in 2012.
Last year, the government tripled the tax on beer.
Unlike in the United States, where healthy bar patrons usually turn to clear liquors as an alternative to carb-heavy beer, Russians have recently been drinking more beer as a salubrious preference to harder alcohol. In the past 10 years, beer sales in Russia have risen by more than 40 percent.
Vodka sales have tanked over the same period, stumbling by 30 percent.
The new regulations will also mean that beer companies will no longer be able to advertise on the metro, nor will kiosk owners be allowed to carry beer in subway stations or other public places. Beer will also no longer be sold 24 hours a day.
The law brings some order into the sale of beer, said Vadim Drobiz, director of the Center for Federal and Regional Alcohol Market Studies, told Bloomberg. The restrictions will not reduce beer consumption.
© Copyright IBTimes 2023. All rights reserved.