Beijing Taps IBM For Smog Relief Even As China Mulls Strict Limits On Western Tech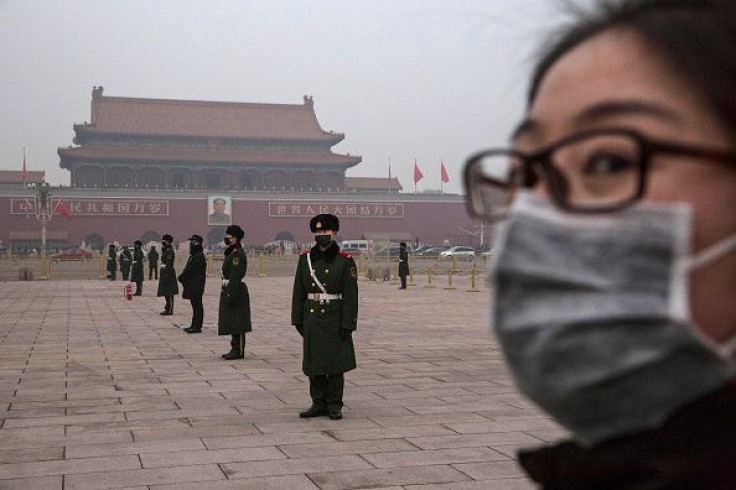 China's notorious smog may mean Beijing cannot restrict Western business as much as it would like to. On Tuesday, Beijing issued its first smog level red alert, the highest such alert the government can use. The move sparked debate about the future of the country's environmental efforts.
But help is on the way. On Wednesday, IBM said a system that predicts Beijing's high smog levels and continues to help authorities manage the city's crisis will be expanded to the cities of Baoding, Zhangjiakou and Xinjiang. Financial terms of the deal were not revealed.
The cooperation between Big Blue and Beijing to tackle severe environmental problems comes even as China's government has begun applying strict conditions on Western tech firms doing business in the country. Authorities say the measures, like forcing some vendors to hand over source code, are for security reasons. Outside observers, however, maintain that the country's leaders are using security as a pretext to give homegrown tech companies, such as Xiaomi and Huawei, an edge.
It's a delicate balancing act in which both sides will show some flexibility, given the stakes. U.S. companies like IBM need continued access to the Chinese market to ensure growth, while Beijing still requires advanced Western technologies to tackle some of its toughest problems, including the environment.
IBM, which had already been working with Beijing, was able to predict the high levels of smog ahead of time. It can provide 10-day pollution trend predictions, with high-resolution forecasts up to 1 kilometer, or a little more than half a mile, 72 hours ahead of time. That gives individuals and businesses the ability to plan ahead.
The Green Horizons initiative, which first covered a year-long collaboration between IBM and the Beijing Environmental Protection Bureau, will now expand to aid research on air quality in New Delhi, India, Johannesburg, South Africa and other cities in China. It's an example of how IBM is transitioning from a supplier of low-margin hardware products like chips and servers, to become a provider of high-touch engagements that combine consulting services with sophisticated analytics and artificial intelligence systems.
IBM has made big progress with Beijing over the past year. The government has reported a 20 percent drop in the amount of particulate matter (PM) in the air, which is well on the way to reaching the goal of a 25 percent reduction in PM 2.5 by 2017.
A very fine particle, PM 2.5 is a type of matter less than 0.0025 millimeters in diameter, or 2.5 microns. High rates of PM 2.5 are a serious concern for city officials: At the time of the red alert, PM 2.5 was at 291 micrograms per cubic meter. By midnight Wednesday in China, PM 2.5 was at 87 micrograms. The system's ability to foresee smog levels like this and warn the public is crucial in protecting health.
IBM's system uses data from a wide array of sources. It leverages IBM's Internet of Things (IoT) technologies to connect sensors around the city together. Data is even collected from social media: It is capable of detecting social posts of residents complaining about unplanned coal burning, which is then factored into the overall model.
"It's a real mixture of data feeds and models that we're blending and consolidating to create this high-accuracy system," said Dr. Jin Dong, associate director of IBM's China Research lab and lead of the Green Horizons initiative.
The system is also smart. It learns and adapts based on past events. Without this capability, a climate model may prove incorrect but stay in place until a human updates it. IBM is using cognitive computing to change the models as new data becomes available. These lessons will also be applied in the expansion of the initiative: Researchers in Johannesburg won't start from scratch, building on what the Beijing system learned.
Cutting Down the Carbon
IBM's system doesn't make policy recommendations. It's still the responsibility of local government to formulate and implement policy in response to forecasts, but what the system can show is how various factors are placing pressure on the city's health, which can lead to more informed discussion.
Initiatives like these will help China in its plans to greatly reduce pollution. Center for Climate and Energy Solutions (C2ES) President Bob Perciasepe is in Paris where world leaders are thrashing out the finer points of a transformative agreement to cut carbon emissions. Green Horizons is an example of an initiative that can help achieve these goals. "We all know that you cannot manage something you don't measure," he said.
Green Horizons can also play a role in helping China reach its own domestic goals. "China has already made strong strides," said C2ES international fellow Anthony Mansell. "Their 2030 emissions reduction target will require great deployment of renewable energy." China is aiming for carbon emissions to peak by 2030.
Homegrown Innovation
Despite the importance of systems like IBM's, Beijing of late has been sending signals that imported tech is less favorable than homegrown innovation. In January, the government laid out new restrictions on imported technology products. The news caused quite a stir in Western tech circles, with fears that Western companies would have to relinquish key details about their products in order to continue trading in China.
The proposal is a sign of a key tension in China's government. It wants to utilize the best technology available to make life better for citizens, but also wants to protect national security and encourage its domestic industry. "They want to grow globally competitive tech and [information technology] companies," said Samm Sacks, an analyst at Eurasia Group with a focus on China.
"We've actually already seen some pushback from Chinese tech firms," said Sacks, citing a response from Huawei that these regulations could lead to a slowdown in Chinese innovation. With an industry that's too protected, fears arise that there is less drive for innovating.
China, Sacks said, has a long-term goal of reducing dependence on external tech firms. But IBM's work on a crucial problem shows why that may not be desirable, or even possible, just yet.
FOR FREE to continue reading
✔️ Unlock the full content of International Business Times UK for free
offer available for a limited time only
✔️ Easily manage your Newsletters subscriptions and save your favourite articles
✔️ No payment method required
Already have an account?
Log in
© Copyright IBTimes 2023. All rights reserved.