Ben Affleck, Matt Damon Say Director Nixed Their Kissing Scene In 'The Last Duel'
Ben Affleck and Matt Damon have revealed that they were supposed to kiss in "The Last Duel" as per the script, but the scene was later removed by director Ridley Scott, according to a report from Entertainment Tonight.
"The Last Duel," which is an adaptation of Eric Jager's 2004 novel of the same title, is about the last recorded trial by combat in the history of France, which happened between Jean de Carrouges and Jacques Le Gris in 1386.
For the sake of historical accuracy, Damon, who portrays Carrouges and Affleck, who plays Pierre d'Alençon, were supposed to have a kiss during a ceremony. However, that didn't happen at all. Instead, the final scene features Damon kneeling in front of Affleck instead of kissing him.
"That's what goes on at home too," Affleck jokingly told the outlet about the scene during an interview.
Damon chimed in, saying, "I actually have to kneel before him. Once he started directing, that's actually how I have to get in his house."
In response to Damon, Affleck said, "The way that ceremony actually took place was that you kissed everybody on the mouth and we had that in the script."
Damon joked that it would have been their first "on-screen kiss" and Affleck replied, "It's going to have to wait."
The actors also made it clear that this scene was never filmed as it never made it to the final script after the director rejected this scene.
"Ridley thought it would be distracting, and his instincts are pretty good," Affleck explained.
Damon recalled how their on-screen characters "really hate each other" and it was fun to film certain scenes. He also brought up one of the scenes that were improvised by Affleck.
"The scene where I kneel before him, Ben just improvised this thing where I started to say my line and he just interrupted me and goes, 'Closer.' And I have to kind of get up and kneel again in front of him," Damon recalled. "And that was just — he just did that and just kind of blurted that out, and it wasn't in the script."
"The Last Duel," which also stars Jodie Comer, Adam Driver, Caoimhe O'Malley and Alex Lawther, is set to hit U.S. theaters Friday. The movie had its world premiere at the Venice Film Festival last month.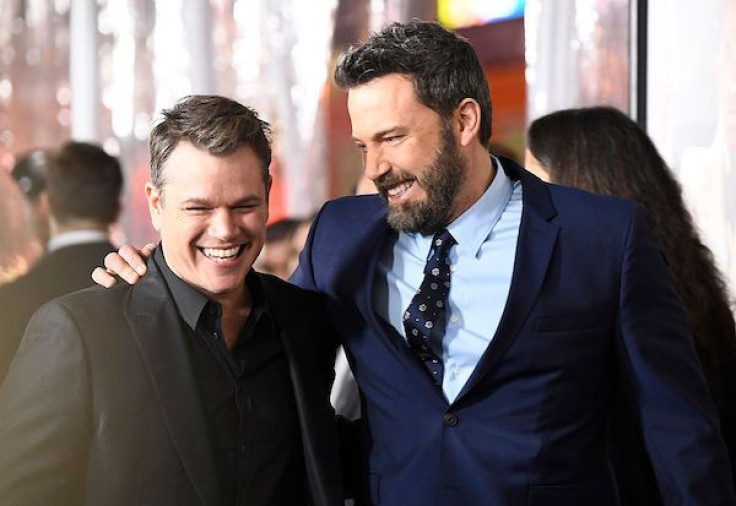 © Copyright IBTimes 2023. All rights reserved.