Ben Affleck Shows Off Massive New Tattoo On 'Live By Night' Set; Did He Get The Ink After Jennifer Garner Divorce?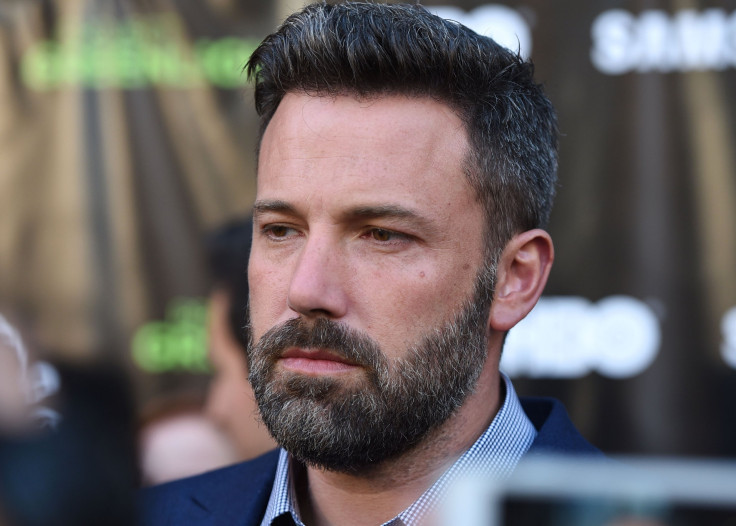 Ben Affleck is a new man after his divorce from Jennifer Garner. The actor showed off a new tattoo on his back while working on his upcoming film "Live By Night." Affleck went big with his ink, covering a major portion of skin.
TMZ reports Affleck, 43, was seen walking around the set with a backless white robe on when paparazzi snagged a photo of his tattoo. Although some of it is covered by the garment, it appears to be a large phoenix with a long, swirling tail. While many initially believed it was a fake tattoo, applied for his role in the film, TMZ's sources suggest it is totally real. It in unclear when Affleck got the tattoo, but sneaky photographers caught a glimpse of it as far back as July. The publication's sources added that the ink is said to have been being worked on around the same time he and Garner, 43, split.
Affleck's been doing much more than showing off his tattoo one the "Live By Night" set. According to recent reports from the Daily Mail, he and co-star Sienna Miller were spotted holding hands between takes on Friday. This was after photos surfaced of the pair locking lips on set, which was believed to be specifically for the film. Gossip Cop released a story dismissing rumors that Garner had been hurt by her estranged husband's on-set kiss. Sources told the publication she was "100 percent aware" that the two are currently playing on-screen lovers, which requires them to be physical with one another.
Although they are no longer a couple, Affleck and Garner are said to be cordial. Since going public about their divorce in June the pair have been seen spending a significant amount of time together, likely for the sake of their three children. On Dec. 1, People magazine reported that the actors spent Thanksgiving together and are said to have "had a great time." Affleck's mother, Christine Anne Boldt, was reportedly in attendance. She was photographed walking with Garner and granddaughter Seraphina on Nov. 30. The sighting came shortly after reports surface claiming Affleck had been leaning on his mother after the split.
Affleck and Garner announced their divorce in June. The couple released a joint statement one day after what would have been their 10-year anniversary. In it they revealed to fans that "after much careful thought and careful consideration" they had decided to part ways. The actors said they would be moving forward with "love and friendship," adding that they would be shifting their focus from their marriage to co-parenting their kids.
© Copyright IBTimes 2023. All rights reserved.