Ben Carson Backtracks On Muslim Comment, Says He Meant Radical Islamists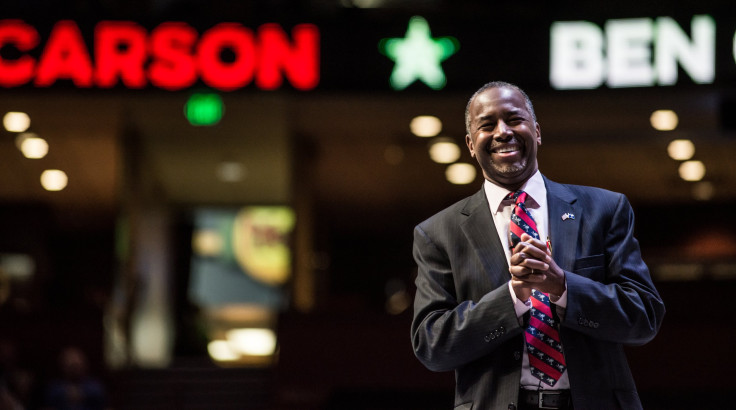 Republican presidential candidate Dr. Ben Carson backtracked slightly from his comment that a Muslim should not be president of the U.S. while speaking Monday on the Fox News Channel show "Hannity." Carson said he "absolutely" stood by his remarks Sunday on NBC's "Meet the Press," but said his comment should have been understood as referring to radical Islamists.
Carson said he would be open to a moderate Muslim running for president who did not hold any radical beliefs.
"It was implied in the comment because I prefaced that by saying I don't care what religion or faith someone belongs to. If they're willing to subjugate to the American way and to our Constitution, then I have no problem with it," Carson said in the interview with Sean Hannity, to be broadcast Monday night.
Speaking on "Meet the Press" Sunday, Carson said a president's faith needs to be consistent with American values. "I would not advocate that we put a Muslim in charge of this nation," he said. "I absolutely would not agree with that."
Carson stressed Monday that anyone with radical religious beliefs is not fit to serve as president of the U.S.
"If you're a Christian and you're running for president and you want to make this into a theocracy, I'm not going to support you," he said.
Carson said that Muslim theocracies do not operate in the same ways as the American political system. His remarks quickly sparked outrage, with Muslim-American groups calling for the end of his candidacy.
"To me this really means he is not qualified to be president of the United States," Ibrahim Hooper, spokesman for the Council on American-Islamic Relations, said.
Carson, a retired neurosurgeon, is a practicing Christian. Carson remained among the GOP front-runners in recent polls along with Donald Trump. Carson said Monday he believed he could win the Republican nomination.
"I absolutely believe that," he said. "But you know, I listen to the people everywhere I go. They're saying, 'You are our hope,' and the crowds are big and enthusiastic and, you know, I will do everything I can working with the people to return this country to a place that is up-formed [sic] by the people," he said.
© Copyright IBTimes 2023. All rights reserved.