Best Buy's New CEO Says He's Going To Work The Cash Register In His First Week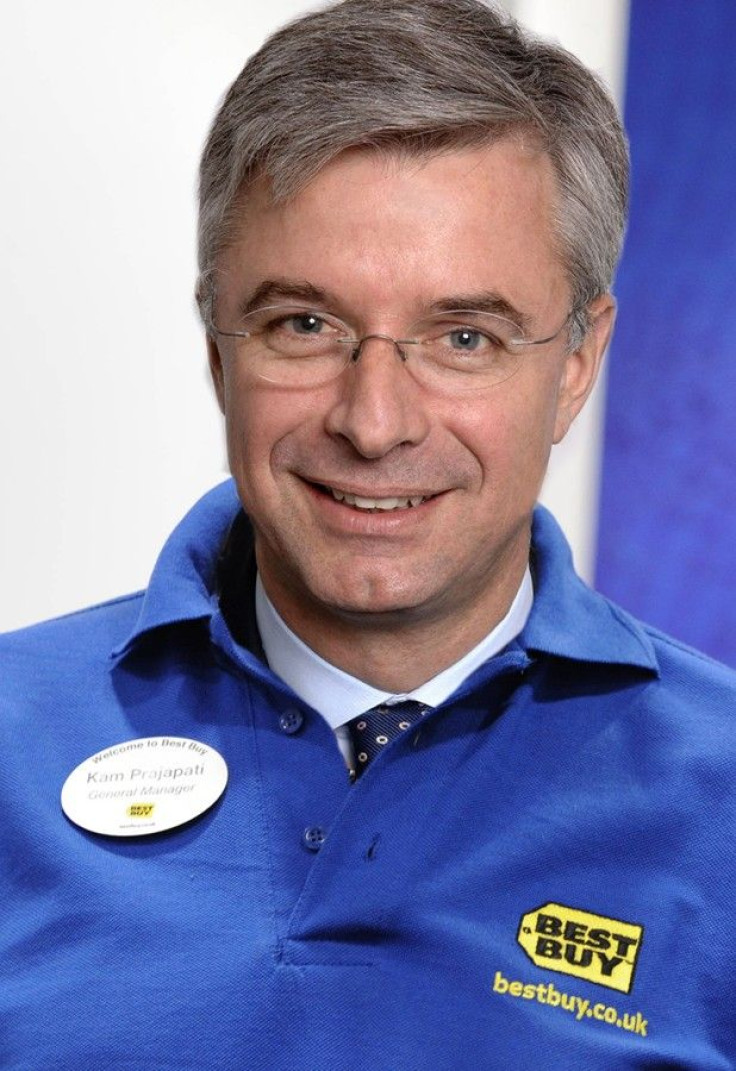 Hubert Joly, the new CEO of Best Buy Co. Inc. (NYSE: BBY), is going to spend his first week on the job pulling the old king-as-commoner routine, donning the company's uniform and working a few of the showrooms in or near the company's Richmond, Minn., headquarters.
The CEO, whose base salary is $1.2 million but could be as much as $32 million in cash and stock incentives, will spend a few days serving customers, stocking shelves and riding along on house calls with the company's Geek Squad technicians.
It's all part of Joly's mission to revive a company that seems well on its way to meeting the same fate as Circuit City, Borders and Blockbuster, three notable victims of the rise of one-click shopping. (Books, electronics and movies seem particularly easy to research and buy online.)
"I want to not learn our businesses from the headquarters," Joly told Reuters on Labor Day Monday, "I want to learn from the front line."
Sixty-three-year-old Joly, who admits he hasn't worked in a store since he was 16, is seen as an outsider to the world of retail.
He was hired by the company's board because he's known for his experience turning around companies, most recently Carlson Wagonlit Travel, where he tripled the agency's annual sales in three years and was later promoted to CEO of the parent, Carlson Companies Inc. Joly's relocation to Best Buy was easy, since he had been living in nearby Minneapolis since his move to Carlson in 2004.
The company was so eager to hire Joly, which is French, that it agreed to pay him $6.25 million if he fails to get authorization to work in the U.S. at his new job, according to NBC.
But he's no retail guru, like Mickey Drexler, the current CEO of New York-based apparel company J. Crew Group Inc., who famously turned The Gap Inc. (NYSE:GPS) from a struggling retail to a $14.5 billion giant from 1995 to 2002.
Joly will have to prove he can apply his past successes to a model that needs a quick remedy. Best Buy's net earnings in its last quarter ended Aug. 4 were just $12 million, a staggering drop from the $150 million it reported in the same quarter last year. It has reported a decline in sales for eight of the past nine quarters.
So far, Joly has been light on details on his plan to reinvent the ailing retailer. He has said Best Buy's relationship with important suppliers will be changed, possibly to include exclusive product offerings unavailable from competitors -- a strategy that has been employed successfully by other retailers, such as Target Corporation (NYSE:TGT) and The Home Depot Inc. (NYSE:HD). Joly has also suggested he might reorganize showroom space.
So far there are few details about what Joly will bring to the company, such as how he will tackle the all-important online strategy.
"Maybe it's just us, but we would have preferred if Joly had at least said given employees and the public a slight clue as to what his actual vision for the company might be," wrote Chris Morran at The Consumerist. "Where is bolstering BestBuy.com on his list of priorities? Does better customer service mean more employees or better-trained employees? Or both?"
It's these details that the company's employees and dwindling number of shareholders would like to see sooner rather than later -- especially as the company enters the year's most important holiday shopping season.
© Copyright IBTimes 2023. All rights reserved.