Best Cheap Treadmills For Home Under $300 In 2020
This article uses affiliate links, which means if you purchase products through these links, we may earn a commission. Click here to see our
T&C
. For licensing please click
here
.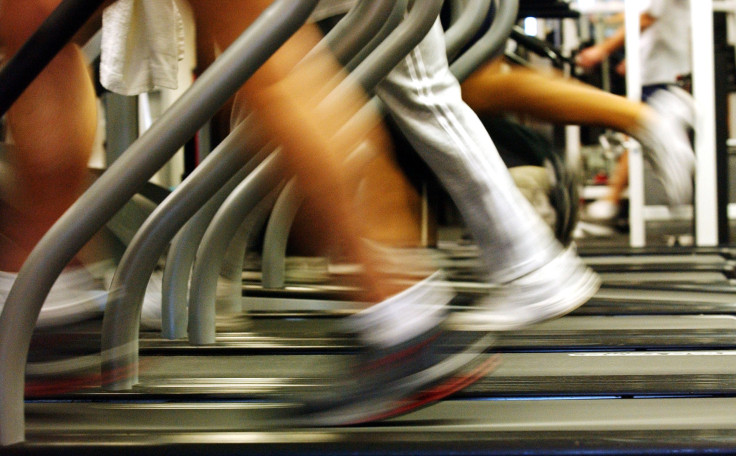 Scared of going to the gym or walking, running or jogging outside because of the coronavirus pandemic? It's understandable, as getting near people or using shared equipment can be risky. For that, you will need the best at-home exercise equipment that is sure to give you the workouts you want without the need to frequently get out of the house. These include resistance bands, weights, ropes and, of course, treadmills.
Treadmills give the satisfaction of running, jogging or walking from the comfort of your home. The good news? You don't need to have hundreds of dollars on your pocket to buy a good, functioning one. Some of these even come with free apps that allow you to track your progress online.
These cheap treadmills below prove that you do not need $300 and above to buy a good, functioning one for your home:
1. Zelus Folding Treadmill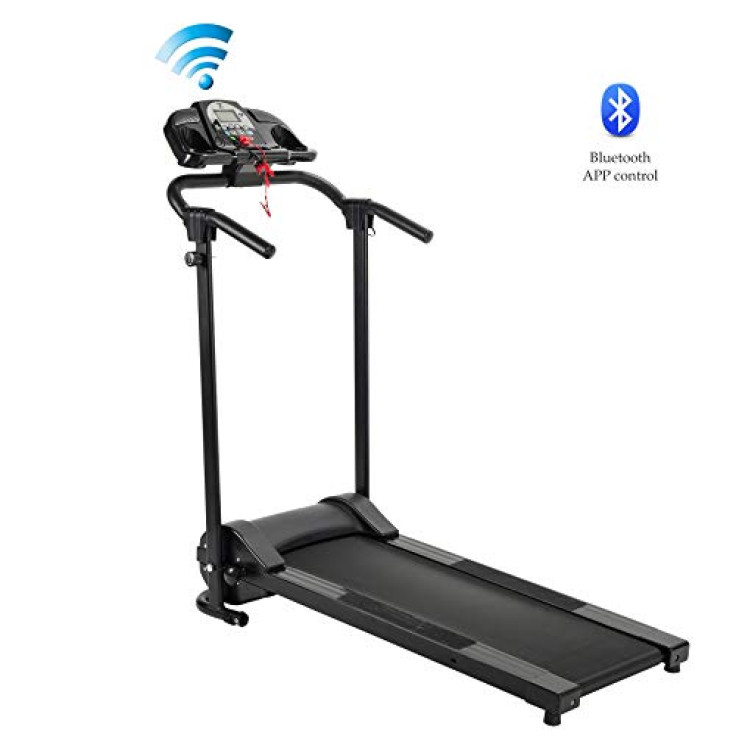 (photo from amazon.com)
Zelus' Folding Treadmill is built to last a lifetime, thanks to an ultra-strong construction that can support up to 220 pounds. Its features include an anti-skid mat for stability; a clean and crisp LED monitor that accurately displays speed, distance, time and calorie count; and integrated dual speakers for enjoying your favorite music. The integrated wheels and a two-pin locking mechanism allows for effortless storage when not in use.
2. Merax Electric Folding Treadmill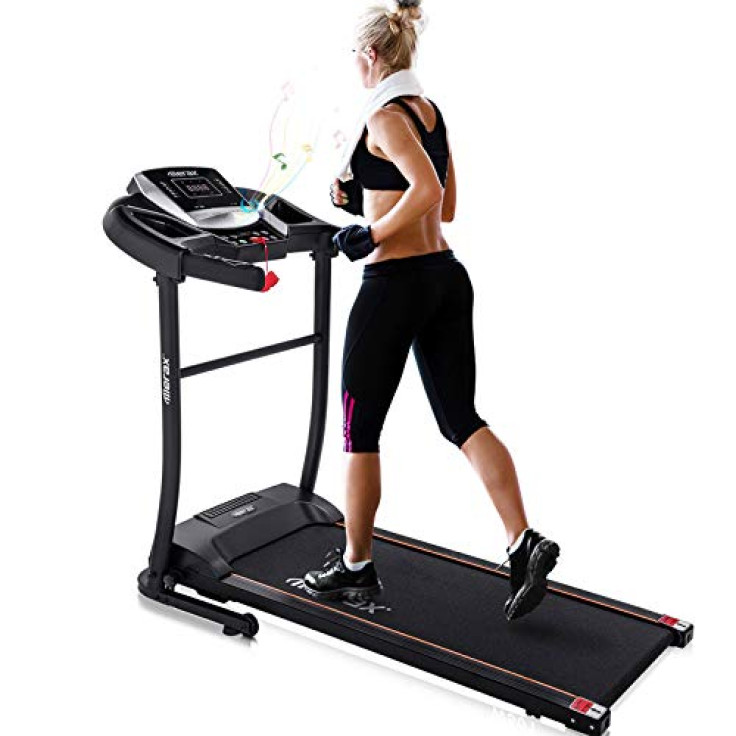 (photo from amazon.com)
Merax's Electric Folding Treadmill is a real space saver, boasting a compact footprint and fast folding wheeled design that allows you to move it without a hassle. It is powered by a strong but smooth and quiet 1.5HP motor with 12 preset programs and 3 countdown modes that supports speeds ranging from 0.5 to 7.5mph to help you meet various fitness goals.
3. Murtisol Electric Pink Treadmill
(photo from amazon.com)
Burn calories in style with Murtisol's Electric Folding Treadmill. This pink-colored treadmill lets you adjust speed from 0.8 to 10.0kph, either manually or with its five preset speed options. It features an LCD display that helps you know your speed, time and calories burned; an iPad holder; two cup holders; and a tether key to avoid tripping or slipping while walking/running.
4. Gymax Folding Treadmill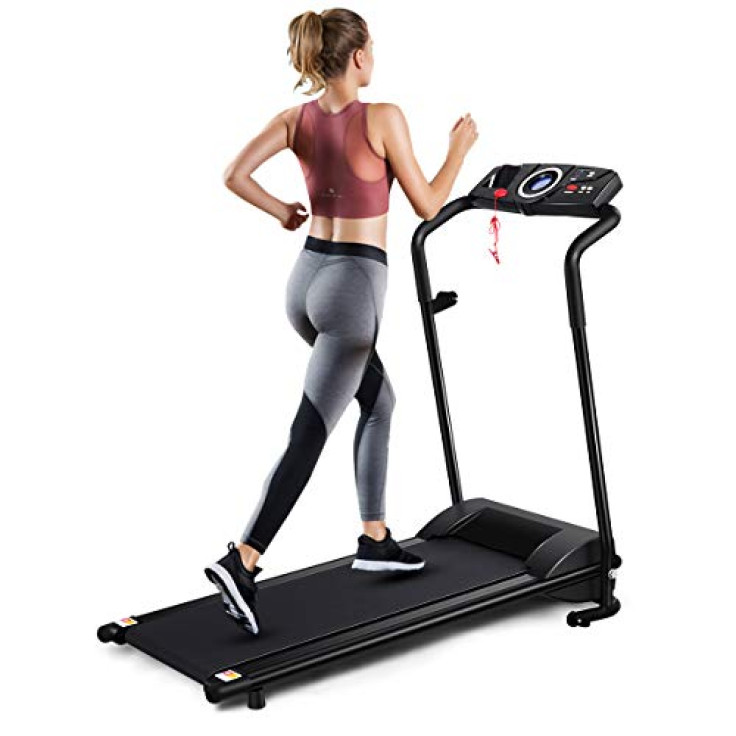 (photo from amazon.com)
With this folding treadmill from GyMax, your home becomes a gym for you to enjoy. It has a multi-functional control panel that comes with 12 built-in workout programs, a safety key for safe workouts, and a monitor for showing running speed, time, calories burned and running distance. It also uses a spacious non-slip shock-absorbing running belt that effectively lowers impact of running while reducing noise.
5. Best Choice Products Folding Electric Treadmill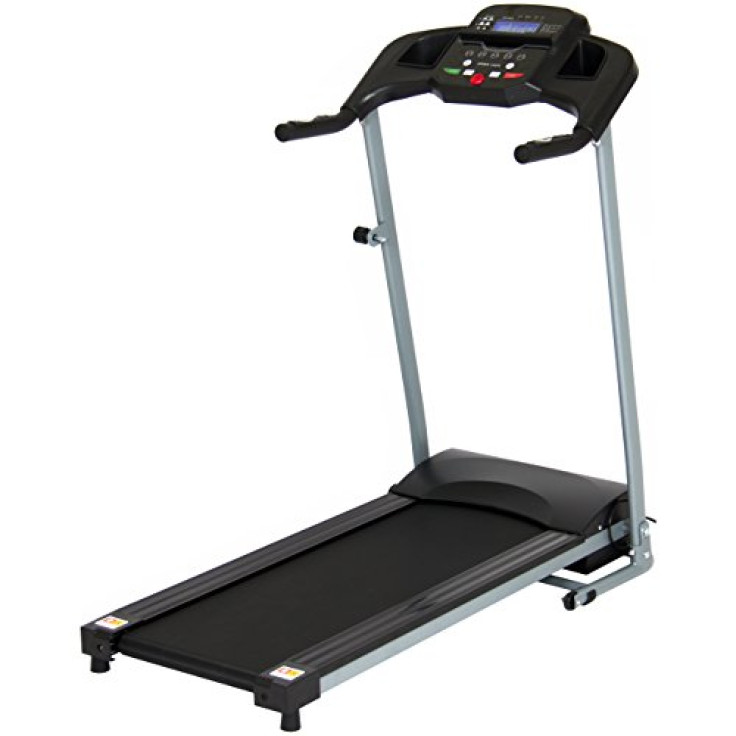 (photo from amazon.com)
Best Choice Products' Folding Treadmill lets you exercise on your own terms as it lets you choose between beginner, intermediate and advance modes to get the perfect, most comfortable workout. Its central console has a digital display for tracking distance, speed, time and calories on the screen, along with a shelf for holding tablets, books, phones and remotes.
6. XUnion Folding Electric Treadmill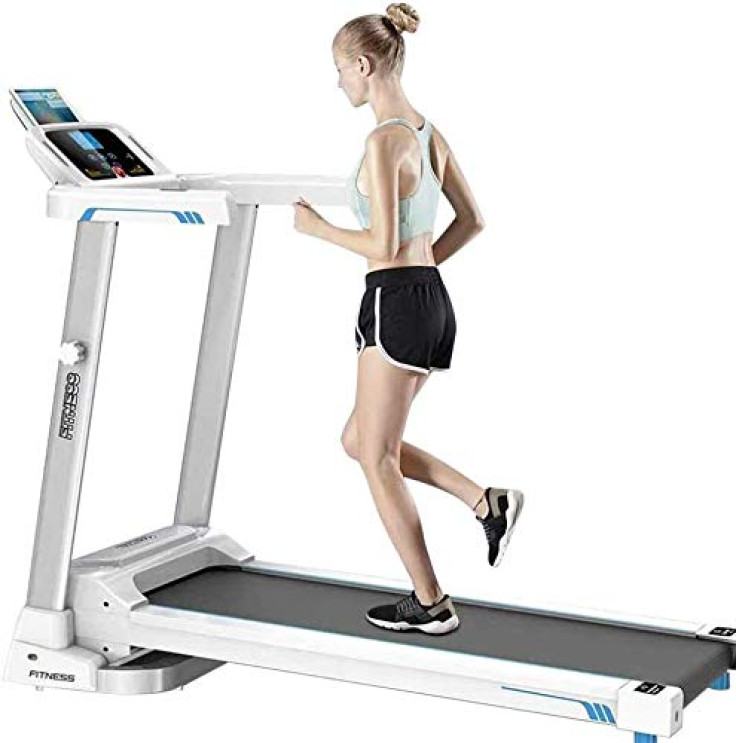 (photo from amazon.com)
XUnion's Folding Electric Treadmill lets you enjoy a more quiet workout every single day, thanks to its powerful 2.0HP motor that is perfect for walking, jogging and running in the comfort of your home. It has a high definition LED display that features 12 preset running programs to be selected and a magnetic float safety lock, in addition to a charging port for charging your phones or tablets.
7. Murtisol UR-Dream Folding Treadmill
(photo from amazon.com)
The UR-Dream Folding Treadmill from Murtisol is a good choice if you want to do workouts without having to leave the house. This foldable exercise machine boasts an LCD monitor that displays speed, distance, time and calories burned, and also allows you to select from 12 different workout programs as needed. It also has safe handlebars that help you control your speed without having to remove your hands from them.
FOLLOW MORE IBT NEWS ON THE BELOW CHANNELS