Best Chrome Extensions To Help You At Work, Keep Organized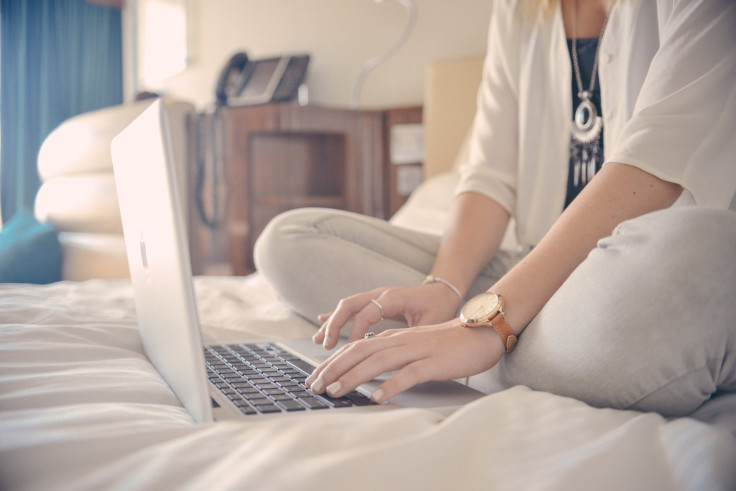 Working on your laptop or desktop at work can get hectic with all the open tabs and social media distractions, but there are some Chrome extensions that can help you out.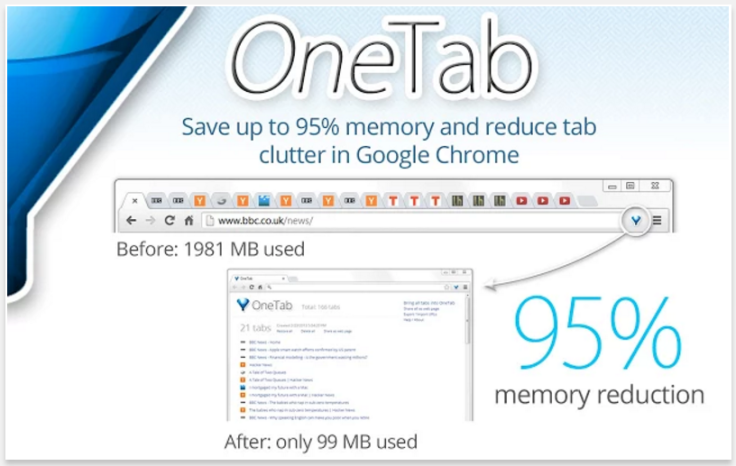 OneTab
Being on a computer all day can lead you to open multiple tabs, which can slow down your desktop or laptop. Plus, everything is unorganized and can get easily lost when opening a dozen tabs. The Chrome extension OneTab takes care of that by converting all of your tabs into a list.
Read: Telegram App Update Includes Video Messaging, Chat Bot Payments
When you download the free chrome extension, click on OneTab on your browser and a new tab will pop up. Click the top right side and you'll see "Bring all tabs into OneTab" where all your tabs will be transported to a single OneTab tab. If you have multiple windows with various tabs, OneTab will divide tabs up by windows (also in the single tab). You can delete the tabs from the list when you're done with them. OneTab, which has five stars on the Chrome Web Store, claims it saves up to 95 percent memory and says information about your tabs is never sent or disclosed to developers.
Adblock Plus
Another helpful Chrome extension is Adblock Plus, which blocks banners, pop-up, tracking, malware domains and other things that annoy people while internet surfing. Adblock Plus also removes video ads on YouTube, ads on Facebook and allows only "acceptable" ads. The extension also helps you surf the web more anonymously by disabling tracking, and also disables social media buttons on web pages.
If you still want to see some ads, you can customize it and allow ads for browsers you want by going to Options. The extension is also available for other browsers.
Read: Climate Change Is Making Allergy Season Worse, Here Are Some Tips To Alleviate Your Symptoms
goo.gl URL Shortener
Copying and pasting links is something people do every day, shortening the links too. Usually you can use bitly.com to compress a link, which is time-consuming, since you have to open a webpage, copy and paste and then copy and paste again. The extension goo.gl URL Shortener works to save you time and lets you shorten URL links while you're on the website. With the extension, you can auto copy links, scan QR codes and add the shortened links to history.
Here's how the extension looks like: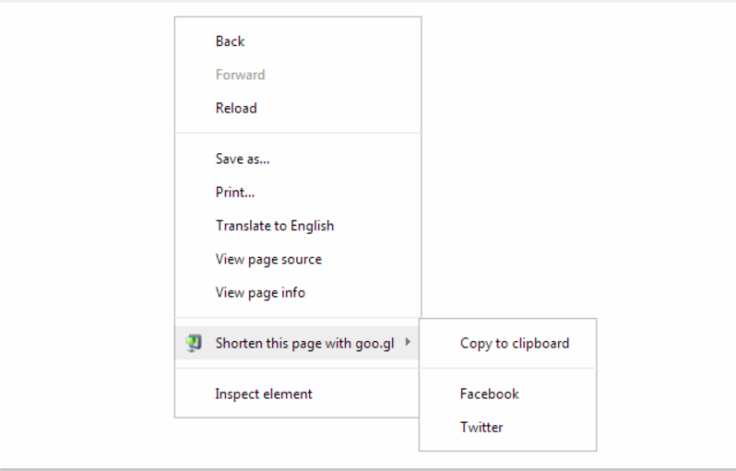 Send To Kindle
With the extension Send To Kindle, you'll be able to save news articles and blog posts you don't have time to read and send it to your Kindle device or app. If you don't want to read the entire article, you can select only the part of text you want to check later and send it to your Kindle. You can also archive the content you have sent over with the extension and re-download after.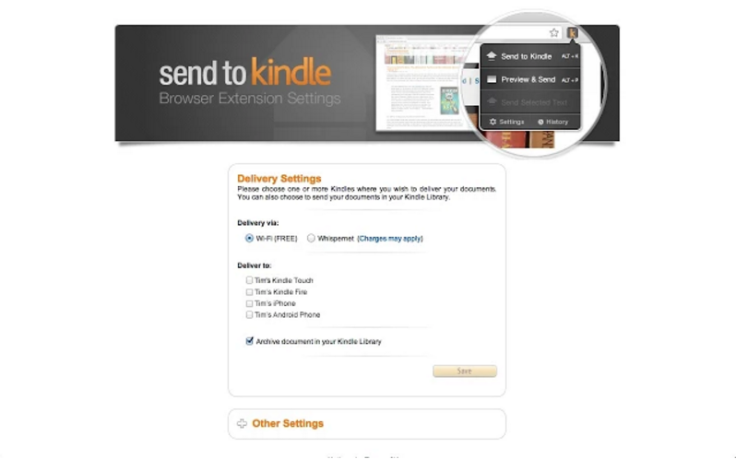 Strict Workflow
Another extension that can help keep you productive at work is Strict Workflow. The extension works as a timer and enforces a 25 minute work time frame and allows for a five minute break. Strict Workflow allows you to list websites you want to be distracted from, like YouTube and Facebook.
"When we say "strict", we mean it. Once a work timer starts, there's no stopping it without straight-up disabling the extension or restarting the browser," Strict Workflow says.
© Copyright IBTimes 2023. All rights reserved.