Beyoncé Stuns In Back-To-Back Sexy Mesh Looks In Miami
KEY POINTS
Beyoncé joined her friends in Miami for a sunset cruise on a yacht Saturday, a report says
She rocked a glittering silver wrap top with a matching slit skirt for the outing
The singer then donned a mini dress by U.K.-based brand Auné for an outing with husband Jay-Z Sunday
Beyoncé was spotted rocking two different mesh outfits in Miami, Florida, over the weekend.
One of the "Halo" singer's outfits consisted of a glittering silver wrap top and matching slit skirt, which she wore when she joined her friends Saturday for a sunset cruise on a yacht, Page Six reported. For the outing, Beyoncé, 39, accessorized with dark sunglasses and followed COVID-19 protocol by wearing a face mask.
The next day, Beyoncé donned a sculpted-print mesh mini dress by U.K.-based brand Auné. The outfit, which features shades of green and gray, reportedly retails for $270.
Queen Bey paired the look with matching opera gloves, large gold earrings, live-green leather pointed-toe pumps by Jacquemus and large-framed sunglasses from Balmain. She also carried a $733 neon Medea "Hanna" bag that matched her outfit.
The superstar shared snaps of her mesh looks on her Instagram Monday. In one photo, she can be seen leaning on a stair handrail. In another post, she shared a series of pictures and a video in which she can be seen with her husband, Jay-Z.
Beyoncé's photos received praise from her followers, with many approving of her looks.
"Lunch earlier was amazing bestie. I told you they'd love this look," one commented.
"Most beautiful woman ever," Fancy Acholonu wrote.
"You look amazing bestie," a third user commented.
Before heading to Miami, Beyoncé and Jay-Z made a stop in Las Vegas. The "Single Ladies" star rocked a plunging white suit by Area for the outing. She accessorized with gold nameplate necklaces in various languages, some of which spelled out her name.
In related news, Benny Blanco shared with Zane Lowe on Apple Music that one of the best moments of his life was when he was invited to Beyoncé and Jay-Z's home. However, he said it was also the "worst" as he accidentally kissed Jay-Z's wife.
Blanco recalled feeling awkward when he was about to say good night to Queen Bey because they were not close. However, he felt that after hanging out that night, they were able to build a great friendship.
He recalled not being sure if he should hug and kiss Beyoncé on the cheek or not. He eventually decided to give her the "very European" goodbye, but when he kissed her on the cheek, it landed on the corner of her lip — and the rapper was watching them.
"I definitely hit the corner of some sort of lip. I'm like, 'Oh, my God. This is the worst thing in my life,'" Blanco recalled.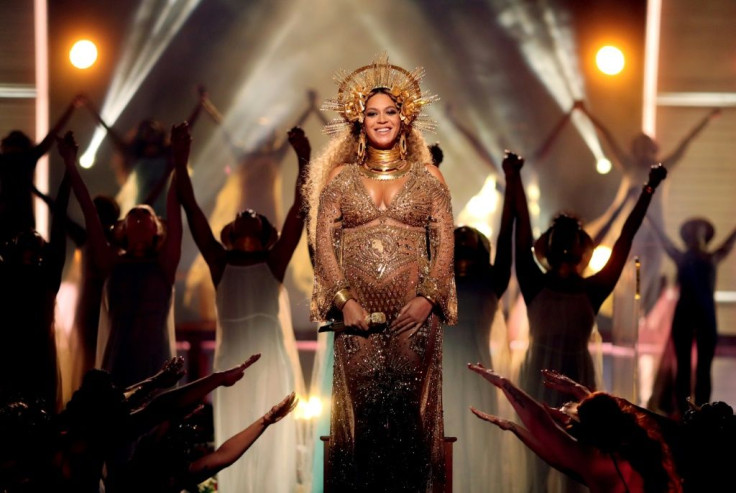 © Copyright IBTimes 2023. All rights reserved.