Biden Unveils Re-election Battle Plan: 'Bidenomics'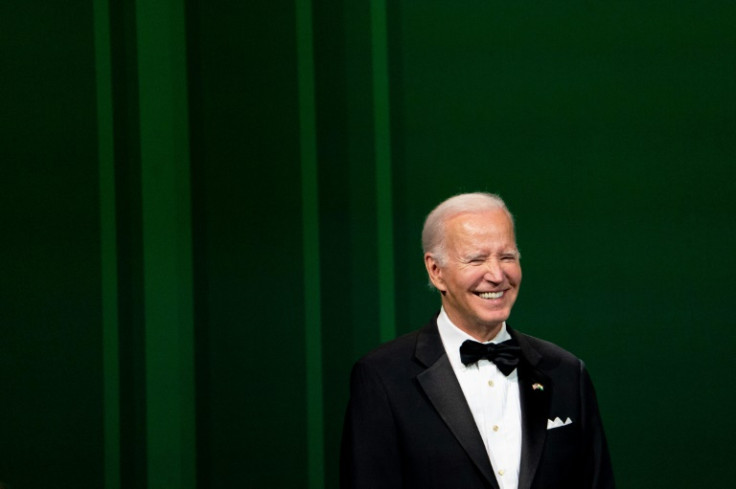 President Joe Biden is making a big bet on the US economy powering him to re-election next year with the unveiling of a "Bidenomics" pitch to voters this week.
After inheriting an economy ravaged by the Covid pandemic, then beset by lingering inflation and supply chain woes, Biden has had a hard time persuading Americans that he's doing a good job.
A May poll by ABC News/Washington Post even found Biden's scandal-plagued Republican predecessor -- and likely 2024 rematch rival -- Donald Trump leading by 18 percentage points on the question of who handled the economy better.
With a rebranding launch this week, anchored around a speech by Biden in Chicago on Wednesday, the White House thinks it can turn the tables.
And "Bidenomics," Principal Deputy Press Secretary Olivia Dalton told reporters, is the word.
It's "the word of the day, word of the week, word of the month, word of the year here at the White House," she said.
The catchphrase is a deliberate play on -- and rebuke to -- the famed "Reaganomics" of Ronald Reagan's 1980s presidency, when the idea of "trickle-down economics" was credited by some with igniting a US boom.
The White House says Biden has come to bury "Reaganomics."
"He rejected trickle-down economics, the theory that tax cuts at the top would tickle down -- that all we needed was government to get out of the way," Lael Brainard, director of the National Economic Council, told reporters.
Instead, Dalton said, Biden will focus on "the belief that we grow the economy when we grow the middle class."
Biden's big claim is that huge government spending programs enacted during his first term will stimulate longterm expansion, leading to rebuilding US manufacturing prowess and lifting the country's less wealthy.
It's not just an economic argument but, if it works, it's a potential political roadmap to victory in an election where Democrats and Republicans will be fighting over a handful of swing state voters.
At the top of Biden's pitch is his impressive list of legislative victories during the last two years.
Major bills passed by Congress plowed historic sums of money into green energy technology, semiconductors, and not less than $550 billion for revamping the country's roads, bridges and other infrastructure.
Brainard said the Reagan-era trickle-down theory led to the hollowing out of US industrial cities with offshoring and abandonment of ambitious infrastructure upgrades.
By contrast, Biden's tax-money-heavy industrial policy, she said, is using government funding as a catalyst for a "boom in private sector spending in manufacturing construction."
She touted funding for expansion of broadband internet to every corner of the United States as an echo of Franklin Roosevelt's epic electrification program to modernize the nation in the 1930s.
The problem so far is that voters are not buying what Biden has to sell.
Polls show him getting little credit for the low unemployment and generally upbeat economy. Inflation, despite falling slowly for 11 months in a row from post-pandemic highs, remains a key worry for voters.
Dalton said that Americans are about to see things differently as projects funded by Biden's programs finally kick in.
"We're seeing shovels in grounds, we're seeing private investment come back to our country, we're seeing millions of jobs created. So now is the time, with all of those accomplishments, (when) the president can take this message to the American people and say this is what Bidenomics is," Dalton said.
"We're just starting to feel the impact."
© Copyright AFP 2023. All rights reserved.