Big Data: Airports Ramp Up Smartphone Tracking, But Use Retail Technology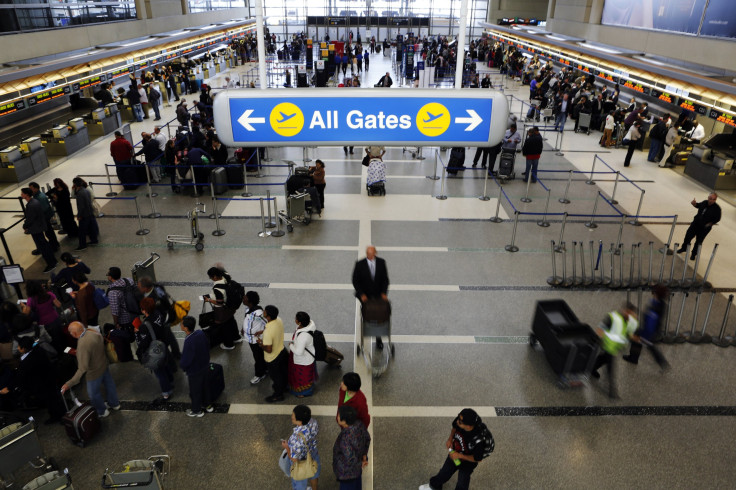 U.S. and European airports have renewed their enthusiasm for tracking passenger smartphones, as they increasingly turn to specialist retail data companies for new analytics technology, according to industry experts.

Airport officials already use tracking sensors, cameras and a host of other devices to map traffic and optimize waiting times, as well as for security reasons. They can also track WiFi and Bluetooth signals that emanate from phones, often without the knowledge or consent of passengers.

But now airports are turning to companies that typically deploy this technology for retailers, who want intelligence on how shoppers amble in their stores. Heightened interest in this technology over the past year was much in evidence at the National Retail Federation's annual trade show in New York this week, where tech firms marketed tracking tech to small retailers en masse.

California's iInside revealed on Monday that Texas' Austin-Bergstrom International Airport is already using its smartphone tracking technology to cut back on queues. The firm has partnered with top WiFi provider Boingo Wireless Inc (NASDAQ:WIFI), a staple network in many U.S. airports.

"Airports have little or no objective insights into how travelers behave once they pass through the front door," iInside CEO Jim Riesenbach said in a statement. "Our traffic analytics enable them to not only better understand travelers and provide them with a better experience, but also identify ways to uncover new opportunities for increased airport revenues."

iInside is not the only player here. Canada's Mexia Interactive, another tracking analytics firm, told International Business Times it has worked with 10 to 15 airports globally to implement similar technology, in relationships developed over the past six months.

More airports are likely to sign on as Mexia clients in 2014 and go public with their decisions, added Mexia CEO Glenn Tinley. "We don't publicize who we work with," he said, declining to name airports.

Tinley, iInside employees and other data executives are at pains to stress that information collected via smartphone tracking isn't personalized. The technology doesn't collect people's names or profile them individually and is presented in an aggregated format.

They say that helps alleviate privacy concerns.

"We're really just looking at bodies," iInside Executive Vice President John Rosen told IBTimes. "It sees that this anonymous body moved through in this exact period of time, with this speed and so forth."

It's unclear if airport passengers are aware or told that their smartphones signals are tracked, or whether signs are clearly posted. The Transportation Security Administration, which oversees U.S. airports, didn't return a request for comment from IBTimes.

Mobile phones often give out signals as they search for WiFi networks automatically, or thanks to Bluetooth technology. Most phones have a unique 'MAC address' that pinpoints them precisely via WiFi technology.

The Future of Privacy Forum, a Washington D.C. privacy think-tank, devised a voluntary code of conduct for these data firms late last year, after a request from Sen. Chuck Schumer, D-N.Y.

"Location analytics technology actually first became popular at airports and has more recently spread to other places, like stores and other venues," forum executive director Jules Polonetsky told IBTimes.

The technology has been deployed in airports for years, though it's unclear if the TSA still actively endorses it, according to Polonetsky.

"There are number of [data] companies that are very niche, who seem to be primarily airport-focused," he added. "It has occurred without some of the attention in airports, because there's no link to marketing. …When stores can do things and tell you things better, it ends up catching broader attention."

Sophisticated businesses like Toronto's Turnstyle Solutions Inc. have deployed a dense network of sensors across dozens of retailers, to build detailed portraits of shoppers as they move through cities, reported the Wall Street Journal earlier this week.

Tech giants like Google Inc (NASDAQ:GOOG) and Apple Inc. (NASDAQ:AAPL) also know the locations of their customers' Wi-Fi enabled phones, according to the Journal, though they rarely allow access to such data. That's done through their Android and iOS mobile operating systems.

Phone-based location tracking is mostly unregulated by the Federal Trade Commission, though the agency plans a seminar in February to discuss the topic.

Polonetsky and other privacy advocates are developing a central opt-out platform, so consumers can escape the grid by visiting a single website. Consumers now need to contact each data firm individually to opt out, an arduous task. That should be completed in coming months, said Polonetsky, who didn't disclose a more detailed timetable.

Shopping malls have also deployed these sensors, according to Mexia, which counts several shopping mall operators as clients. In their experience, that's become more popular since the fall of 2013.

"It's the actual malls themselves, with their common areas. … They want to understand traffic flow. They want to understand all sorts of other things," said Mexia's Tinley, who added that Canadian and European malls have shown interest as well.

Firms like iInside and its San Francisco startup rival Euclid Analytics have teamed with tech giants like Cisco Systems Inc. (NASDAQ:CSCO), too, though public corporate giants haven't yet made big moves into the crowded location analytics sector.

Cisco also markets its own products to retailers, which include in-store heat maps based on customer movement. Those were shown off to an international audience at NRF's Big Show. The company's distinct FastRetail product involves predictive analytics, or forecasting future shopper behavior. Target Corporation (NYSE:TGT) and Inter IKEA Systems B.V. reps toured the FastRetail product, according to Cisco sales representatives. The technology has been under an exclusive pilot with a large national retailer for at least five months, they said.

It may come to consumers simply switching off smartphones, if they don't make the effort to explicitly opt out as the retail surveillance culture becomes more common, said a Cisco executive at the New York retail conference on Monday.

But he doubts that will happen.

"People are going to get more comfortable," said Cisco chief insight officer Paul Schottmiller at an industry presentation. "We don't have consumers yet, I don't think, coming in and turning off their phones. I haven't seen that study."

There's much money to be made here. iInside claims its revenues are up by several hundred percent in the past year, though it has been in business for 15 years. The company declined to disclose actual revenues, like many of the closely held companies in the industry.
© Copyright IBTimes 2023. All rights reserved.