Black Friday 2017 TV Deals: Price Predictions For 4K & HDTVs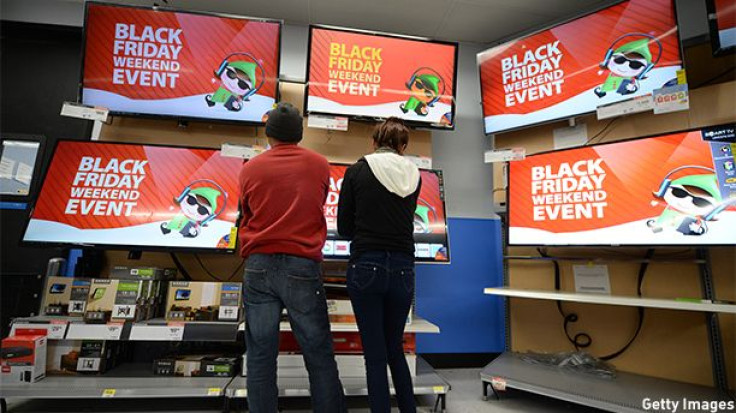 With Black Friday 2017 just over a month away (Nov. 24), many consumers are combing the internet in search of leaked sales ads and deals to expect this shopping season. With TVs ranking at the top of the list for most Christmas shoppers, retailers routinely offer their deepest discounts on these coveted items starting right after your Thanksgiving Dinner. To help shoppers get a better idea of what kinds of deals they can expect to find on TVs, including 4K offerings this Black Friday, we've put together a list of predictions based on sales and deals offered last Black Friday. We've organized it in a way we hope you'll find useful. As we receive more information about Black Friday 2017 deals including specific prices, retailers and sale start times, we'll continue to add to this post. If you've come across a Black Friday deal on TVs that you want to share with others, be sure to post in the comments below.
Black Friday Deals 2017: TV Price Predictions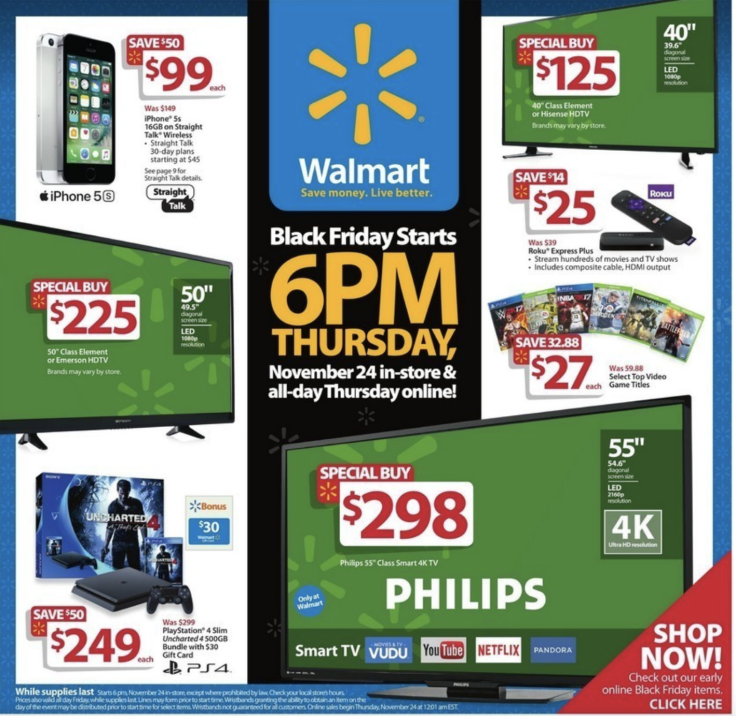 Quick Tips
50 Inch TVs are expected to see the deepest discounts, with name brand offerings as low as $200.
60" TVs and larger are expected see the smallest discounts.
Best retailers to watch - Walmart, Best Buy, Sam's Club, Costco, Amazon, Target
Black Friday Sales on TVs will be better than Cyber Monday
Look for deals early - Most sales will start on Thanksgiving night but some retailers like Walmart, Target and Amazon begin offering daily deals as early as November 1
Black Friday 2017 TV Deals Overview
32" TV: $70 - $125
40" TV: $120 - $150
42/43" TV: $140 - $200
49/50" TV: $175 - $200
55" TV: $225 and up
60" TV: $325 and up
65" TV: $500 and up
70" TV: $750 and up
32" 720p/1080p Price Predictions
Last year, flatscreen TVs pretty much hit rock bottom, and while we may not see prices on smaller televisions dropping further than they did last year, you're still likely to snag one for around $100. According to BestBlackFriday.com, one of the best deals on 32" TVs was an off-brand Avera for just $69.99 on Amazon. For those who prefer a to go with a name brand offering, you'll be shelling out nearly twice as much as last year, BJ's sold a Vizio 32″ 720p LED HDTV for $124.99 and Walmart sold a TCL 32″ 720p Roku Smart TV for $125.
40" 720p/1080p Price Predictions
While prices on 40" TVs didn't see a dramatic price drop in the last few years, you can still expect to cut at least $50 off the price during Black Friday sales. Last year Walmart brought the best deal on a 40" television, offering a Hisense or Element model for just $125. While we could possibly see 40" TVs drop to $120 this Black Friday, don't expect anything jaw-dropping for off-brand TVs. The good news though is that premium brands shouldn't cost a whole lot more as last year Best Buy offered its LG 40″ 1080p LED HDTV for just $149.99.
42/43" 720p/1080p Price Predictions
Though 42- 43 inch TVs may seem to be an awkward in-between size, we actually saw sales and deals on quite a few of these models last year, with off brands as low as $140 and name brand LG models as low as $199. Once again, this size of television won likely see any huge deviations from last year's sales pricing, but we could see them drop an additional $5.
49/50" 720p/1080p Price Predictions
When it comes to TVs most of us think bigger is better and so it's no wonder 50-inch televisions are some of the most sought-after and most deeply discounted televisions during Black Friday sales. Last year 50-inch television served as major attractors as many retailers featured them in their doorbuster deals. Last year off-brand offerings were available for as low as $199 — a 50% discount off retail pricing. For 2017 however, analysts expect to see even premium brand 50" TVs going for $200 while off-brands may come in as low as $175.
55" 720p/1080p Price Predictions
Like 50-inch models, the 55-60 inch are likely to see some nice discounts this Black Friday as well. Last year a 55″ 1080p Smart LED HDTV went for as low as $249.99 at Best Buy. This year we could see these sizes drop as low as $225.
​
© Copyright IBTimes 2023. All rights reserved.