Black Friday: Retailers Pull Out The Ecommerce Stops And Deals, Stretch Thanksgiving Holiday Shopping Into A Week-Long Affair For Consumers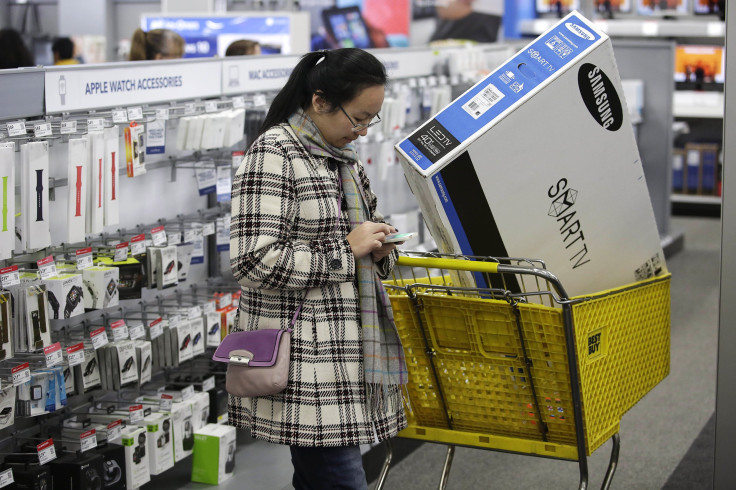 First there was the Christmas Creep, when stores roll out their holiday themes earlier every year to milk the seasonal cash cow. Now consider the Thanksgiving Stretch, when merchants begin online holiday specials as much as a week before turkey day all the way through the following Monday, turning one door-busting shopping day into a week-long event.
As online commerce becomes more commonplace, store traffic is declining, forcing sellers to push both online and in-store specials to lure buyers.
"Black Friday isn't what it used to be in a traditional sense. It has morphed into a broader timeframe," Eric Wiegand, senior portfolio manager at U.S. Bank, said. "The sales not only started earlier this year, but we're seeing continued growth in how consumers are getting their goods. More traditional retailers are trying to capture more customers through online order fulfillment, and that pace has accelerated on a year-over-year basis."
Percent of Holiday Shopping Done Online | FindTheData
Indeed, investment bank Jeffries recently found that 37 percent of consumers it polled were planning to do all of their holiday shopping online this year, up from 19 percent in 2014. Meanwhile, 18 percent of customers said they were planning on doing all of their holiday shopping in brick-and-mortar stores, down from 35 percent last year.
U.S. online merchants – from Amazon.com all the way down to tech savvy mom-and-pop operations – collected a record $4.45 billion in the 48 hours ending Friday, a nearly 20 percent increase compared to last year, according to Adobe Inc.'s Digital Index. Sales generated from mobile phones increased by a record 34 percent over last year.
Last year, U.S. consumers spent $50.9 billion between Thanksgiving and the following Sunday, according to the National Retail Federation, a second annual decline from $59.1 billion in 2012. And this year is expected to see modest growth at best. Expectations for the all-important last quarter of the year are subdued despite robust consumer confidence, lower unemployment, cheap gasoline prices and a strong housing market.
Wiegand says part of the reason for reduced expectations this year is that consumers have been spending on big ticket items that are typically financed, like cars and homes, to take advantage of rock-bottom interest rates that will likely begin to rise as early as mid-December for the first time in nearly a decade. This may be contributing to a reduction in demand for discretionary goods like basketball sneakers and yoga mats.
"What's interesting in the fourth quarter is we're seeing expectations coming way down for department stores and apparel folks," he said. "Consumers' confidence is weighing a little in recent weeks."
© Copyright IBTimes 2023. All rights reserved.