A black hole is such a powerful force that it disrupts the fabric of space-time, which therefore has consequences for everything in the surrounding area. A team of scientists studying the jets of radiation and particles that emanate from black holes when they feed has shown how those enormous streams move — a bit like the wobble we would see when spinning a top.
Those streams reach out along magnetic fields for millions of light years. According to the researchers' study in the journal Monthly Notices of the Royal Astronomical Society, they built a computer simulation that shows they move and, it turns out, they are not exactly steady lines.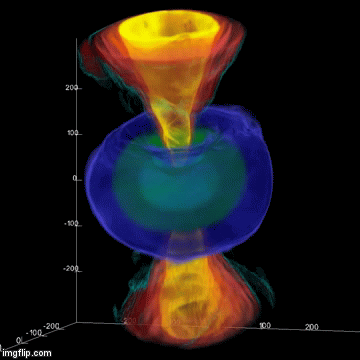 "Understanding how rotating black holes drag the space-time around them and how this process affects what we see through the telescopes remains a crucial, difficult-to-crack puzzle," researcher Alexander Tchekhovskoy said in a statement from Northwestern University. "Fortunately, the breakthroughs in code development and leaps in supercomputer architecture are bringing us ever closer to finding the answers."
The new model was created at the highest resolution ever used for this sort of simulation, so it showed the motion of material around a black hole in better detail. It also incorporated the idea that disks of material swirling around a black hole and getting sucked into its enormous space orifice are more tilted, rather than rotating on a perfectly straight axis.
That tilt can be compared to how a top might tilt as it spins on a flat floor.
"Gas falling into a black hole from large distances is unaware of [black hole] spin direction, and misalignment between the accretion disc and [black hole] spin is expected to be common," the study says.
The new computer simulation suggests that the wobble of the accretion disk pushes around the jets bursting out of the black hole, making them change their direction as well, a movement known as precession.
"Because accretion onto black holes is a highly complex system akin to a hurricane, but located so far away we cannot discern many details, simulations offer a powerful way of making sense of telescope observations and understanding the behavior of black holes," the university said. "The jets' precession could explain fluctuations in the intensity of light coming from around black holes, called quasi-periodic oscillations. Such oscillations can occur similarly to the way in which the rotating beam of a lighthouse increases in intensity as it passes by an observer."
As black holes eat up material from the discs swirling around them they belch out radiation and particles in powerful jets. Photo: Northwestern University