'Black Lightning' TV Show Spoilers: What The EPs Revealed At ATX
"Black Lightning" won't hit The CW until 2018, but executive producers Salim Akil and Mara Brock Akil gave TV fans at ATX Television Festival in Austin, Texas, some inside scoop during their Sunday panel. The power couple discussed the political side of the superhero show, the connections (or lack thereof) to other Arrowverse shows and more.
Long Term Villains: While many of the superhero dramas follow the case of the week format, it sounds like Salim and Mara don't want to waste time on villains without digging deeper into their backstories. It sounds like viewers will spend plenty of time with a baddie called Tobias (presumably Tobias Whale, who was introduced in the first "Black Lightning" comic).
"It's a character driven show. I don't know if there's going to be a fight every week," Salim said. "There's certainly not going to be a villain of the week. I don't want to do that. We really want to explore the characters, even the villains. I think one of the most interesting characters right now from a storytelling standpoint is Tobias. Because we're not having him sort of twist his mustache. His hatred for himself and for others comes from a real place, so we want to know why he's like that."
He added that it's "a character-based family drama."
Static Shock: Of course, many fans want to know if that other black superhero with electric powers is going to show up on "Black Lightning." It doesn't sound like there are plans to include Black Lightning/Jefferson Pierce meeting Static Shock/Virgil Hawkins yet, but that could change. "I love the idea of Static Shock, and in success, hopefully, we'll be able to pull other characters in in that way," Salim said. "So I'm holding out hope because I love that character."
READ: "Black Lightning" Creator Doesn't Want Static Shock On TV Show
Jefferson The Protector: Part of the reason they wanted to tackle Black Lightning's story is because he's a black father who defies the deadbeat stereotypes that are so often portrayed on screen. "That image of a father saving his daughters, protecting his family, protecting his school, protecting his community, it is happening, but it's not the narrative [on most shows and movies]," Mara said.
LGBTQ Representation: Mara noted that Anissa (who will become the superhero Thunder) is a lesbian, just as she was in the comics, and it sounds like other characters who identify as something other than heterosexual will be included as well. The writers aren't planning to tackle LGBTQ characters as a special issue, though. They're just including the characters the way anyone would be included in life.
"You'll definitely see that [LGBTQ] aspect of society," Salim confirmed after an audience member asked about representation. "You know, I grew up, I had three uncles and … I loved Uncle Donald because he gave me dating advice and I was like 5," Salim explained. "But the other thing that I found fascinating about my Uncle Donald is he dressed up like a woman. And so I grew up around all of these men who dressed like women, so when I hear that, I don't hear a cause. I hear my family."
READ: "Black Lightning" Cast Reacts To CW Pickup
Outside The Arrowverse: "Black Lightning" is produced by Greg Berlanti, but it's not actually part of the CW's Arrowverse, which includes "Arrow," "The Flash," "Supergirl" and "DC's Legends of Tomorrow." The showrunners wanted to create a new world, but they aren't completely nixing the idea of crossovers eventually.
"The storytelling is a little bit more political. It's topical, and it's a little grittier. … It doesn't mean that down the road there won't be visits," Salim teased.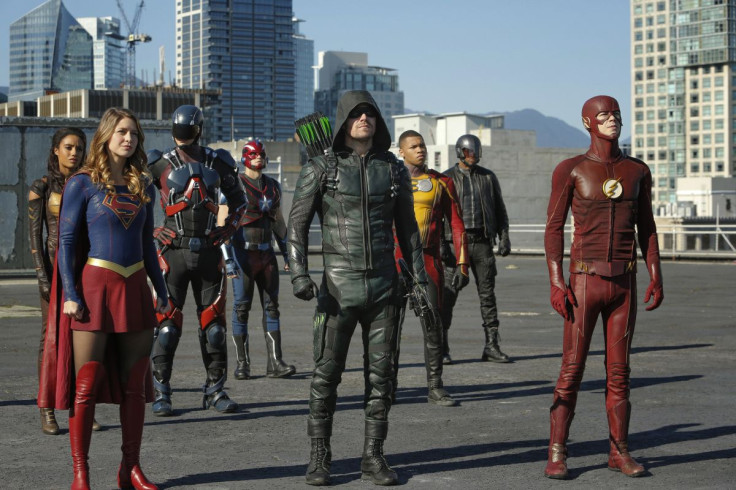 The Police: Salim and Mara were asked about how the show would handle the subject of the police brutality. Salim revealed that Jefferson's best buddy is a cop. However, he has a complicated relationship with the men in blue when he's suited up as Black Lightning. He wants to help them protect Atlanta, but when the cops see a 6'5 black man with lightning powers, they're more likely to shoot first and ask questions later.
"When we talk about social justice, I don't only want to talk about police brutality, which is a hot topic. It should be talked about, and this may be somewhat controversial for me to say, if we stop killing each other, you know what I mean?" Salim said. "I think that issue right now is way more important to me personally, to stop young black people from killing young black people. Stop young people in general from killing each other."
Anissa's Powers: Anissa, meanwhile, will be attending protests as a young adult seeking a way to create change. However, her powers will suddenly make that more difficult. "What happens when she's in a protest and she gets pushed?" Salim asked. "What happens if someone tries to harm her and she has these powers? Does a peaceful protest become a violent protest? Does she become violent?" Fans will have to tune in to find out.
"Black Lightning" will premiere midseason on The CW.
© Copyright IBTimes 2023. All rights reserved.