Black Monday Meltdown: How New York City Real Estate Could Benefit From Panic In China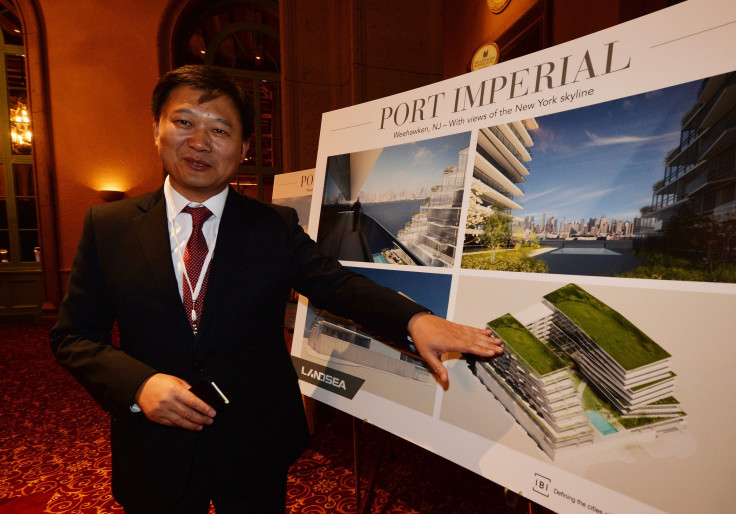 The collective fortunes of the world's wealthiest fell by hundreds of billions of dollars when China's market dropped nearly 8.5 percent Monday. Stock indexes in Asia and beyond suffered record declines in turmoil that some dubbed a crisis. But for the real estate market in New York, the global meltdown might actually be good news.
Wealthy Chinese buyers have poured billions into the U.S. real estate market in the past year, outstripping Canadians in 2014 to become the biggest foreign buyers of U.S. real estate. In New York City, Chinese investment soared to record levels in 2015. With the recent financial turmoil in China, Chinese buyers are more -- not less -- likely to seek safe places to stash capital. Even if they end up buying less expensive properties, the market is still likely to expand overall as investors turn toward the United States, experts said.
"I don't see any decline of Chinese purchases," said Lawrence Yun, chief economist at the National Association of Realtors (NAR). "In fact, I think there could be an increase, because people want to take their money out of China and put it in a safe location."
Edward Mermelstein, a real estate attorney in New York City who has Chinese clients, said he has seen little change in real estate purchases from Chinese buyers in recent weeks and months. The downturn in China's stock markets began in mid-June, but Chinese investment in U.S. property has continued as usual, Mermelstein said.
"Chinese investors are going to be looking for returns similar to what they were getting in China over the last five years," he said. "There are very few places they can achieve those returns."
In the 12 months that ended in March, Chinese buyers bought $28.6 billion in U.S. real estate, up from $22 billion the year before, a NAR report published in June showed. New York was one of the top six locations, accounting for about 7 percent of Chinese purchases, and it is growing ever more popular, with Chinese investment in Big Apple properties skyrocketing in the past year.
In the first half of 2015, Chinese buyers, both individuals and companies, spent more than $3.8 billion on real estate in Manhattan -- more than three times their total spending on such properties in 2014, according to Real Capital Analytics, the New York Daily News reported. They tend to buy prime, luxury real estate, Mermelstein said.
"We're seeing typically the highest end locations, so anything surrounding Central Park is extremely popular," he said. Also desirable are luxury residences and commercial properties along major avenues in Manhattan. Chinese investors have recently bought such big names as the Waldorf Astoria and One Chase Manhattan Plaza.
The purchasing frenzy is unlikely to slow with the downturn in Chinese markets, real estate analysts and economists said. New York is the second most popular city in the world for Asian property investors, according to the World Property Journal. Still, some aspects of their investments could shift.
Until now, Chinese buyers have typically spent large amounts of cash on luxury residences, for homes or vacation getaways. The average purchase price of properties bought by Chinese in the U.S. was $831,800 in 2014, and nearly 70 of Chinese purchases were made in cash, according to the National Association of Realtors report.
With the ongoing downturn, investors may buy less expensive properties and for different purposes. "Many purchases are going into the investment mode, rather than buying for personal use," Mermelstein predicted. "There's definitely discretionary income that's going to slow down, if not stop, from China because of the uncertainty as to how you're going to be making money moving forward."
But even if Chinese buyers have less discretionary income, that does not mean they'll stop investing entirely. Instead, they'll buy properties and rent them out, or hold them as they appreciate. Such investment has been strong recently, Mermelstein said, adding, "We don't anticipate a drop-off in the near future."
Those types of investment purchases may in fact increase in the coming months as turmoil and gyrations continue to roil Chinese markets, and Chinese investors seek more stable places to put their money, said Yun, the National Association of Realtors economist. But because they have less to spend, Chinese investors could start to buy less expensive properties, "just as a place to park their money," he said.
If Chinese investment in New York City real estate remains steady or even enjoys a slight uptick, as experts anticipate, it would hardly be the first time uncertainty in home countries has sent foreign investors flocking to U.S. property markets.
In Miami, the majority of real estate agents are accustomed to working with foreign clients, especially from Venezuela, Argentina and Brazil. Often, these buyers shell out hundreds of thousands of dollars in cash for properties they keep as vacation homes or rent out for income.
To local realtors, these investments are sensible. As Christopher Zoller, a local realtor, told the World Property Journal in April, "Faced with volatile economies in their homelands, South Florida real estate is considered a secure place to invest one's money."
© Copyright IBTimes 2023. All rights reserved.
FOLLOW MORE IBT NEWS ON THE BELOW CHANNELS