'Black Panther' Spoilers: Everything We Know About The Marvel Movie One Year Before Its Release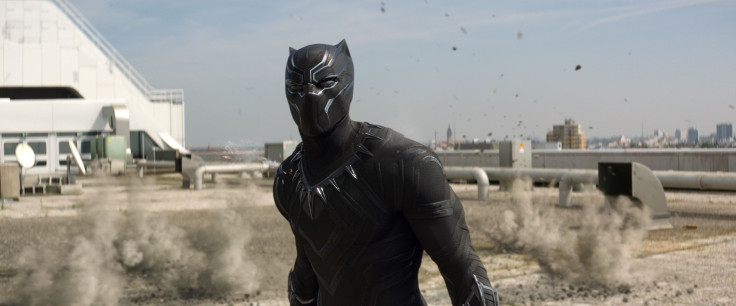 "Black Panther" is coming to the big screen in exactly one year! The Marvel movie will bring viewers to Wakanda to follow T'Challa, who was introduced in "Captain America: Civil War." Though it won't be released until Feb. 16, 2018, we already know a few things about the movie.
Returning Cast: Chadwick Boseman will reprise his role as Black Panther. Martin Freeman and John Kani will also return as CIA agent Everett K. Ross and King T'Chaka, respectively. Florence Kasumba will play bodyguard Ayo again. It's not just the good guys returning, though. Andy Serkis will also portray his "Avengers: Age of Ultron" character Ulysses Klaw again.
New Cast: They'll be joined by some other talented people. Michael B. Jordan, Lupita Nyong'o, Sterling K. Brown, Danai Gurira, Daniel Kaluuya, Angela Bassett, Forest Whitaker, Letitia Wright and Winston Duke round out the cast.
Wakanda: Unlike most superhero movies, this isn't about an American hero. "Black Panther" is set in the fictional African country of Wakanda. The country has been talked about for years in the Marvel Cinematic Universe because it has vibranium, the metal used for Captain America's shield. Though the end of "Civil War" gave us a clue, concept art from bonus features on the "Doctor Strange" home release revealed that the African destination will be massive.
The Creative Team: "Creed" director Ryan Coogler will direct the movie, which is currently shooting in Atlanta and South Korea, and he co-wrote the script with "The People v. O.J. Simpson: American Crime Story" writer Joe Robert Cole.
The Plot: Marvel has only released a little information on the actual story of "Black Panther." The movie will take place after "Captain America: Civil War," which showed T'Challa's father dying. He is now getting used to his role as the king of Wakanda. "However, when an old enemy reappears on the radar, T'Challa's mettle as King and Black Panther is tested when he is drawn into a conflict that puts the entire fate of Wakanda and the world at risk," the synopsis reveals.
Villains: So who is this "old enemy"? Erik Killmonger (Jordan) seems to fit the bill. In the comics, his family was forced to work for Klaw, and after Klaw's defeat, T'Challa exiled those who worked for the villain. Killmonger, a native of Wakanda, wanted to get revenge as well as bring the technologically advanced country back to its ancient traditions.
That won't be his only foe, though. Nyong'o revealed that another evil force will help Killmonger. "The story is that the Black Panther's leadership is being threatened by two foes that come together, and so Black Panther gets the help of the C.I.A. and the Dora Milaje to try and defeat the enemy," Nyong'o teased to Marvel.
Allies: Black Panther isn't calling in the Avengers, but he'll have some help. The Dora Milaje are his body guards. They're the best women from each tribe in Wakanda. While they used to be trained to be an unmarried king's wife, T'Challa viewed them as family in the comics — not potential love interests. Nakia (Nyong'o), Okoye (Gurira), Ayo and others will be part of this group of fierce females.
Flashbacks: Based on casting, it's clear that the movie will return to the past. T'Challa's dead father will appear. IMDb also credits Atandwa Kani as Young T'Chaka. Meanwhile, Brown is reportedly playing N'Jobu, someone from Black Panther's past.
While we have some information, we don't have all of it. Marvel is notorious for keeping spoilers locked down. One question that still hasn't been answered is about the Winter Soldier (Sebastian Stan). "Civil War" left Bucky in cryostasis in Wakanda while T'Challa had scientists working on a way to fix Hydra's brainwashing. Stan seems to be willing to appear in the movie if asked, but that obviously doesn't mean he will. However, a post-credits clip with Cap and Black Panther defrosting Bucky could be a great way to tease "Avengers: Infinity War."
"Black Panther" hits theaters Feb. 16, 2018.
© Copyright IBTimes 2023. All rights reserved.