Blue Origin Vs. SpaceX: Jeff Bezos' New Glenn Rocket Bigger Than Falcon Heavy?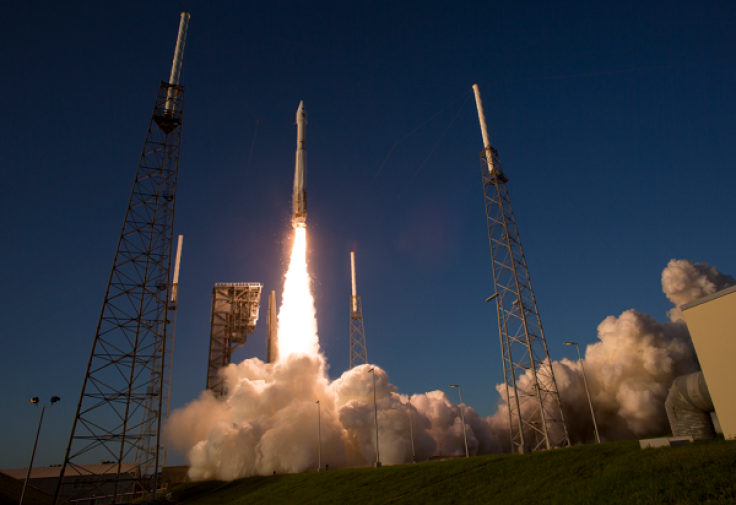 Space cadets may soon have a new rocket to orbit around the Earth in if Blue Origin CEO Jeff Bezos has his way. The rocket designer released a few images of the company's future rocket named the New Glenn, after the first U.S. astronaut to ever orbit the Earth, John Glenn, CNN reported Monday. The rocket will be capable of launching payloads and people into orbit around the Earth, and it's expected to be bigger than rival SpaceX's up-and-coming Falcon Heavy rocket.
According to Bezos, the New Glenn will be 23 feet in diameter and range between 270 and 313 feet high, depending on if the rocket is built with one upper stage or two on top. If it only features one upper stage, the rocket will be capable of sending satellites and people into lower Earth orbit while two upper stages will allow the New Glenn to take payloads far beyond that. Although the rocket will be much bigger than other prototypes featured in Blue Origin's catalog, the New Glenn will still feature the brand's signature feather badge.
The feather branding won't be the only commonality between New Glenn and previous Blue Origin rockets either. The first stage of the rocket will also be able to land post-launch similar to Blue Origin's New Shepard rocket. However, the New Glenn will top the New Shepard -- which can only go into sub-orbital space -- by landing an orbital rocket post-launch.
Bezos' privately aerospace company is currently working on the rocket's engine, which Bezos said will be powered by seven BE-4s. The engine will be capable of 3.85 million pounds of thrust, which The Verge says is more than the 2 million pounds United Launch Alliance's Delta IV Heavy is able to do but less than the 5 million pounds generated by SpaceX's Falcon Heavy. SpaceX is an aerospace company founded by tech entrepreneur Elon Musk.
Plans have been made for the New Glenn to be assembled at Cape Canaveral, Florida. According to Bezos, the New Glenn should be ready for flight "before the end of this decade."
© Copyright IBTimes 2023. All rights reserved.