Bob Saget's Widow Kelly Rizzo Selling Family Home Months After Actor's Death: Report
KEY POINTS
Kelly Rizzo is in the process of putting the home she shared with late husband Bob Saget up for sale, a report says
It was reportedly "too much of a burden" on Rizzo to keep the house
Saget and Rizzo shared a home in the Brentwood neighborhood of Los Angeles before he died on Jan. 9
Bob Saget's widow, Kelly Rizzo, has decided to sell the home they shared, three months after the actor passed away, according to a report.
Rizzo, 42, continues to mourn the sudden death of her husband, and to help herself get through the grieving process, the "Eat Travel Rock" host is listing the couple's home on the market and moving to a new place, Us Weekly reported, citing an unnamed source.
"Kelly is in the process of putting their family home up for sale," the insider said. "While there are many happy memories they shared together with his family, it has become too much of a burden on her to keep the house."
Saget and Rizzo shared a home in the Brentwood neighborhood of Los Angeles before he died on Jan. 9 at age 65. The "Full House" alum's pals friends and former colleagues gathered at the house to comfort Rizzo ahead of Saget's funeral, which took place on Jan. 14.
According to the source, Rizzo has also given away some of Saget's beloved items to his close pals.
"Kelly gifted John Stamos with his guitar," the insider said, adding that the "Grandfathered" alum was "surprised and grateful" for Rizzo's gesture. "She knows how much John and her husband loved to play music together, so she felt it was an appropriate gift to pass on."
Rizzo was "completely shattered and in disbelief" after Saget was found dead in his hotel room at the Ritz-Carlton in Orlando, Florida, on Jan. 9 while he was in the middle of a comedy tour. The Orange County, Florida, medical examiner later ruled that the actor's death was the result of an accidental fall.
An unnamed source told People at the time that Rizzo had talked to her late husband hours before he died following his stand-up show near Jacksonville, Florida. The actor "was so excited coming off of a great show and he sounded really happy," the insider added.
Following her husband's death, Rizzo has been sharing on Instagram some throwback photos and videos with Saget, including pictures of them traveling and eating meals together.
Last week, she shared an adorable and hilarious video of them inside their car while on their way to vacation. "Finally goin' on a vacation! Should've agreed on a destination first..." read the text on the video, before it showed Saget looking ready for a tropical getaway with his snorkeling mask, while Rizzo sports skiing gear.
In the caption, Rizzo wrote: "From one year ago exactly. We had so much fun making these silly videos together. They make me so happy and so sad at the same time to relive them… but even if it's painful, it still puts a smile on my face, and I know that's what he would want."
"And I know you all loved seeing Bob and me have fun together so I'll keep sharing these from time to time," she continued. "Thank you all again for being so kind and of course, loving Bob so much."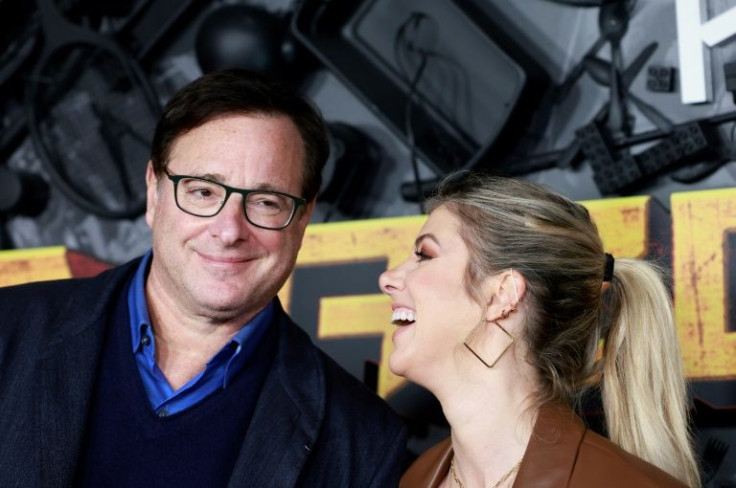 © Copyright IBTimes 2023. All rights reserved.