Bob Turner to Challenge Kirsten Gillibrand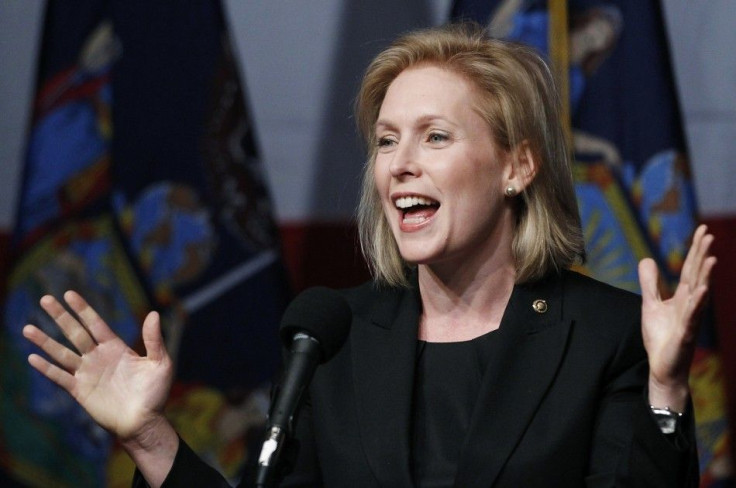 U.S. Rep. Bob Turner (R-N.Y.), who shocked the political establishment in September when he upset the Democratic candidate in a heavily Democratic area of New York City to replace disgraced ex-Rep. Anthony Weiner, announced Tuesday that he will be challenging U.S. Sen. Kirsten Gillibrand (R-N.Y.) this year.
Aside from Turner, three other Republicans will be contending for the GOP nomination for U.S. Senate: Nassau County Comptroller George Maragos, attorney Wendy Long and Joe Colvin.
Within an hour of Turner's noon announcement Tuesday, first reported by the Daily News, criticism of the candidate flied from Gillibrand's camp.
We welcome Congressman Turner to the race. We look forward to contrasting Senator Gillibrand's record of fighting for New York's middle class with that of Congressman Turner's record as a former Rush Limbaugh producer turned self-proclaimed 'pandering' Republican if he becomes the nominee, said Gillibrand campaign spokesman Glen Caplin in an e-mail.
Caplin was referring to Turner's days as a media executive, which also included ties to the Jerry Springer Show.
As a member of Congress, his record of voting with House Republicans to help protect tax breaks for millionaires and billionaires, raise Medicare premiums for seniors, and block efforts to put middle class families back to work is far too extreme for New York, Caplin continued.
Turner's campaign fired back.
Between Obamacare, surging gas prices, and being labeled the most -left wing senator in the country this month, Kirsten Gillibrand is in big trouble this year. It's no wonder that her out-of-touch policies and status as the ultimate Washington insider have kept her from resonating with average New Yorkers, said Turner campaign spokeswoman Jessica Proud.
As of the end of the year, Gillibrand is sitting on more than $8 million in campaign funds, according to Federal Election Commission records.
That gives the incumbent senator a huge cash advantage over Bob Turner, who was $72,600 in his campaign coffers.
Turner's decision not to run for re-election to his House seat may have to do with New York's redistricting plan.
Under the proposal, Turner would have to run against U.S. Rep. Gregory Meeks (D-N.Y.) and the demographics of that neighboring district are unfavorable to a Republican.
The retired television executive scored a major upset in September when he defeated Assemblyman David Weprin for the House seat vacated by Anthony Weiner, who resigned in disgrace amid a sexting scandal.
© Copyright IBTimes 2023. All rights reserved.