Boko Haram Running Low On Resources, But Still Dangerous, Experts Say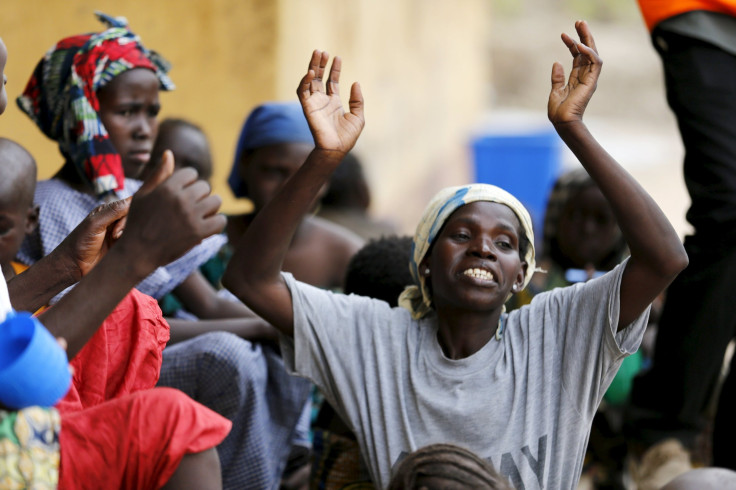 More than 200 women and girls kidnapped by Boko Haram have been freed this week, in what many are hailing as a sign that the terrorist group is on the decline. Former captives report that the militants lacked resources they once had and appeared to be struggling to continue as usual. For example, many of their cars had broken down or were out of gas. However, experts say it's far too soon to claim victory, and the women's return may simply be a sign that the group is changing tactics yet again.
"The biggest mistake we can make now is to assume that this is Boko Haram's last stronghold," said Jas Opperman, a South Africa-based analyst at the Terrorism Research and Analysis Consortium.
The Nigerian army reported this week that it had recovered 260 women and children as it advanced through the vast Sambisa forest this week. Survivors have recounted tragic stories of violence, abuse and forced marriage -- but also trouble within the ranks.
"One evening in April, Boko Haram followers stood before us and said, 'Our leaders don't want to give us enough fuel and guns and now the soldiers are encroaching on us in Sambisa. We will leave you,' " an 18-year-old woman named Binta Ibrahim told Reuters.
But the Sambisa forest isn't the only place where Boko Haram is active.
The group has been carrying out increasingly deadly attacks across northeast Nigeria since 2009 but gained notoriety last year by kidnapping nearly 300 girls from a school in the town of Chibok. Boko Haram grew substantially over the past year as it gained weapons and resources, and recently announced an alliance with the Islamic State group. It has killed more than 1,000 civilians in the past five months alone and displaced at least a million Nigerians from their hometowns. In addition to the Chibok girls, whose plight continues to receive worldwide attention on social media, the militants have abducted more than 2,000 other women and girls, according to Amnesty International.
However, a multicountry military force from Chad, Niger and Cameroon has been making major gains in recent months, succeeding where the underfunded Nigerian military had previously failed to take back territory. According to the Reuters report, captives said that many militants were reduced to carrying sticks rather than guns.
"It seems like the offensives have to some extent succeeded in cutting weapon supply lines and limiting recruitment of new Boko Haram fighters," Opperman said. But these gains don't signal a total victory and could be a warning of more extreme acts to come.
"A weakened Boko Haram does not imply that the threat of attacks has diminished," she said, adding that tactics such as suicide bombings and small-group attacks may become more common in the areas it still controls.
Moreover, it's important to note the way in which the women managed to escape, experts said. "If you look at the stories of some of these women, it's not as though they've been forcibly wrested from the hands of these insurgents," Hilary Matfess, a researcher at the Johns Hopkins University Nigeria Social Violence Project, said.
For instance, one survivor reported that Boko Haram members attempted to sell their hostages and then simply abandoned them when that plan did not work out. At that point, the hostages simply waited to be found by the Nigerian military. That, Matfess said, shows that recapturing the women isn't the sweeping victory many made it out to be, and that it could just be a sign of a change in priorities by Boko Haram.
"A lot of people have taken Boko Haram's changing of tactics to be a sign that they're in decline," she said. "I would really caution against that."
© Copyright IBTimes 2023. All rights reserved.
FOLLOW MORE IBT NEWS ON THE BELOW CHANNELS