'Bold And The Beautiful' Spoilers: Has Bill's Shooter Been Revealed?
The lineup of suspects is a long one, but police on "The Bold and the Beautiful" may be looking at the wrong people when it comes to finding out just who shot Bill Spencer.
Since Bill (Don Diamont) was shot on the CBS soap, Detective Sanchez (Jeremy Ray Valdez) and Lieutenant Baker (Dan Martin) have been working hard on the case, trying to find out who may have been responsible for the attempt on his life. So far, the investigation has led to them questioning and making Ridge (Thorsten Kaye), Sally (Courtney Hope), Wyatt (Darin Brooks), Liam (Scott Clifton), Thomas (Pierson Fode) and Justin (Aaron D. Spears). Others who had expressed wishes that Bill would die, or who could have had warped motives for wanting him dead also included Quinn (Rena Sofer), Rick (Jacob Young), Pam (Alley Mills) and Sheila (Kimberlin brown), though none of them have yet appeared on the cops' radar. However, the show may have revealed to viewers that the actual culprit was someone no one may have expected—Bill's own niece, Caroline Spencer (Lindsey Godfrey).
On the March 14 episode of the soap, Caroline was seen sneaking into Bill's hospital room and wearing leather gloves, similar to ones the shooter wore. She then proceeded to voice her anger with Bill over what has happened to her in recent weeks, following her decision to finally come clean to Thomas about the alleged disease she had that was killing her. After she told him the truth, Thomas ended their relationship, and returned to L.A. to reunite with Sally and convince her to now start over in New York with him.
Caroline revealed that she blames Bill for her misfortune since he was the one who first told Thomas she was sick, and encouraged her to go along with it, so that Thomas would no longer be there to protect Sally and Spectra, giving Bill the chance to build his skyscraper. She also seemed like she wanted to finish the job and actually kill Bill now, since the gunshot didn't do it.
While there is always a chance Caroline was brought back to the canvas just to further confuse viewers and keep the story going, it does also seem as if the soap has now confirmed that Caroline is the one who committed the crime. Prior to her reveal, Thomas told Sally his ex had been "in a dark place" since their split and revealed she had dropped their son at her mother's and also left New York, not telling anyone where she went.
Did Caroline try to kill Bill? Fans will have to continue tuning in to "The Bold and the Beautiful." New episodes resume airing Monday, March 19 at 1:30 p.m. EDT on CBS.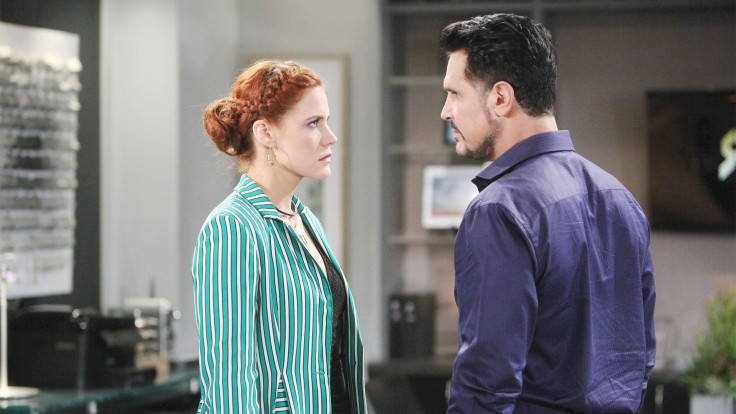 © Copyright IBTimes 2023. All rights reserved.