'Bold And The Beautiful' Spoilers: The Hunt For Who Shot Bill Continues
Many people are suspects when it comes to who shot Bill, and as the news of his being shot continues to spread, the search for who attacked him will continue on the Friday, March 9 episode of "The Bold and the Beautiful."
Someone snuck into Bill's (Don Diamont) home during the major wind storm affecting L.A. on the CBS soap, grabbed his golden gun, and then shot him from behind, with the bullet piercing his lungs. He is now in a coma and on a respirator in the hospital, and the attack on him seems to have healed the anger his son, Liam (Scott Clifton) had towards him for sleeping with his wife, Steffy (Jacqueline MacInnes Wood).
Now, a remorseful Liam, who doesn't want his father to die, will continue speaking to him in his hospital room, encouraging him that he won't let whoever did this to him get away with it—and he will find out who tried to kill him.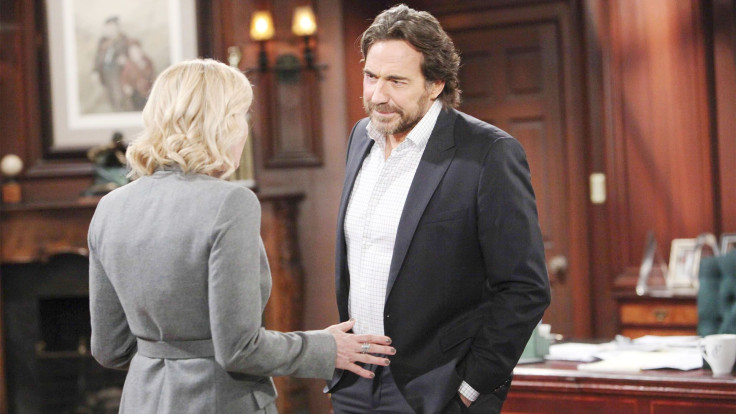 "We're going to find out the person who did this to you," he says in a preview clip.
So far, several different suspects could have committed the crime, as they all had reasons to want Bill dead in the last few days, and all had gone missing for portions of the night when Bill was shot. Quinn (Rena Sofer) has already expressed she may be innocent by telling Eric (John McCook) she shouldn't have to answer the question about whether she was guilty. However, Wyatt (Darin Brooks) and Ridge (Thorsten Kaye) still need to answer the questions that Katie (Heather Tom) and Brooke (Katherine Kelly Lang) have asked them.
Wyatt likely didn't commit the crime, as he appeared to instead buy a bottle of booze and return home to drown his sorrows in the alcohol, but Ridge had the biggest motive and most means, since he had already been at Bill's earlier that evening. However, he will assure Brooke he didn't commit the crime, while admitting that he wants to know who did so he can congratulate them on a job well done.
"I didn't do it. I didn't shoot Bill," he says in the clip. "But I would love to shake the hand of whoever did."
"The Bold and the Beautiful" airs weekdays at 1:30 p.m. EST on CBS.
© Copyright IBTimes 2023. All rights reserved.