'Bold And The Beautiful' Spoilers: Liam And Hope Make Plans For Their Future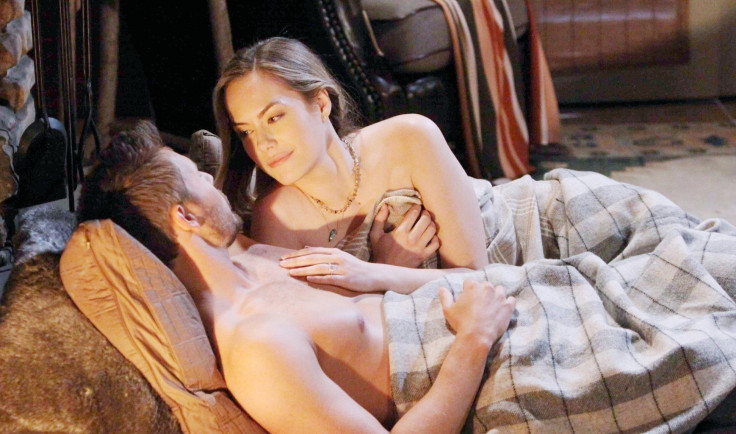 They now have the ability to live out the rest of their lives together, following Steffy's decision to let her own feelings for Liam go and focus on herself. Now, as they discuss their future and all of the changes around them, Liam and Hope will have a passionate reunion on the Wednesday, August 15 episode of "The Bold and the Beautiful."
Liam (Scott Clifton) and Hope (Annika Noelle) found themselves drawn to one another again after the fashion show, and since then, Steffy (Jacqueline MacInnes Wood) has decided that her focus will be on herself and being a good mother to her daughter, Kelly, which meant letting Liam go for good on the CBS soap. Now, following their re-engagement, the pair, who are expecting a child of their own, are excited about what their future may hold, and Hope will express her joy over it as a result.
"We are both so lucky to have you in our lives," she says in a preview clip, referencing the baby.
The two may also discuss the exciting changes that are happening at Forrester with Steffy at the helm, and with the company once again under control of the family. Steffy wants the women of the company to become the prime focus, and has asked everyone, Hope included, to stand out and in front of their work, becomes bigger voices in the social media world. She also revealed plans to expand daycare at the offices, so all of the women there with children can bring their kids to work and be positive influences for them.
The moves are also exciting for Liam and Hope because of their future as parents. Not only will Hope have a bigger presence at the company, but their child will also have a chance to grow up and witness things alongside her half-sister. Naturally, Liam will be happy about what the future means for them as a couple.
"It feels like the beginning of a new era for us," he says in the clip.
As the two get excited, they will find themselves drawn in more by their passionate connection, and as a result, they will give in to their feelings once more.
"The Bold and the Beautiful" airs weekdays at 1:30 p.m. EDT on CBS.
© Copyright IBTimes 2023. All rights reserved.