'Bold And The Beautiful' Spoilers: Things Take An Unexpected Turn For Bill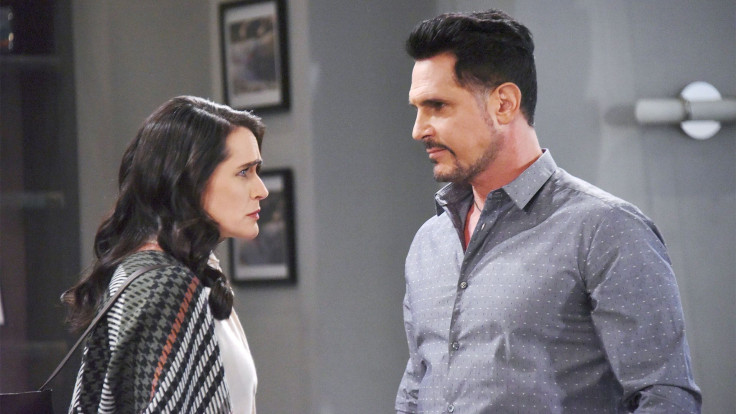 Bill has been becoming the most hated man in Los Angeles more and more on "The Bold and the Beautiful," and on the Friday, March 2 episode, that reputation could cost him.
After initially becoming disliked by mane because he slept with Steffy (Jacqueline MacInnes Wood), and then angering Sally (Courtney Hope) by going back on the promise to help her rebuild Spectra, Bill only made things worse for himself on the CBS soap. When Wyatt (Darin Brooks) and Katie (Heather Tom) told him about their plans to marry, he threatened to disown Wyatt and file for full custody of Will, taking him away from Katie.
Now, Quinn (Rena Sofer) has gone to see him, and has been warning him that he had better not do anything to harm their son or hurt him in any way. When Bill continues to threaten that he will in fact disown Wyatt no matter what, Quinn will then add her name to the list of those who have threatened to destroy Bill for the things he's done.
"If you come after Wyatt, I will come after you in ways you can't even imagine," she says in a preview clip. "There is nothing I won't do to protect my son."
Those threats will only be the latest that have been leveled against Bill. While Liam (Scott Clifton) has had nothing to do with his father since he betrayed him by sleeping with his wife, Sally, Eric (John McCook), Wyatt, Katie and Ridge (Thorsten Kaye) have all expressed desire for Bill to be taken care because of what he's done. Ridge even asked Sheila (Kimberlin Brown) to do it for him out of anger. Now, Quinn will be adding her name to that long list of people.
However, someone else could add their name to the list as well before the day is through. Spoilers tease that Bill will not only have a battle with an ex, but he will also take legal action, likely against Wyatt, and fire a long-time employee, who could be Justin (Aaron D. Spears).
At the end of the day, if he has angered enough people, someone could be tempted to make him pay—and there's no telling who that person will be when that time of reckoning comes.
"The Bold and the Beautiful" airs weekdays at 1:30 p.m. EST on CBS.
© Copyright IBTimes 2023. All rights reserved.