'Bold And The Beautiful' Spoilers: Will Liam Threaten Taylor?
He's privately admitted that he doesn't want his daughter's grandmother around her because of what she tried to do to Bill. Now, after catching Taylor going after his pregnant wife, Liam may threaten to take extreme actions against her on the Wednesday, Nov. 28 episode of "The Bold and the Beautiful."
Liam (Scott Clifton) has already expressed concern to Steffy (Jacqueline MacInnes Wood) about Taylor (Hunter Tylo) being allowed near their daughter, Kelly (Zoe Pennington), admitting on the CBS soap that he can't quite forgive that she tried to murder his father, Bill (Don Diamont). Steffy became furious and they argued over it, but Liam reiterated he felt it was best. Now, "Bold and the Beautiful" spoilers tease that he may feel justified, as he will walk in on Taylor and Hope (Annika Noelle) at Forrester and witness their confrontation.
"Liam catches Taylor lashing out at Hope," spoilers reveal.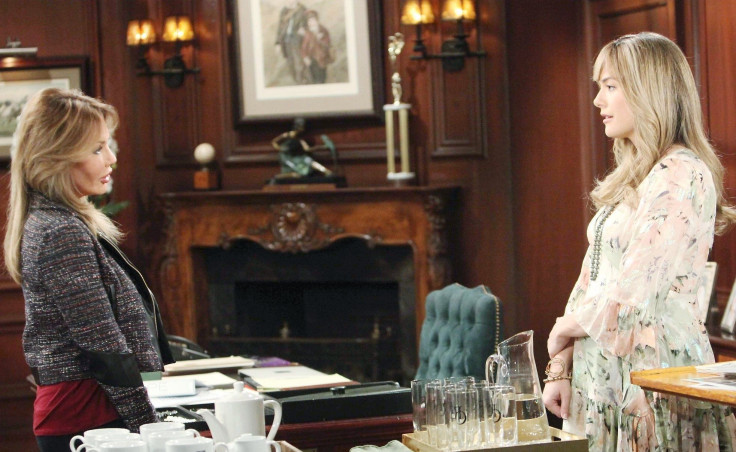 Seeing his former mother-in-law going after his current wife, who is also pregnant with their child, could push Liam over the edge, and he may feel the need to remind Taylor that he too holds the key to her freedom since he knows the truth. Of course, a threat to expose her won't go over well, and not only will Taylor then try to target someone else who she blames for Steffy losing her husband, but Hope will become suspicious as well.
Of course, Taylor's behavior won't just irritate Liam and make Hope wonder what's really going on. After she also paid Bill a visit to see if he was still keeping his promise and turning her in for attempting to murder him, Taylor also got him annoyed by trying to continue pinning Steffy and Liam's marriage disintegrating on him. As a result, he will likely call Steffy and warn her to keep her mother in line.
"Bill tells Steffy her mother is trying his patience," spoilers tease.
As Taylor continues to spiral out of control, she may risk exposing her deep secret on her own, as more people will quickly learn the truth.
"The Bold and the Beautiful" airs weekdays at 1:30 p.m. EST on CBS.
© Copyright IBTimes 2023. All rights reserved.