'Bold And The Beautiful' Spoilers: Will Quinn Betray The Family For Shauna And Flo?
She had a relationship with them that went much further back than any she has had with the Forrester family, and now, as she seeks answers about the Baby Beth scandal, Quinn could wind up betraying her new family and life in favor of her old friends on the Thursday, August 29 episode of "The Bold and the Beautiful."
Following Flo's (Katrina Bowden) confession to helping Reese (Wayne Brady) kidnap Beth and admission that she never told the truth, she was arrested for her crimes on the CBS soap and the Logans no longer want anything to do with her or her mother, Shauna (Denise Richards). Shauna has since tried to find every possible way she can to raise bail money for Flo with no luck. Meanwhile, Quinn (Rena Sofer) has had a hard time reconciling the women she knew from Vegas years ago with the ones who helped keep such a terrible secret now.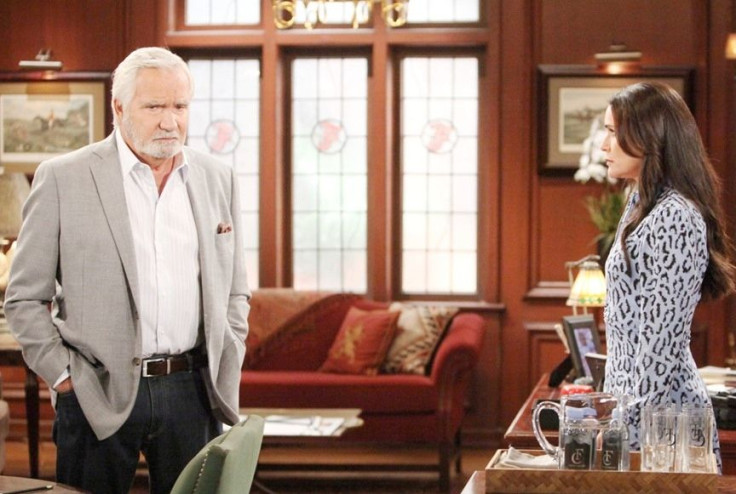 Now, with Shauna desperate for help and Quinn wanting to believe her best friend and her daughter are still genuinely good people, the women will meet up and Shauna will put Quinn in a tough situation as she asks for help getting the money she needs.
"Shauna opens up to Quinn and asks her to help free Flo from jail," spoilers reveal.
The request will put Quinn in a tough place because her loyalty to Eric (John McCook) and the rest of the Forresters means she may need to distance herself from Shauna and everyone else if she isn't going to incur drama with the family she fought hard to be a part of. However, she also wants to help the other women, ad desperately believes there is more to the story that needs to be said.
Meanwhile, at the hospital, where Thomas (Matthew Atkinson) has been unconscious since his fall off a cliff, things will continue to get more tense between Ridge (Thorsten Kaye) and the people who kept speaking ill of his son while he was scheming to get Hope (Annika Noelle) for himself, after he overhears Liam (Scott Clifton) saying less than flattering things about Thomas.
"Ridge is livid to find Liam lashing out at an unconscious Thomas," spoilers state.
"The Bold and the Beautiful" airs weekdays at 1:30 p.m. EDT on CBS.
© Copyright IBTimes 2023. All rights reserved.