'Bold And The Beautiful' Spoilers: Will Xander Reveal Flo And Zoe's Big Secret?
He is now aware of what happened with Hope's baby and has the power to end all the secrets and lies. However, as he realizes the women involved in the coverup have no intention of coming forward, Xander could decide to make a major threat to them instead on the Wednesday, June 5 episode of "The Bold and the Beautiful."
Xander (Adain Bradley) was appalled to learn the truth after forcing Zoe (Kiara Barnes) to reveal what she's been hiding on the CBS soap. He has been even more stunned that she still maintains the secret she and Flo (Katrina Bowden) have been keeping needs to stay that way, because she is not only keeping Hope's (Annika Noelle) daughter away from her, but she is also fine with Hope ending her marriage to Liam (Scott Clifton) because of it.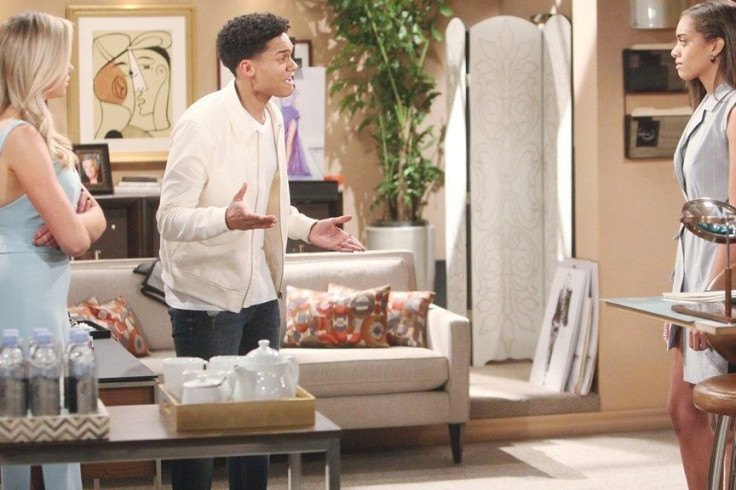 Now, as Flo also joins their conversation and realizes he knows the truth, the two women will continue trying to encourage him to keep the truth from being revealed so they can not only avoid jail time but avoid losing everything they have gotten in the last few months. As it becomes more obvious to him that they won't share the truth with Hope, Liam, Steffy (Jacqueline MacInnes Wood), Xander may then take things into his own hands.
"Xander's argument with Zoe and Flo ends with him making a significant threat," spoilers reveal.
Meanwhile, Hope and Liam are going ahead with their plans to annul their marriage, though there could be more resistance when it comes to what they've decided, as Carter (Lawrence St. Victor) expresses other options the couple may have. However, desperate for his plot to take hold, Thomas (Matthew Atkinson) will quickly act to make sure Hope goes through with the plan.
"Thomas pushes back when Carter offers Hope advice about her marriage," spoilers reveal.
"The Bold and the Beautiful" airs weekdays at 1:30 p.m. EDT on CBS.
© Copyright IBTimes 2023. All rights reserved.