Bombs Rock Syria's Judicial Headquarters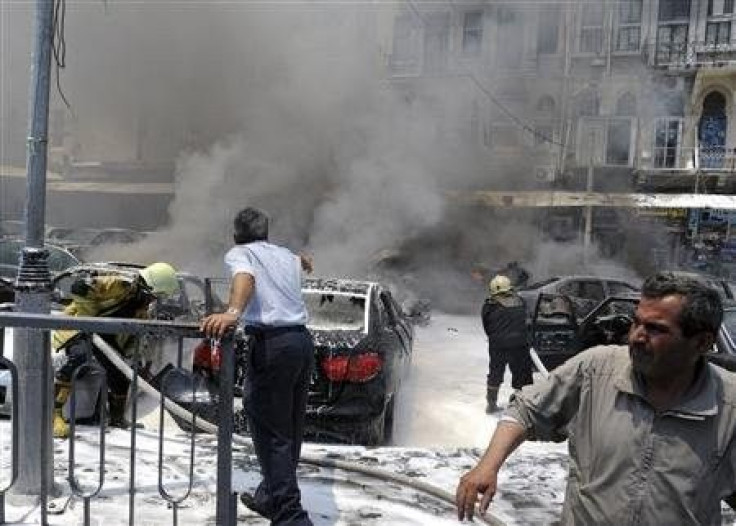 Two bombs exploded Thursday in the parking lot of Syria's Palace of Justice, according to the country's state television, which reported plumes of smoke billowing up from downtown Damascus. The official media organ blamed the attack on terrorists.
A police source told the AFP that two magnetic bombs attached to cars owned by judges detonated while a third was being defused.
The explosions were large enough to damage at least 20 nearby vehicles, according to CBS News. Firefighters and ambulances were responding to the attack, but witnesses told Reuters they saw no casualties.
Meanwhile, Turkey has moved troops and anti-aircraft guns to the border following the shooting down Friday of a Turkish war plane over what Ankara said was international waters in the Mediterranean.
The attack comes a day after rebels attacked the headquarters of the pro-government Al-Ikhbariya TV station in Drousha, just south of the capital, killing seven employees. Rebels have been escalating attacks on state assets, including police stations. On April 30 rocket propelled grenades were fired at the country's central bank building, injuring four police officers.
A high-level meeting of U.N. officials is scheduled to meet Saturday to discuss the worsening situation in Syria, where aid agencies say about 1.5 million people are in need of immediate assistance. China and Russia will attend the planned meeting; the two nations recognize the Assad government as Syria's legitimate authority. Notably absent will be Iran, which also supports Assad, and Saudi Arabia, which has been one of the states reportedly channeling weapons to rebel forces.
The deep animosity between Sunni Gulf states and Shiite Iran is being played out in this conflict. Hezbollah forces in Lebanon are also believed to be fighting to keep President Bashar al Assad in power. Saudi Arabia in particular would like to see the president taken down; it blames Assad for the Feb. 14, 2005, car-bomb assassination of former Lebanese Prime Minister Rafic Hariri in Beirut. The Hariris have long been close friends to the Saudi royal family, and they have huge investments in the kingdom.
The uprising against Assad and his Ba'ath Party loyalists that began with peaceful protests in January 2011 has escalated into all-out civil war between the government's armed forces and four rebel groups being armed by Arab states, reportedly with the help of the U.S. Central Intelligence Agency working through Turkey.
© Copyright IBTimes 2023. All rights reserved.