Iran, Syria, And A Red Carpet: What Was Vladimir Putin Doing In Israel?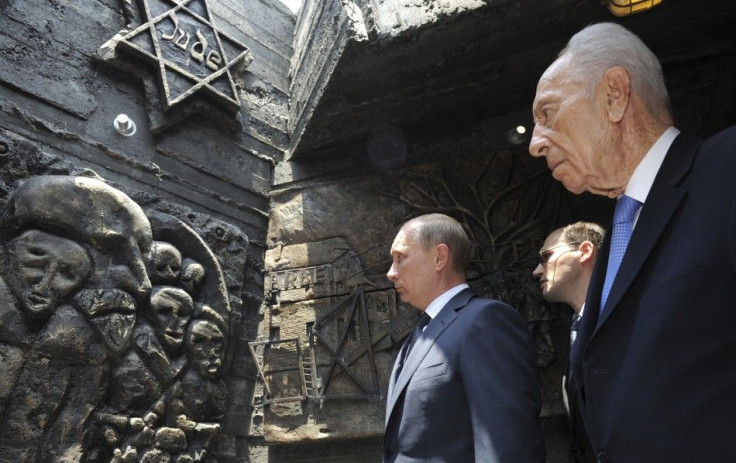 JERUSALEM -- When Vladimir Putin landed in Israel on Monday morning for his first state visit after being inaugurated as president of Russia for a third term, his hosts rolled out the proverbial red carpet. After the customary review of a military honor guard at the airport, and meetings with Israeli Prime Minister Benjamin Netanyahu and other officials, he was guest of honor at the dedication for a new memorial to Soviet Red Army soldiers who died in the fight against the Nazis. Later, Israeli President Shimon Peres hosted him for a state dinner, where he was treated to a performance by Gesher, a theater troupe of Russian immigrants to Israel.
True, not everybody was thrilled. An editorial in one of the country's leading daily newspapers, Maariv, lamented that Israel was treating one of the world's most belligerent leaders like a king.
But experts interviewed this week said they believe the warm reception for Putin was not surprising despite Israel's serious foreign policy differences with the Kremlin over Iran and Syria. The two Middle Eastern countries are not only sworn enemies of Israel, but also major buyers of Russian-made military equipment and, in Syria's case, loyal allies of Moscow since the days of the Cold War.
"Israel has good relations with Russia, and wants good relations with Russia," said Professor Galia Golan, an Israeli expert on Soviet policy in the Middle East, who teaches at the Interdisciplinary Center Herzliya. And it may have been trying to use those good relations to influence the Russians.
"The major hope for Israel to accomplish in this visit was to try and change Russia's mind," she said. Not that it would have been easy: "I don't think there is any chance of that," said professor Golan, "but of course, they had to try."
Indeed, the two sides couldn't find a common position on the threat of a nuclear Iran. Netanyahu urged Russia to call for tougher sanctions on Iran and to demand that Tehran stop its nuclear enrichment program. Israel, the United States and a number of Western countries believe Iran is attempting to build nuclear weapons. (While Iran says its nuclear program is solely for peaceful purposes, Israel has threatened a military strike if Iran refuses to stop enriching uranium.)
Putin's response was that he saw negotiations as the only solution, and that it was unacceptable to think of mutual destruction as would result from a nuclear conflict between Israel and Iran.
Progress wasn't forthcoming on the other point of contention, Syria. Russia has supplied arms to the embattled Syrian leader Bashar al-Assad, while Israel has called for him to step down.
Peres reiterated Netanyahu's call to Putin to stop supplying the Syrian regime with weapons, and asked for Russian intervention with Damascus: "There exists a real danger that Syrian chemical weapons will reach the hands of Hezbollah and Al Qaeda - please act with urgency to stop that unacceptable situation," he said.
Bur rather than stubborness, the Russian position is the product of a sound political calculation. "Although Russia no longer wields the same influence the Soviet Union once did across the Middle East, it is still aspiring to be a power broker," said Jonathan Dekel Chen, a senior lecturer in the Department of Russian and Slavic Studies at Hebrew University.
This may explain the real political reason behind Putin's visit to Israel and his efforts to persuade Israel not to attack Iran, as well as his unwillingness to accept regime change in Syria.
"Russia today is aspiring to re-emergence as an international power and it is interested in stability. [It] wants to do business and it is not in Russia's interest that there be chaos in Russia's former client states," said Dekel Chen.
Golan noted that the Russian-Israeli couple is not alone: "There is a third partner in the room, and that's America. The Russians are in a political competition with the United States, and one of the things that motivate the Russians is to maintain a relationship with Syria and Iran because that gives them a standing vis-a-vis the United States," she said.
Their relationship isn't new, either. Russia and Israel go back a long way -- all the way to the birth of the Jewish state, in fact.
"The visit itself was never intended to be some watershed event," Dekel-Chen said. "It is a piece in a very long relationship that has taken many twists and turns, that needs to be seen in context both before and after the breakup of the Soviet Union."
In 1947, Stalin's Soviet Union, together with other Soviet-aligned or dominated countries, voted in favor of the United Nations Partition Plan for Palestine, setting in motion the creation of a Jewish state. And months later in 1948, three days after Israel declared its independence, the Soviet Union was the second country, after the United States, to officially recognize it.
But during the Cold War that followed, the Soviet Union wasn't a friend of Israel at all. Paul Johnson and other historians argue that the infamous 1975 U.N. General Assembly Resolution that equated Zionism to racism was orchestrated by the U.S.S.R. But those were different times, and Israel was an American ally.
In the post-Cold War era, relations warmed between Israel and Russia. Since 1989, more than 1 million Soviet and then Russian Jews, who used to be barred from emigrating, have moved to Israel. Today they make up roughly 15 percent of Israel's 7.8 million people, and have gained an important place in Israeli society.
"They left the Soviet Union having accomplished something with their lives, and they arrived here in white-collar professions and educations, and when they look back at the successor to the former Soviet Union, it is with a great deal of ambivalence," said Dekel-Chen.
The ties between Russian Jews and their former homeland mean big business for both countries. Bilateral trade is considerable: In the first four months of this year, Israeli exports to Russia reached $384 million and imports from Russia $277 million, according to the Israel Export Institute. Additionally, about a half million tourists flock to Israel from the former Soviet countries every year, creating about 20,000 jobs and bringing revenues to Israel of $1 billion annually, according to Israel's Ministry of Tourism.
And yet, many Russians living in Israel express cynicism on, and even disapproval of, Israel's kind reception of Putin, mirroring perhaps some of the criticism voiced in Israeli news outlets.
"If Russia supports political leaders like [late Libyan dictator Moammar] Gadhafi and Assad, do you think Russia is really interested in the people of Israel?" asked Vladimir Milner, an Israeli who emigrated from Moscow to Israel 10 years ago when he was 17, and is now studying for a masters degree in Eastern European studies at Hebrew University.
Milner said he believed the elections in Russia that took place this past March were not democratic and that Putin exerted his power to catapult himself into a third term. "I think we have to be honest with ourselves, I think he is not a democratic leader," he said.
But in foreign policy, necessity often trumps ideals. "For Israel, its very important to have good relations not only with America, especially now that relations with America are not so warm, unfortunately," said Abba Taratuta, a Russian-born prominent member of the movement for emigration to Israel from Russia in the 1970s. He was referring to a perception among some Israelis that President Barack Obama has not been as supportive of the Jewish state as his predecessor George W. Bush.
That may or may not be true, but while they debate whether the White House is as close to them as it used to be, many Israelis realize that having a friend in the Kremlin, however unsavory he may be, beats having an enemy. "(Israelis) don't have many friends in the world, and they just don't have a choice. They need all the friends they can get," Milner said.
© Copyright IBTimes 2023. All rights reserved.
FOLLOW MORE IBT NEWS ON THE BELOW CHANNELS