Bose's New Sport Open Wireless Earbuds: Yay Or Nay?
KEY POINTS
Bose announced the new Sport Open wireless earbuds
This pair has a unique design and uses special audio technologies
The Bose Sport Open earbuds leave the user's ears open to hearing other noises and sounds around them
Bose has announced a unique new pair of wireless earbuds designed for active lifestyles. Dubbed the Bose Sport Open wireless earbuds, these audio devices are specially designed to let users enjoy music, take and make calls and hear everything happening around them without having to worry about wires.
The new Bose Sport Open earbuds, however, might not appeal to everybody. They have a unique design that's different from other earbuds out there. The audio company said they "don't go in your ears or cover them." So how are they worn and how do they deliver sound to the user's ears?
First, Bose said the Sport Open earbuds feature a "new kind of enclosure that sits above" the user's ear canal. They don't go over ears like the AirPods Max, don't go into the user's ears like Sony's WF-1000XM3 and don't rest on the user's ears like the Marshall Major II.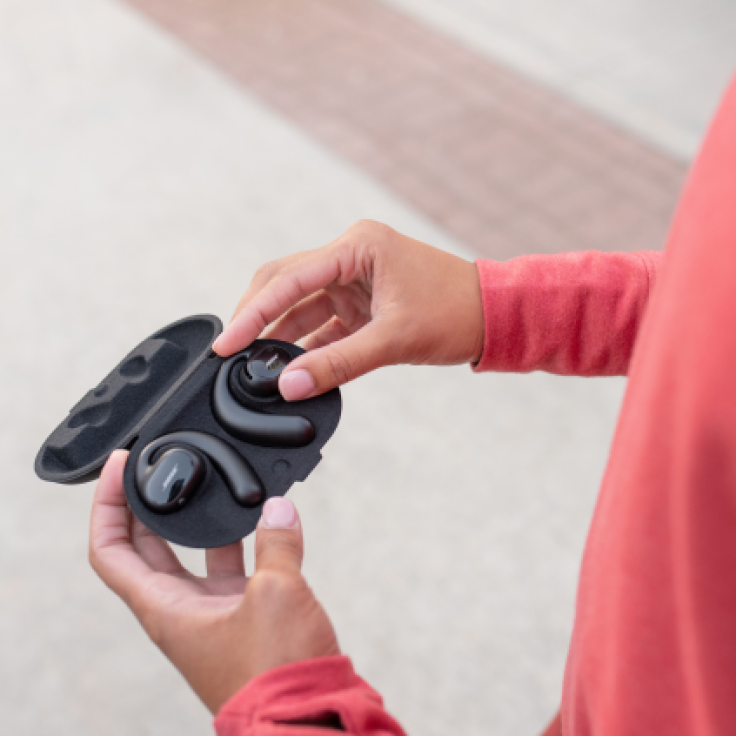 Bose's new Sport Open earbuds are like those bone-conducting headphones that rest outside the user's ear. Unlike bone conduction headphones, however, these use Bose's signature OpenAudio technology to deliver good-quality sound. The device's design, the company said, allows it to "redefine personal listening."
As its name implies, the Bose Sport Open earbuds leave the user's ears open to hearing other noises and sounds around them. They will be able to listen to others during conversations, hear important announcements over the PA system in terminals and even hear the rustling leaves when they run in parks and other places. All of the ambient noise will sound natural.
That said, the device measures 48 millimeters wide and 55 millimeters high and is a bit larger than the usual wireless earbuds. It weighs 14 grams per piece.
The earbuds and the hooks that go over the user's ear to secure the device are noticeably thicker than those on the Powerbeats Pro, which means consumers can expect it to be bigger than most wireless earbuds.
Size and weight aside, the Bose Sport Open earbuds offer decent, even desirable, features for its $199.95 price tag. They are IPX4 rated for water resistance, offer 8 hours of battery life on a single charge, are compatible with both iOS and Android devices and are best used with the Bose Music App, which has more features. They also have a protective carrying case and a separate charging base.
The new Bose Sport Open wireless earbuds are now available for pre-order via Bose.com. Shipping will start by the middle of the month.
© Copyright IBTimes 2023. All rights reserved.