BP Oil Spill Anniversary: Obama Urged To Scrap Atlantic Coast Drilling Plan In Light Of Deepwater Horizon Disaster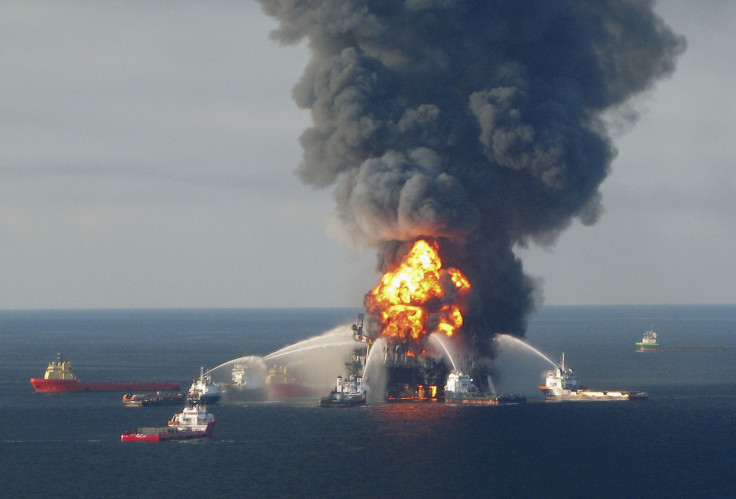 On the fifth anniversary of the worst offshore oil spill in U.S. history, environmentalists are urging President Barack Obama to abandon his plan to expand deepwater drilling along America's coasts. Opponents say BP's Deepwater Horizon disaster proves offshore oil and gas development is too great a risk for local economies and ecosystems. Oil industry groups counter that drilling in the ocean is safer and more closely regulated than ever before.
The spill in the Gulf of Mexico began on the evening of April 20, 2010, after a gas bubble burst through the Macondo well and ignited on the floor of the Deepwater Horizon rig. Eleven crew members died and dozens more were injured. Meanwhile, more than 100 million gallons of crude spewed from the well before BP crews and federal workers could plug it three months later.
In the wake of the tragedy, the Obama administration ordered a six-month moratorium on deepwater drilling, and federal agencies launched an ongoing process to strengthen industry standards and improve government response efforts. Obama postponed a proposal to allow drilling in federal waters near Virginia.
Since then, however, offshore oil and gas drilling has bounced back. The number of deepwater drilling rigs in the Gulf jumped from 35 at the time of the Macondo explosion to 48 last month, data from IHS Energy show. In January, the U.S. Department of the Interior unveiled a five-year plan to allow more drilling in the Gulf and to open up new drilling areas near Alaska and along the Atlantic Coast.
Environmental groups denounce the plan, arguing that it would expose more coastal communities to catastrophes such as the BP oil spill. In southern Louisiana and across the Gulf region, the surge of crude destroyed fish habitats, closed tourism operations and shut down businesses for months or years. Even today, business owners and longtime residents say they're still struggling to recover from the spill, International Business Times reported last week. Cleanup efforts are ongoing in some areas, and some marshes and beaches were permanently damaged.
The Atlantic Coast hasn't seen any new offshore oil and gas drilling in more than 30 years. Catherine Wannamaker, a senior attorney with the Southern Environmental Law Center in Atlanta, said that's precisely why the Obama administration should scrap its plan to auction offshore drilling leases in federal waters from Virginia to Georgia.
"The Atlantic needs to stay the way it is," she said. "We all witnessed what happened in the Gulf, and that could easily happen here. It would wreck huge tourism industries and fisheries. We just don't think it's worth it."
Rachel Richardson, who directs Environment America's Stop Drilling program, said the Obama administration should rescind its "dangerous drilling" proposal. "Our precious coasts and wildlife must be protected from the kinds of environmental and economic tragedy the BP blowout brought to the Gulf of Mexico," she said in a statement.
The Interior Department is expected to finalize its offshore plan for 2017-2022 later this year or in early 2016. Officials say they won't offer leases in Atlantic waters for at least six years, and drilling isn't likely to start until several years after that. The Interior's Bureau of Ocean Energy Management, which would run the auction, estimates the Atlantic's outer continental shelf holds 3.3 billion barrels of recoverable crude oil and 31.3 trillion cubic feet in natural gas reserves. However, energy experts say those figures are based on old data, and may actually be significantly higher than estimated.
The five most recent offshore lease sales in the Gulf of Mexico have netted nearly $2.3 billion for U.S. taxpayers and encompass more than 60 million acres, the bureau says.
The American Petroleum Institute, which helps set standards for the oil and gas industry and serves as its main lobbying arm, says environmentalists' fears are unfounded. Five years after the BP tragedy, "America's oil and natural gas industry and our regulators have kept our commitment to make offshore operations safer than ever before," Jack Gerard, the institute's president and CEO, said in an emailed statement.
API has published more than 100 new and revised standards since 2010 for well design, blowout prevention equipment, worker safety and other elements of energy exploration and production, he noted. "We will continue to build on these achievements because our goal is zero accidents and zero spills," Gerard said.
Regulators were less resolute about the industry's turnaround in the wake of the Gulf oil spill. "It's safer, but I would also say there's more work to be done," said Brian Salerno, director of the Bureau of Safety and Environmental Enforcement, an agency created by the Interior Department in the wake of the Deepwater Horizon accident, the Wall Street Journal reported. Salerno said a government and industry system designed to improve safety at offshore drilling facilities has yet to show quantifiable improvements.
Federal agencies have likewise been slow to adopt regulatory changes, critics say. The Obama administration only last week proposed tougher standards on equipment designed to prevent blowouts like the one at the Macondo well, and those rules could still take years to go into effect. Congress still hasn't adopted any legislation to strengthen the safety of offshore drilling.
At the same time, the energy industry is drilling in increasingly deeper areas in the Gulf of Mexico, an Associated Press report found. While industry groups say the reservoirs are safe for drilling, regulators and watchdogs say oil and gas companies haven't developed adequate safety measures for drilling new depths and larger reservoirs, the AP noted.
Michael R. Bromwich, managing principal of the Bromwich Group consulting firm in Washington, D.C., said he believes the Obama administration is proceeding cautiously with its plans to open the Atlantic to offshore drilling. Bromwich oversaw the regulatory overhaul after the BP disaster before stepping down as head of the Bureau of Safety and Environmental Enforcement in 2011.
"I think there's no cause to be alarmist about this. The administration is wisely trying to do this at a pretty deliberate pace and is trying to obtain as broad a set of views as it possibly can," he said.
© Copyright IBTimes 2023. All rights reserved.