Obama Administration To Propose Offshore Drilling Rules Designed To Prevent Future BP Oil Spill Disasters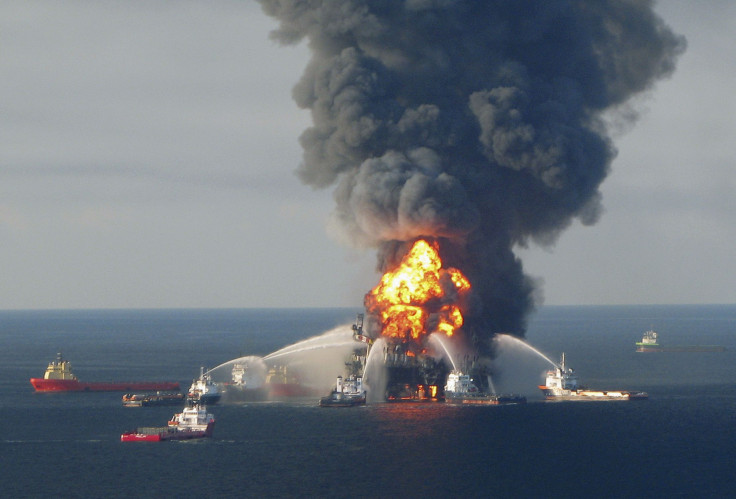 The Obama administration this week is expected to propose major regulations on offshore oil and gas drilling. The forthcoming rules are designed to prevent tragic explosions like the one that caused the BP oil spill -- an event that killed 11 workers on the Deepwater Horizon rig and spewed millions of barrels of oil into the Gulf of Mexico in April 2010.
The U.S. Interior Department could propose the regulations as early as Monday, the New York Times first reported Saturday. The announcement is timed to coincide with the five-year anniversary of the Deepwater Horizon explosion on April 20.
"We're coming on five years, and we've been working tirelessly in the regulation division since it happened," Allyson Anderson, who works in the Interior Department's Bureau of Safety and Environmental Enforcement, told the Times. "We've doubled down on building a culture of safety."
The rules are expected to tighten safety requirements on blowout preventers, which are used to seal off undersea oil and natural gas wells in emergencies. The BP spill was caused in part by a malfunctioning blowout preventer on the company's Macondo well, leading to an oil gusher that lasted for nearly three months. A federal judge recently ruled that BP dumped 3.19 million barrels of oil into the Gulf of Mexico, though the federal government puts the amount at 4.2 million barrels. BP says it spilled only 2.4 million barrels of oil.
This week's regulations could be imposed on all future offshore drilling equipment, allowing the Obama administration to say it could prevent a BP-like disaster as oil exploration expands in the Atlantic, the Times noted. The Interior Department is in the process of allowing offshore drilling for the first time in federal waters from Virginia to Georgia. The proposal has drawn criticism from environmental groups worried about the dangers of ocean oil spills.
The blowout preventer rules will be the administration's third and biggest regulation on drilling equipment since 2010. Interior officials previously adopted new regulations on drilling well casings and on the cementing of wells. Separately in March, the department unveiled the first federal safety mandates for energy companies that drill on federal land, an attempt to address concerns about the risk of groundwater contamination and air pollution from hydraulic fracturing, or fracking.
© Copyright IBTimes 2023. All rights reserved.