Brandi Glanville Criticized By Co-Stars In 'Marriage Boot Camp' For Behavior
Brandi Glanville has offended her co-stars in "Marriage Boot Camp."
On Friday's episode of WEtv's "Marriage Boot Camp: Reality Stars Family Edition," Glanville surprised everyone when she flashed her boobs in front of them. They were shocked especially that her father Jim Jones was with them.
The incident happened when Lana Graziano said she hadn't "found anything wrong with" Glanville. The latter reacted by saying "I have so many things wrong, I'll show you..." and pulled down her top revealing pastie-covered breasts.
"Oh, my god," Jones exclaimed.
Glanville's co-stars slammed her move in confessionals. "You just whipped your tits out in front of your dad? This is disrespectful," said Renee Graziano.
"You just don't do that," Amber Portwood's mom, Tonya, added.
According to Glanville her master plan was to "get naked and see if people still treated me to the same." She wanted her father to understand that doing so is okay. However, based on her "Marriage Boot Camp" co-star's reaction, she doubts if her plans worked. "I don't know if my plan is working," she said.
Glanville blamed the alcohol and her injury for her behavior. "There was wine involved and I just got back from the hospital," Glanville told TooFab. "So I'm gonna blame it on the concussion."
"I love them and I didn't think of Jim ... I felt like a brotherly thing," "The Real Housewives of Beverly Hills" star added. "She was sitting right there, it wasn't to be disrespectful and if it obviously was taken that way ... that was not my ... I wasn't ... if she hadn't been sitting there, I never would have touched him. I felt like it was a safe zone, but I obviously crossed a line and I'm sorry."
On last week's episode, Glanville and Portwood had a confrontation about their drinking habit. Glanville even asked her other co-stars if their perception of her is the same.
"No, every time that I see you, you're drinking," the "Teen Mom 2" star explained. "I didn't mean it like you were an alcoholic."
Portwood is expecting her second baby. This is her first with boyfriend Andrew Glennon. She admitted that she was nervous about telling her family about her pregnancy, but they were very supportive.
"They ended up being very excited and happy for us, so it all turned out well," the 27-year-old reality star said. "Andrew just told his family as well and they're very happy for us."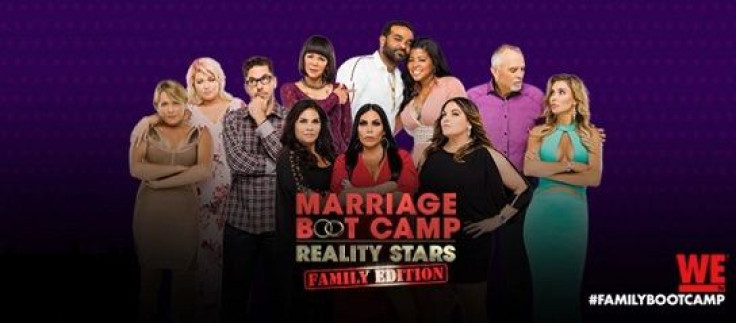 © Copyright IBTimes 2023. All rights reserved.